Julie Rowe Takes Us Behind The Scenes Of Her WWI Historical Romance
Wed, 06/05/2013 - 2:41pm — admin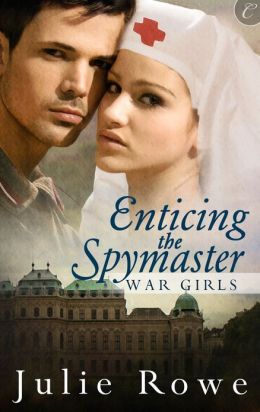 In our June issue, author Julie Rowe relayed astounding stories of women working as nurses during World War I. These heroic ladies have not only helped inspire new generations of women to join the medical field, but they also gave Julie Rowe the idea for her historical War Girls series, the latest of which, "Enticing the Spymaster," releases this month. Today Rowe shares a tale about a real life nurse that helped heal injured soldiers while, at the same time, spying on the enemy for Britain!
In the June issue of RT, in my Behind the Scenes article, "A Call To Arms: Nurse Heroines of the First World War," I talked about several nurses whose duties took them into danger and under fire. These nurses persevered despite the often dirty, cold and wet conditions to treat, comfort and protect the wounded. In particular, I talked about nurse Edith Cavell, who was executed by the German military for treason. But Edith didn't work alone. In fact, one of her senior nurses would perform an act of espionage.
Millicent White, a long time nurse working under Edith Cavell, became integral to the delivery of nursing care in several hospitals set up in Brussels after the German occupation began. Edith depended on Millicent to report back the number of wounded as well as supplies used and available. Millicent was Irish, quite pretty with very long hair, and had a personality to match. Due to her position as one of Edith's senior nurses, Millicent's responsibilities brought her into contact with a number of German soldiers and officers. One of her assignments was at the Royal Palace, which had been turned into a hospital for German wounded. Somehow (she was Irish remember) she got on the wrong side of a German officer who threatened to charge her with a military offense. When she demanded to know what the charge was, he replied with, "Espionage." Though the charge was false, Millicent knew she was in trouble and made the decision to return to England. But not empty-handed.
A few weeks earlier, a British colonel, Dudley Boger, had been wounded in the first weeks of the war and taken prisoner by the Germans. After a month in Captivity he escaped and ended up at the door of Edith's hospital. She took him in and hid him. Colonel Boger had written several reports containing information useful to the British Army. Millicent decided to smuggle them out of the country bandaged to her thighs and under her long skirt.
Her travel to the port city of Antwerp went smoothly until a German patrol boarded the barge she was on. While the soldiers examined the other passengers' papers, she took down her hair. When the Germans reached her, she presented them with her fake papers, but they hardly looked at them, so entranced were they with her beautiful hair. The distraction worked and Millicent went on her way with the Colonel's reports undetected. A few days later, she reached England and delivered the reports to the British War Office. She was proud to say that she had indeed committed an act of espionage against the enemy.
"Enticing the Spymaster," book #2 of my War Girls series, is out this month and tells the story of a Belgian royal working for British Intelligence as a nurse and the British spy who must rescue her before she's caught.
- Julie Rowe
You can download a copy of "Enticing the Spymaster," available from online book retailers now! And for more historical stories visit our Everything Romance Page.