Jillian Hunter's Hero(es) - With Giveaway!
Mon, 11/01/2010 - 5:06pm — admin
Best-selling historical romance author Jillian Hunter talks about her latest Regency hero, a writer who has stumbled upon "the bad boy phenomenon" in his serialized stories. And don't miss the excerpt and GIVEAWAY at the end of the post.
Hello to RT readers everywhere! I've been a fan of RT BOOK REVIEWS since it was first published, and it's always a thrill to be invited to share what is new in my small corner of the romance world. This blog actually brings me full circle. 
I'm delighted to say that the hero of my latest Signet book, A Duke's Temptation, is a scandalous duke, Samuel St. Aldwyn, who leads a double life as a romantic novelist known only as "Lord Anonymous." The heroine, Lily Boscastle, is one of his most devoted fans. This ought to make for an easy romance between them. But Samuel is complicated, a man of honor, despite his bad reputation. He has written twisted fairy tales and Scottish historicals, using the profits from his secret profession to fund charities. Still, it isn't until he publishes a series called The Wickbury Tales that he is denounced as immoral and becomes an immediate bestseller. 
Each installment of the series follows the same plot—the hero, Michael, Lord Wickbury, a Royalist earl in exile, battles an evil wizard, Sir Renwick Hexworthy, who happens to be the hero's half brother and who works for the Roundhead cause. They also happen to love the same woman, Lady Juliette Mannering, who can't make up her mind from one book to another whether to give herself to Michael or to Renwick. Arguments erupt in circulating libraries over this topic upon publication of each new Wickbury edition.
Gentlemen favor the righteous Lord Wickbury. 
Ladies, like Lily Boscastle, however, yearn to redeem the wicked Sir Renwick and claim that Juliette is a lukewarm wench who doesn't deserve either man. Renwick is a heartless necromancer; he's sold his soul to the devil and killed his own sister. He really could use redeeming. 
As a writer, Samuel is perplexed by the difference in public opinion. It seems the darker he depicts Renwick, the more that female readers love him. Should Samuel write to this audience? What is his responsibility as an author? Does he have any control over his characters at all? Or are they, suddenly, taking control of his life? 
The matter demands his attention as he, the Duke of Gravenhurst, takes Lily under his wing as his housekeeper. It soon becomes obvious that he cannot hide his secret from an ardent Wickbury reader who is also a desirable woman. How can he give Lord Wickbury the heroic ending he deserves when Lily admits she is infatuated with the villainous Sir Renwick? 
Only when the valiant Lord Wickbury takes on a life of his own and intrudes in Samuel's world does Samuel realize that he is not only a writer; he is a hero and villain combined into one conflicted man. Which of his identities will prevail? Will Lily love him when she understands who he really is? 
I could have spent years researching the life of a Regency-era writer. I wondered how an author of that time handled deadline pressures, bad reviews, and what the relationship with a publisher would be like. But mostly I wondered how a writer would resist the incessant temptation to put down his pen and search for inspiration without modern distractions. 
Samuel does not have to look far—right under his roof is not only his strongest temptation, but the lady who also becomes the inspiration for the rest of his life.
Have you ever wondered what it would be like to become one of your favorite characters? Or do you think a villain would be more fun? I have a fabulous time playing with these questions in A Duke's Temptation. I hope you do, too.
 - Jillian Hunter
You can read the EXCERPT of A Duke's Temptation and then be sure to enter to win your own copy below.
GIVEAWAY ALERT: Three lucky winners will receive their own copies of Hunter's A Duke's Temptation. To enter leave a comment below about why you enjoy reading about historical heroes with jobs or e-mail your comment here with your name, mailing address and the subject line "Jillian Hunter's A Duke's Temptation Giveaway". One entry per person. Winners will be announced on November 15th.
(Remember: If you comment without signing in or leaving your email address, we have no way to let you know that you are one of our winners! If you aren't already registered, you can sign up for free in the blue box in the upper right hand corner of this page!)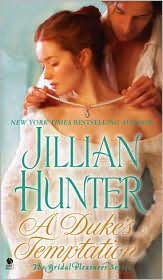 BLOG UPDATE 11/17/2010: And the winners are ... Cheryl C., bookgirl46 and Danielle!