July Mystery Overview
Wed, 07/11/2012 - 3:46pm — admin
July's heating up to be an exciting month for mystery readers. First up, there's a new historical adventure from RT Seal of Excellence winner Carol McCleary, which brings back heroine Nellie Bly. But she's not the only fan favorite character to return. Catherine Coulter's Savich and Sherlock are also getting a new installment — and we reveal why this team's adventures are on our summer must-read list. Plus, we take an in-depth look at a fictional woman that caused RT reviewer Jeff to proclaim Caitlin Strong "the best female thriller protagonist in the entire genre right now." Find all this and more in July's mystery genre wrap-up!
CHECKING IN ON AN RT SEAL OF EXCELLENCE-WINNING SERIES
The Formula For Murder by Carol McCleary is the newest book in the series that follows the intrepid reporter (and real historical figure) Nellie Bly. Her previous adventure, The Illusion of Murder, won the author the April 2011 RT Seal of Excellence. Fans will be thrilled to learn that the reporter heroine that RT editor Liz calls "darling and daring," is back to her old tricks — and by that we mean she's solving mysteries and spending her evenings with other famous figures of the Victorian era.
With so many big names bouncing around her novels, we asked the author to give us an insider's look at which historical figures fans can expect to meet in this tale — and how McClearly brought them to life:
The Formula for Murder is set in the colorful gaslight era we call the Gay Nineties. In the novel, Nellie interacts with three men whose names are still familiar to most of us 120 years later: H.G. Wells, Arthur Conan Doyle and Oscar Wilde.
H.G. Wells was about Nellie's age. It was several years before he would gain fame as the author of War of the Worlds (recently starring Tom Cruise) and The Invisible Man. Wells was a biology teacher before he became a sci-fi author and writer of social commentary that often shocked and titillated the Victorians.
Wells was also a supporter of women's rights and a free love advocate who believed that both sexes should fully experience sex and all the delights of romance. That was shocking to Nellie who, while a trailblazer for the independence of women, was not as sexually liberated as Wells. This nicely sets up the sexual tension between them as their social mores collide. Nellie, by the way, was a very smart lady and she had dealt with men at all levels, but Wells is the first truly "intellectual" that she encounters in the secret journals that the current stories are based upon.
A second character that jumps out of the pages of history and demands that he have a role in Nellie's dangerous quest in the haunted moors of Dartmoor is Arthur Conan Doyle, the creator Sherlock Holmes (no, Robert Downey, Jr. wasn't the creator). Doyle, of course, is the author of the most famous story about the moors, The Hound of the Baskervilles. But more than that, he was a doctor and an advocate of justice, fighting the legal system to free wrongfully convicted people. (Nellie meets him at a time when his first Sherlock Holmes book had been a failure and he was just getting back on his feet with a second one that would pave the way for immortal fame.)
Readers of Nellie's first adventure are very familiar with the third immortal, Oscar Wilde. The Picture of Dorian Grey had just been published and Oscar is well on his way to crash and burn in one of the famous sexual scandals in history — his love affair with the handsome and shallow Lord Alfred Douglas that would send Oscar to prison. Oscar educates Nellie about Victorian London.
Nellie, Wells, Conan Doyle and Oscar all experienced the exciting Gay Nineties. Through them, we are also able to experience this wonderful time period of brave hearts and daring souls.
- Carol McCleary
MEET SOME MUST-READ FBI AGENTS
The talented Catherine Coulter may have started in historical romance, but she is now best known as one of the most beloved crossover authors. Coulter kicked off her FBI books with 1996's The Cove, an RT Top Pick! Now on book 16, Backfire, the writer is still going strong. This series is perfect for readers who like their mysteries sprinkled with romance — and killers who might just inspire nightmares!
In these stories, the killers, kidnappers and evil masterminds may come and go, but the now-familiar faces of our favorite coupled agents stay the same. Coulter introduced FBI agents Savich and Sherlock in 1997's The Maze, which was nominated for an RT Reviewers' Choice Award that same year. This couple has remained a constant in the background (and sometimes foreground) of the series. In this month's new series installment, Backfire, Savich and Sherlock are hunting a dangerous killer who has a vendetta against them. This off-balance person has already shot one of their friends, a federal judge, so Savich and Sherlock are teaming up with a U.S. Marshal and an FBI agent to track down the killer. But can they identify the would-be murderer before the person finishes their deadly deed? You'll have to read Backfire to find out!
CHARACTER SPOTLIGHT: CAITLIN STRONG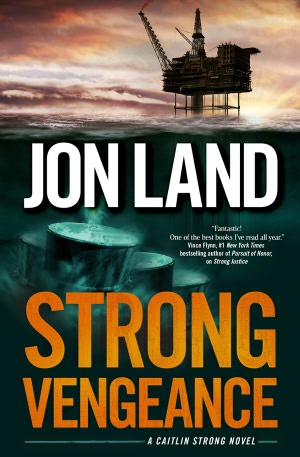 Strong Vengeance by Jon Land features a heroine named Caitlin Strong who goes beyond the description "kick ass" to land solidly in "amazing" territory. She's so fantastic, in fact, that RT reviewer Jeff was compelled to declare the character Caitlin Strong "the best female thriller protagonist in the entire genre right now." That's pretty high praise, so we knew we wanted to dig a bit deeper and find out just what it is that makes this woman so brilliant. We went right to her author, Jon Land, for more details from the one person who undoubtedly knows her best. Here's his take on the evolution of Caitlin Strong:
The origin of Caitlin Strong owes itself to a meeting with my publisher where we all realized that with all the thrillers out there, bought predominantly by women, there wasn't a single female thriller series hero. Not one. Sure, there were lots of women heroes driving less action-oriented mysteries, but nothing akin to what I like to call a female Jack Reacher after Lee Child's seminal creation.
Now, I'd always wanted to write about the Texas Rangers, having long been fascinated by their well-earned reputation for being the toughest lawmen in American history. So the light bulb that went off shined squarely down on the notion of featuring a female Texas Ranger in the first of what I already envisioned as a series.
Little did I know then that I had just created arguably my greatest and most complex hero ever. I knew I was going to define Caitlin as much by her flaws as her strengths. But I didn't know that she was going to evolve into the classic gunfighter hero forever torn between her devotion to duty and maternal instincts. That's because I never could have envisioned her relationship with the outlaw bad boy Cort Wesley Masters developing to the level it did. Nor did I even consider the role Cort Wesley's sons, especially Dylan, would play in the development of Caitlin's character. I think the scenes she has with him, especially in the latest, Strong Vengeance, say more about her than anything else (especially after the seventeen-year-old Dylan is threatened in chilling fashion by a murderous pedophile gunning for Caitlin — writing that scene scared me!).
For me, writing is an evolutionary process. Hey, the immensely popular assassin Guillermo Paz wasn't even supposed to survive the first book in the series (Strong Enough to Die)! The key is to let characters take me where they want to go, not where I want to take them. Caitlin is so much more, so much richer than I ever imagined when I started writing her. And that's largely because in these books I have focused as much on emotion, what the characters are feeling, as I have on plot or what the characters are doing. Stir those two ingredients together on high heat and you'll end up with the recipe for a great story the reader won't be able to put down.
- Jon Land
KEEPING IT COZY
If you like your sleuths of the amateur variety, you'll find a bounty of part-time PIs in the cozy mystery subgenre. And this month there are several unlikely sleuths with incredibly interesting day jobs. You can meet a candle carver from the Tudor-era set Mistress of Mourning by Karen Harper who tackles one of history's greatest unsolved mysteries. Or, follow a woman in Lorna Barrett's Murder on the Half Shelf who literally lives her life surrounded by mysteries — she runs a genre-specific bookstore — as she tracks down a killer working outside of the pages of the books she loves to sell. And finally, there's an organic farm/spa employee in Staci McLaughlin's Going Organic Can Kill You who must figure out who is behind the murder of one of their Hollywood guests. Will their off-the-beaten path careers be the key to solving these mysteries? You'll have to read the story to find out: 
For more genre coverage be sure to keep your eye on the RT Daily Blog and check out RT's Everything Mystery Page!