July Science Fiction And Fantasy Overview
Thu, 07/12/2012 - 1:04pm — admin
This month's science fiction and fantasy releases are out of this world! So today we're playing tour guide and pointing out some of the hot spots of the genre. First up, Beth Bernobich gives us an insider's look at the sequel to her RT Award winning 2010 release Passion Play, this July's Queen's Hunt. Next, we spotlight some of the interesting supernatural creatures you can find in the month's new releases. Then Philippa Ballantine shares a behind the secenes look at the universe of her new fantasy series starter, Hunter and Fox. After that, we share our favorite space-y songs inspired by Rob Reid's Year Zero. And finally, we bring you up to speed on the genre-related industry news that you need to know!
CHECKING IN WITH A RT REVIEWERS' CHOICE AWARD-WINNING SERIES
In October 2010, author Beth Bernobich debuted with her stunning fantasy tale Passion Play. This novel won high priase from reviewer Natalie Luhrs who called it "simply marvelous," and particularly with world-building that's "top-notch." The book introduced readers to heroine Ilse Zhalina and hero Raul. Not only did the book earn Bernobich a nod for that month's RT Seal of Excellence award, but it also won her the 2010 RT Reviewer's Choice Award for Best Epic Fantasy Novel. Now, Bernobich has followed it up with Queen's Hunt. Book two explores Ilsa and Raul's relationship further. Queen's Hunt sends Ilsa on an adventure that could change her life forever. But as she embarks on this quest, she knows it will mean that she and Raul will be separated by vast distances. While the characters' love is tested by physical separation, it's amazing that the author is able to keep the romantic tension high. Today Bernobich shares some insight into how Ilsa and Raul manage to make their long distance relationship work without assistance from today's technology:
Long-term relationships are tough to handle, whether you're talking about modern couples or ones who lived centuries ago. Here's the person you love — or rather, here's not the person you love, but an email or phone call instead, and while Skype is a fabulous invention, it can't replace a really good hug. (Never mind all the rest that might follow.)
My characters in Queen's Hunt, Ilse and Raul, don't have Skype. Even worse, they have to pretend they no longer love each other. However, a few things make their separation bearable. They have absolute trust in each other, a trust and love that have lasted through a dozen lifetimes. More than that, they are partners in politics as well as partners of the heart. War threatens their homeland. They are both committed to preventing that war, and each of them takes on a different role to achieve it. They also know that the sooner they accomplish peace between the kingdoms, the sooner their enemies will lose power over them, and the sooner they can end their separation. Until that day, they hold fast to their memories of all their times and lives together.
- Beth Bernobich
SPOTLIGHT: FANTASTICAL CREATURES
We love the multitude of otherwordly creatures and supernatural beings that inhabit science fiction and fantasy books, and July's releases definitely deliver! Three of the standouts this month have left us deep in thought about the importance of communication and cooperation ...
Ian Tregilis' second in the Milkweed Triptych, The Coldest War, treats readers to an alternate history. In this story, the Cold War wasn't just an international conflict, but an interspecies one as well! Warlocks hold the key to reconciliation between Britain and the USSR, but the nations teeter on the brink of full-fledged battle when wizard politics become complicated. It will take more than a wave of a wand to solve this crisis! (Intrigued about this tale? Be sure to check back at the RT Daily Blog for an upcoming guest post from the author.)
If you're looking for interspecies drama a little further away from home, we suggest Kylie Griffin's latest fantasy, Alliance Forged, which continues the author's exciting Light Blade series. Na'Chi demon and human affairs are mixed when Light Blade leader Varian, who is struggling with his demon half, must work to protect the Na'Chi from extermination by the Na'Reish demons. But when Light Blade rebels invade a Na'Chi camp, all bets are off. Varian and his fellow Na'Chi must strive to put an end to human-Na'Chi conflict, all while they also wage war against the Na'Reish.
Finally, elfin adventures are at the center of our last featured book. Elf politics continues with the just-released third book in Wen Spencer's Tinker series, Elfhome. Tinker has become an elfin princess, and must investigate when elfin children start to disappear. Meanwhile, the elves are involved in a war with the enemy oni, who Tinker suspects may be responsible for the child kidnappings. And if that weren't enough, the destruction of the dimensional gate has left Pittsburgh stuck in the forests of Elfhome. 
A SERIES TO WATCH: THE SHIFTED WORLD NOVELS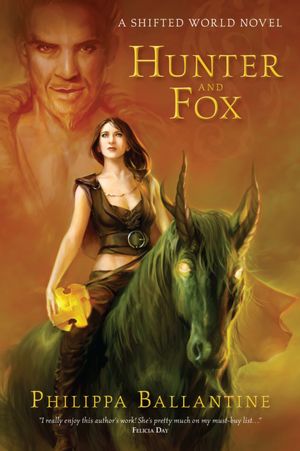 A gifted steampunk and fantasy storyteller, this month Philippa Ballantine immerses readers in the Shifted World, her new series, with book one Hunter and Fox. This classic fantasy series follows heroine Talyn as she fights to save her Vaerli people, whose numbers have diminished after a great war. With the help of Talyn's storyteller friend Finn, who secretly longs to me more, this heroine must face the ruling Caisahs and deal with the creature that lies in wait within her. Talyn struggles with all these issues against an intricate backdrop of the Shifted World. As there are few things better than a well-developed fantasy universe, we asked the author for a tour of this new terrain:
Hunter and Fox is the first part of the Shifted World series. It is a book I wrote when I was thinking about how the world we see appears fixed to us, and yet it really is constantly moving, we just don't appreciate it. What if it was moving at a visible rate? How would that go?
From there I started thinking about what sort of chaotic world that would be and what sort of people would inhabit it. Conhaero is that world, but it is a blighted one for the races that live there. The heroine of the story, Talyn is a tormented soul, who has given up on any kind of redemption for herself, and instead focused on saving her people, the Vaerli from this terrible curse that has been forced on them. However a story-teller who is rather blindly in love with her, is seeking her out and will try and pull Talyn and the world itself out of this horror. I wanted to write a male character that wasn't a hero in the hefting-a-sword kind of way, but has a strength that is just as deep and useful as that. Perhaps more so. Hunter and Fox is about the power of story and redemption. The kind of redemption that surprises us in the most terrible of circumstances.
- Philippa Ballantine
MUSIC TO OUR EARS
Author Rob Reid should know a thing or two about the music industry — he's an entrepreneur and the founder of Listen.com (which you may know better as Rhapsody.com). This month, his fiction debut, Year Zero, imagines an interesting outcome from Earth's first contact with aliens. When aliens discover Earth, it's our music that has them in adopting our ways spades. They're naming themselves after our pop stars and downloading every song humans have created. However, aliens aren't aware of a little thing humans call music piracy, and before they know it, Earthlings are expecting compensation!
This story had us thinking of our own favorite far-out tunes, so we've compiled a playlist of our 10 favorite space-inspired songs:
"Starman" by David Bowie
"2000 Light Years From Home" by The Rolling Stones
"Subterranean Homesick Alien" by Radiohead
"Across the Universe" by The Beatles
"Planet Claire" by The B52's
"Rocket Man" by Elton John (One of RT's Morgan's favorites!)
"Rapture" by Blondie
"E.T.I. (Extra Terrestrial Intelligence)" by Blue Oyster Cult
"Planet Of Sound" by The Pixies
"Intergalactic" by The Beastie Boys (R.I.P. Adam Yauch)
JULY'S INDUSTRY NEWS
We're excited to share two bits of SF/F-related industry news that have been creating a buzz among genre fans: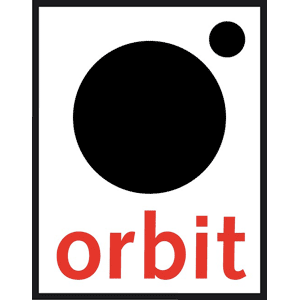 Do you look forward to new Orbit releases every month? Then you'll be thrilled to learn that Hachette will be expanding its Orbit line to include their new commercial fiction imprint, Redhook. Tim Holman, senior VP and publisher of Orbit, said Redhook will "'help us grow the division and broaden our business and consumer relationships,'" which means readers can expect more science fiction, fantasy, manga and graphic fiction releases from the publisher.
This all starts with Redhook's first book, Hawk Quest by Robert Lyndon. Booklovers can look forward to this historical epic hitting shelves in April 2013. After Hawk Quest's release, one or two titles will be released per month under Redhook in both print and e-book formats. The line is also set to include digital-first titles.
And in news coming out of a different part of the sci-fi fantasy universe, one beloved author is headed to self-publishing. Fantasy author Terry Goodkind will be taking this route with his next novel, The First Confessor. Goodkind had been getting readers excited for this new release by posting details about the book through social media, sharing book trailers via Twitter and Facebook. He revealed the book's title shortly before its July 2 release. For those who are curious about Goodkind's first self-published work, be sure to pick up a copy of The First Confessor, available now!
For more genre coverage be sure to keep your eye on the RT Daily Blog and check out RT's Everything Science Fiction & Fantasy Page!