Karen Erickson On Historical Romance Novellas — With Giveaway!
Wed, 11/30/2011 - 1:08pm — admin
Want to read a hot romance but pre-holiday preparations have you too busy for a full-length book? We suggest you check out novellas to get your romance story fix. Today, author Karen Erickson tells us why she loves to read (and write) these quick stories and gives us a sneak peek at the latest in her Merry Widows series, "Her Christmas Pleasure." Plus, just in time for the holidays, Karen is giving readers a chance to win a gift card!
Sigh…I love a good historical romance. The first adult romance I ever read — after cutting my teeth on teen romances, especially the Silhouette ones — was The Flame and the Flower. I also became hooked on Jude Deveraux's various series (Montgomerys and Taggerts — LOVED them all!) as well as LaVyrle Spencer's heartfelt historical romances. I always wanted to write a historical romance but my first attempts oh, so long ago were…
Awful. Terrible. Which left me discouraged and I gave up (with reason, trust me).
That's why I'm so excited I finally have a historical romance series out with Carina Press. The second novella in the Merry Widows series, "Her Christmas Pleasure," just came out earlier this week.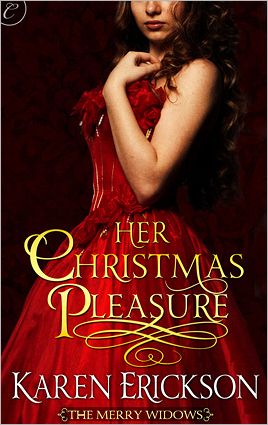 So why novella length? There's not many short historicals out there so I thought perhaps my stories could fill a void. I personally love short stories and novellas. They're the perfect fix when I'm craving a romance but don't have a lot of time to read.
When I set out to write what would become "Lessons in Indiscretion," I knew it was going to be short—around twenty thousand words, tops. A quick bit of sexy historical fun—who could ask for anything more?
Well, lots of readers could. I've received many a review and comments from readers that they wished the stories were longer! Some readers were pretty upset at the short length. I felt bad. I let them down. But, I also took it as a compliment. They liked the story so much, they wanted more.
I have another Merry Widows novella ("A Scandalous Affair," release date TBD) coming out and it's a bit longer. Probably still not long enough to satisfy those who want more but hopefully someday, I'll have a full-length historical romance available to my readers…
Tell me what YOU think. Do you prefer a full-length book or a novella? How about a mixture of both? (I'm in that camp) Let me know your opinion in the comments section and I'll draw one lucky winner to receive a $10 gift card to either Amazon or Barnes & Noble (winner's choice!).
And I hope you enjoy "Her Christmas Pleasure" as much as I enjoyed writing it.
- Karen Erickson
You can pick up your own copy of Karen Erickson's newest Merry Widows novella, "Her Christmas Pleasure," now! For more information about the author you can visit her website or follow her on Facebook for her latest updates. And to stay in the loop about all the latest in the genre by stopping by our Everything Romance Page!

GIVEAWAY ALERT: One reader will win a $10 gift card to either Amazon or Barnes & Noble (winner's choice). To enter, just leave a comment about whether you prefer to read a full-length book or a novella. Alternatively, you can email your answer here with your US mailing address and the subject line "Karen Erickson Gift Card Giveaway." The winner will be notified on December 13.