Karina Cooper's "Wicked Lies" And More M/M Romances We Recommend
Tue, 03/05/2013 - 1:39pm — admin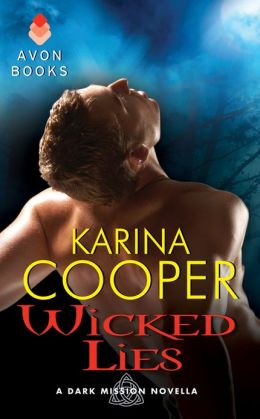 Today author Karina Cooper releases her first male/male romance, "Wicked Lies," a digital-first novella set in her Dark Mission universe between book 4, Sacrifice the Wicked, and the final book in the series, One for the Wicked. "Wicked Lies" is also big news for her publisher, Avon. Not only is this Cooper's first M/M title, but it's also the publisher's. And it's a move well worth making. Although the novella is a quick 100 pages, RT reviewer Jaime Geraldi calls the tale, which earned a Top Pick! rating, "exciting, passionate and extremely well-written" and "an unforgettable addition to the series."
Set in a futuristic Seattle and focusing on a clan of powerful witches and those who want to hunt them, "Wicked Lies" tells the story of Jonas Stone, a young insurrection member given his first independent mission: rescue their leader's grandson, Danny Granger, who is being held captive by the Mission. Danny is freed, but badly injured in the escape, so Jonas must stay with him to ensure he recovers completely. His time spent with Danny draws the two closer, and Jonas realizes he may never want to leave Danny's side.
Priced at only $1.99, we definitely recommend downloading a copy of this sexy paranormal tale. And if you need another reason, then how about this: the author is donating all of the proceeds from this story to the It Gets Better Project, which the author wrote more about here. 
After devouring Karina Cooper's first foray into M/M romance, we thought you might have a hankering for some other great same-sex stories. Here are some of our favorite titles from mainstream romance authors:
Suzanne Brockmann's Troubleshooters series
Suzanne Brockmann doesn't just write awesome romantic suspense novels, she's also a longtime supporter of LGBT rights, and makes sure to include a diverse cast of characters in her stories. Brockmann's Troubleshooters books investigate the ups and downs of several couple's relationships, but no two characters have garnered more attention than FBI agent Jules Cassidy and his Hollywood beau Robin Chadwick. You can read more about this couple's adventures in Force of Nature and All Through the Night.
"What Chris Wants" by Lori Foster
Part of Foster's Men Who Walk the Edge of Honor series, this romantic suspense novella is set between book 4, Run the Risk, and the upcoming book 5 Bare it All. The story features Chris Chapey, the go-to guy for a group of ruthless mercenaries. The man can put together a covert rescue mission with no problem, but is less of an expert when it comes to love and dating. Chris' life is about to be turned upside down when he meets Matt Houser, that is, if Matt can accept Chris' crazy lifestyle and Chris can come to terms with his long-hidden secret.
Came Upon A Midnight Clear by Katie Porter (aka Carrie Lofty and Lorelei Brown)
The writing duo that is Katie Porter turns up the heat with their 2012 holiday tale, Came Upon A Midnight Clear, which won our December Seal of Excellence Award. Although both of these authors are known for writing fantastic historical romances, their Katie Porter titles take a decidedly naughty turn. In Came Upon A Midnight Clear Hollywood film producer Kyle Wakefield and stunt man Nate Carnes' love story is no exception. If you're looking for a heartfelt contemporary romance with plenty of sizzling action, don't skip out on this awesome romance.
Perhaps the most anticipated M/M romance of the year is J.R. Ward's next Black Dagger Brotherhood novel, Lover at Last. Longtime BDB readers have been anxiously awaiting Blay and Qhuinn's HEA. Blay has always secretly had feelings for his best friend, who never admitted he felt the same. When Blay moves on and Qhuinn decides to father the Chosen's child, the two don't expect war to reunite them. This friends-to-lovers story is filled with plenty of passion, and is a must-read for both BDB fans and new readers alike.
You can download "Wicked Lies," available digitally today. Do you have a favorite M/M story by a mainstream author? Share it with us in the comments. For more happily ever afters visit our Everything Romance Page.