Kate And Thorne Continue Tessa Dare's A Lady By Midnight Blog Tour - With Giveaway!
Thu, 08/30/2012 - 3:04pm — admin
Author Tessa Dare's A Lady By Midnight Blog Tour continues here on the RT Daily Blog, featuring hero and heroine Thorne and Kate!
Kate: It's our last stop, Thorne!
Thorne: Hallelujah.
Kate: For those anyone just joining the A Lady by Midnight Grand Tour, first we decided strong, silent type Thorne needs a meme to improve his gruff image. At our second stop, we tried out a few famous memes for size. No luck. My attempt to chronicle our courtship in e-cards was a dismal failure. And Thorne remained unmoved by my LOLBadgers and declared that he doesn't know what love is.
Thorne: True. I don't.
Kate, whispering aside: He's so wrong. So, so wrong. This man knows more about love than anyone I've ever met. But teasing him is too much fun.
Thorne: I heard that.
Kate: Good! Since you say you don't know what love is, we're going to recruit the Internet to tell you.
Thorne, rubbing his face: And how many people are on this "Internet"? A dozen or so?
Kate: Hah. Oh, Thorne. And you call me naïve. Here's one last meme I've been saving. The motivational poster meme! It's just what we need.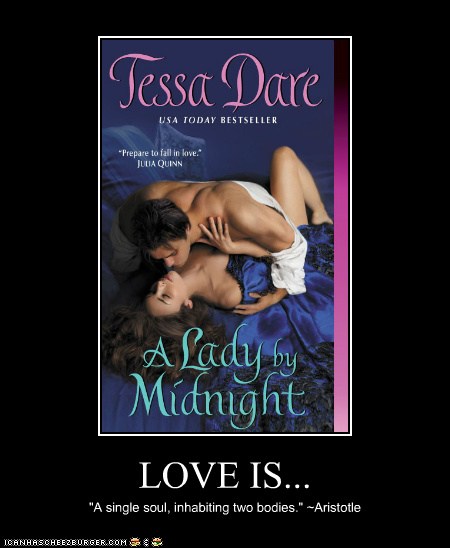 Kate: You see, love means different things to different people. So we need a lot of different people to help us out by offering their definitions.
Thorne: Is it too late for me to avoid this by saying I suspect I do know what love is. And that I have known it for two decades, but have kept that definition to myself every day that I've been torturously near you this small English village?
Kate: Oh, Thorne. Yes, it's too late. You're getting the definitions anyhow.
***
Here's your turn! There are several ways to enter this giveaway, and you have all weekend. The grand prize will be a $150 gift certificate to BlueNile.com, a fantastic jewelry site. This giveaway is open to international readers and ends Monday, September 3 at 8pm.
If you feel like being creative, re-caption my LOVE IS… poster or find a picture of your own and create your own poster at the I Can Has Cheesburger site. You could post a link to your image in the comments below this post, or tweet it with the hashtag #ThorneKat. Or, you can simply complete the sentence. Comment here on the RT blog with your definition of love. It can be funny, romantic, sexy, sweet…whatever love means to you! Or, you can comment on Twitter. Tweet at @RT_Magazine and complete the sentence "Love is…" and use the hashtag #ThorneKat.
Thanks so much to everyone who has participated in the blog tour! I hope you had as much fun as I did. And I hope you enjoy Kate and Thorne's romance!
- Tessa Dare
BLOG UPDATE: The winner is Aideen. You can see their winning entry here. Thanks to everyone who participated!

You can pick up a copy of A Lady By Midnight, available in stores now. For more romance visit our Everything Romance Page!