Kate Douglas Shares How Wolf Tales Came To Be ...
Wed, 06/15/2011 - 12:46pm — admin
In honor of wrapping up her incredibly popular Wolf Tales series, author Kate Douglas hosts a giveaway and reflects on the evolution of the erotica series which spawned a publishing imprint, more than twelve stories and a legion of fans. Today Douglas goes behind the scenes to take us back to the very beginning of the Wolf Tales in a special look at how her pack has thrived!
It feels almost as if it was another lifetime when I sat down and wrote my first chapter of Wolf Tales for Margaret Riley, owner/publisher of Changeling Press. I signed that first contract for Stefan, Book 1 of Wolf Tales, on March 1, 2004. The story had evolved out of a "freebie" 1000 word short I'd written for a reader's loop about an unconscious young woman who is rescued by an unknown man, has delicious sex all night long and awakens back on the side of the road with no idea who her savior was or if she'll ever see him again.
Margaret, better known as M to her authors and buddies, had asked me for a short, hot novella to launch her new publishing company. I expanded the short story, decided that my hero was going to be half human and half something else, named him Stefan Aragat and eventually decided he was a shapeshifter who was caught half way between shifts. At first I wasn't sure what he was going to shift into, but then I did some research and stumbled across a sub-species of Tibetan wolf, locally called "Chanku". From that one word, my series was born.
I wrote a new story every few weeks as a tightly connected serial, but in 2005 my agent, Jessica Faust, owner of BookEnds Literary Agency, asked me if I had anything hot she could shop around. I sent her the first five stories, but they were so over-the-top as far as sexual content, I didn't expect a favorable response. Imagine my shock when my cell phone rang as I was pulling into the Safeway parking lot—Jessica was calling to tell me that Audrey LaFehr of Kensington Publishing had made an offer. M graciously returned my rights to me, and the first Wolf Tales—made up of the first five stories I'd published with Changeling Press—was scheduled for release in January 2006.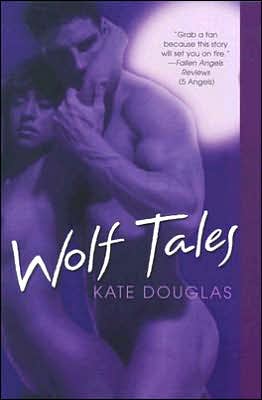 I learned later that my editor had read the submission and wanted to publish the stories, but Kensington didn't have an imprint the book would fit into. Audrey contacted Kensington CEO Steve Zacharius, who authorized a new imprint, and Aphrodisia was born—along with the series that would literally consume me for the next five years. My first contract was for three novels. We had no idea how well the stories would do when I signed in August 2005, but the book—slated for release in January 2006—actually started showing up in bookstores and shipping from booksellers online by Thanksgiving of 2005—an amazingly fast turnaround. Within mere weeks it had gone in for reprints while I was writing like a madwoman, trying to finish up the first novella for the first Sexy Beast anthology, which released in March 2006.
I'd started out with those nice, short little stories that ran between 12-14,000 words each, but now I was faced with contracts calling for two more 85-90,000 word novels and two more 30,000 word novellas a year for the next three years, which was quickly doubled when I was offered contracts for six more stories—three more novels and three novellas. I rarely left my office, but I had no desire to go anywhere. Faced with so much to write, I was completely immersed in my Chanku world. The characters were part of my every thought—Anton Cheval was already whispering in my ear, and while I hadn't originally seen him as the "über-alpha" he became, it was obvious he was doing his best to take control.
The dynamics of the sexual relationships in the series were all Anton's fault, and they showed up while the serial was still at CP. I had no idea I was going to be crossing into what was essentially forbidden territory when I wrote Stefan's story, but then, as the tale unfolded I realized there was something else going on—and it was going to involve Anton. When I wrote Part 2, Anton's story in the first Wolf Tales, I ended up with a very graphic male on male rape scene where the protagonists weren't always human. If there were any taboos among romance writers, same sex rape verging on bestiality probably nailed most of the big ones. My editor at Changeling Press refused to approve the story, but I went straight to the owner and M realized that, in the context of the tale, it was written the way it should be. The story was published at CP as written.
Thank goodness Kensington editor Audrey LaFehr was willing to take a chance, because that scene was left intact when Wolf Tales went to print. Taking it out of context would probably get it labeled as pure pornography, but because of the story that leads to the act, and because Anton and Stefan are both such powerful characters in their own right, it works. I was more than willing to defend it should there be any questions, but to my surprise, readers embraced the story, the characters, and most of all, the Chanku.
I have been very lucky to have the opportunity to write this series the way I wanted. Audrey has generously allowed me more than enough rope to hang myself, but so far I've managed to avoid the gallows, and my readers have been amazingly loyal. This final book is the result of twenty prior stories that flowed freely toward a conclusion that eluded me until I sat down to write. None of the stories were plotted in advance. I was able to give my editor only a vague idea of what I'd be writing, and that generally changed before the book was finished. This final chapter in the series surprised even me—when Audrey suggested I write a bigger book to end the series, I tossed everything I'd already done and wrote what my characters told me to write. I tried to answer questions my readers had asked, and took a lot of their comments to heart. Yahaira Huertas of Puerto Rico asked a question that actually changed the course of the final book entirely, and has given me tons of ideas for a second-generation series. (Proof that authors really do listen to their readers!)
I'm proud of what I've accomplished with this series, and so thrilled that Kensington Publishing allowed me the opportunity to bring my story full circle. I hope readers will enjoy my next Aphrodisia series as much—Dream Catchers will debut with the novella "Dream Catcher" in the Night Shift anthology that's due to release in December. And, for those who started out with my first Wolf Tales when it was still an online serial, I've got a new serial that will be available for e-readers by June 17. The Demon Lovers series opens with "Unbalanced", available at Amazon.com, Barnes & Noble and other online booksellers. It's short and sexy and hopefully the first of many—and selling for just .99.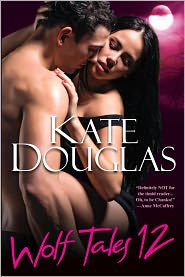 The final Wolf Tales—Wolf Tales 12—releases June 28. If you're in New York, I'll be signing copies at the Romance Writers of America Literacy Book Signing at the Marriott Marquis in Times Square on Tuesday, June 28, from 5:30-7:30. I hope you'll buy the book and I really hope, for all of you who have followed this series, that your questions are answered and you'll be able to close that final page with a good feeling about the future of my Chanku.
Thank you all so much for the wonderful messages you've sent and the great things you've said about this series that have sent other readers in search of the books. I want to add one thing—a look at the very first review from RT BOOK Club, as the RT BOOK REVIEWS magazine was called in December 2005, when reviewer Leigh Rowling awarded the book that broke way too many rules a generous four stars, and said, 
"Readers should be aware that the Chantu [sic] are a sensual and sexual race and that they have polyamorous relationships (male/male, female/female and groups). Perhaps it's the nature of the author's style of writing, but the descriptions are not abhorrent in any way. In fact, there's a subject in part three that will, quite possibly, move many women to tears. And while we have heroines whom we love for their strength, we also have heroes whom we love for their sensitivity. (Jan., 256 pp., $12.95)
I had been so terribly worried that a reviewer would not be willing to look beyond the graphic scenes and explicit sex, but thank you RT, for seeing the romance inherent in the story. And thank you, to my wonderful readers for your support for me and this series that somehow took on a life of its own.
- Kate Douglas
GIVEAWAY ALERT: One lucky reader will win a stuffed animal wolf from the author to commemorate the amazing time she's had over the past seven years creating the chankus' world! To enter leave a comment on this blog telling us why you'd love to be (or be with) a chanku shifter or email your comment here. Or email your comment here with your address. This contest is open to all readers worldwide. The winner will be announced on June 28.