Kate Noble On Why Let It Be Me Isn't Your Typical Historical Romance
Mon, 04/22/2013 - 2:18pm — admin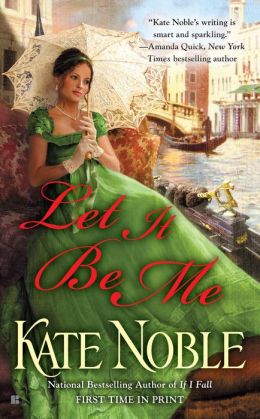 This month RT editors fell in love with Kate Noble's latest historical romance, Let It Be Me, which earned our April Seal of Excellence Award. This Venice-set story features Bridget Forrester, a young woman who dreams of studying with famous Italian composer Vincenzo Carpenini. But when she arrives in Italy, Bridget finds out that not only did Carpenini not invite her, but he has no idea who she is! Bridget learns her trip was set up by theater owner Oliver Merrick — a man with plans that definitely involve the lovely Bridget. Today the author shares her reaction to winning the SOE award and shares why her latest romance is especially noteworthy. 
"Kate Noble, you just won the RT Editors' Seal of Excellence Award! What are you going to do now?!?"
"I'm going to go write another 3,000 words today!"
Man, I wish I could have answered that I was going to Disneyland. It's not implausible. Disneyland is about an hour away from where I live in Southern California, if I drove down on a random Tuesday, I could probably ride Space Mountain a half a dozen times, such would the lack of line be. But the truth of the matter is, taking off on a random Tuesday just isn't feasible anymore. Sigh. I miss not being on deadline.
However, it's hard to mourn my inability to visit Disneyland when the honor of the Seal of Excellence is sitting in my inbox, a gleeful, shiny ball that makes as happy as … well, as a kid at Disneyland. I was truly humbled and amazed when I received it, especially considering the stiff competition.
I mean, seriously. Nora Roberts? I've read pretty much every book she's ever written, and that's no small feat. And J.R. Ward? Do you have any idea how long the fandom has been waiting for Lover at Last?
Since the Seal of Excellence is given for a book that is compelling and pushes boundaries, I thought I'd tell you what in Let It Be Me makes it outside the norm for a historical romance novel.
It's set in Venice.
I love England. I love writing in the Regency. I love the manners and the pastoralism and the drawing room drama. But sometimes, you have to get out of town.
Venice, Italy — an island city cut across by canals, exists like a dream to me. It's bridges, it's architecture, it's racy history … it's the perfect place to escape to — and Bridget Forrester needs to escape. She spent last season living in her older sister's shadow, and earned a reputation for being snide and unpleasant. So she needs a place where she can be new again. And when a letter arrives from Venetian composer Vincenzo Carpenini offering a chance to study piano with him, she doesn't hesitate before grabbing her mother and sister, and setting sail for Italy.
Wait, did you just say 'composer'? Like, music composer?
Yes I did, and that's exactly right — Carpenini is a renowned composer and musician, and Bridget is a very talent pianist, but she's never studied at the level of the great masters. However, she's willing and eager to learn … except when she shows up at Carpenini's door, he's never heard of her. But Oliver Merrick, theatre owner and Carpenini's friend who wrote to Bridget under Carpenini's name, does recognize her. Not only that, but Oliver and Carpenini need Bridget, when they get involved in a musical wager.
Music is central to the story of Let It Be Me — it's what Bridget lives and breathes, its Carpenini's profession, and it's Oliver's life. The musical pieces I chose in to put in this book are huge and complex … as are the egos. Musicians like Beethoven and Rossini, and yes, my Vincenzo Carpenini, were the movie stars and rock stars of their age. I love the way the large, loud, sensory overloaded world of music in Venice contrasts with the somewhat sedate world of Regency England. No wonder Bridget falls in love — and it's a love that lasts a lifetime.
A love that lasts a lifetime, which is the first thing you read.
The prologue to Let It Be Me starts 70 years after the events of the book. It starts with Bridget old, no longer able to play piano, and her husband having passed away a few years ago. But she can still hear music. She can still enjoy and remember the beauty of the 65 years she did have with her husband through their children, their grandchildren, and as always, through music. Because music, like love, never goes away. It releases joy upon each new listening, and each time it plays in our earbuds, on our iPods, our radios, relived like an old friend. For Bridget, music is constant. Love is constant. Therefore, music is love.
I am so grateful to the staff of RT for choosing Let It Be Me for their Seal of Excellence this month. I hope that if you get the chance to read it, you love it like I do.
- Kate Noble
You can pick up a copy of Let It Be Me, available in stores and online now. For more historical romance visit our Everything Romance Page.