Katie Lane: The Big Apple Vs. Bramble, Texas
Thu, 08/15/2013 - 10:52am — admin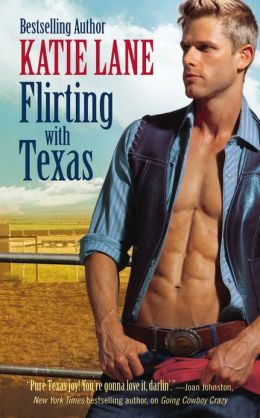 Katie Lane knows a thing or two about hunky, swoon-worthy cowboys. In her latest book, Flirting with Texas, Jenna Jay Scroggs left her small hometown of Bramble, Texas, for the bright lights of New York City. But a chance encounter with rodeo star Beau soon has her yearning for home. Both the Big Apple and the charming, yet fictional, Bramble have a lot to offer, but which would you choose? Today, Katie shares the pros and cons of both locales to help you decide if you're a city mouse or a country mouse!
***
If you're like me, you wait until summer is almost over before you say — Holy Cow, I need a vacation! Then comes the hard part: figuring out where you want to go. To help you decide, here's an overview of the two vacation spots in my newest novel, Flirting with Texas. 
The Big Apple vs. Deep in the Heart
 

New York City

Bramble, Texas

Population:

Over 8 million

Enough to fill the high school football stadium on a Friday night. Go Dawgs!

Accommodations:

The Waldorf-Astoria,
The Plaza,
The Algonquin Hotel

Miss Hattie's Henhouse, once the most notorious house of ill repute in Texas, but now a welcoming bed-and-breakfast with comfortable rooms, a beautiful lilac garden (make sure to check out William Cates and Miss Hattie's graves) and a big ol' bathtub perfect for sassy heroines and smoking hot cowboys.

Restaurants:

The Russian Tea Room,
Sardi's, The Capital Grille,
Minetta Tavern, Brooklyn Diner

Josephine's Diner is pretty much it. But they have a full menu, complete with Texas chili, chicken-fried steak and dee-licious frog legs.

Points of Interest:

Empire State Building,
Statue of Liberty,
Central Park, Times Square

The plaque in front of town hall that caused quite a ruckus between the Cates family and the folks of Bramble, and Farmer Lowell's two-headed chicken.

Transportation:

Subway and taxis

American-made trucks. And if you're lucky, Bubba will give you a ride in his monster truck, complete with witty bumper stickers and bull balls.

Entertainment:

Broadway plays, museums,
art galleries, concerts

Sherman the Pig when he throws a fit for his tater tots, holiday parades, Miss Hattie's famous "fan dance," and Suzy Jean's flaming baton halftime show.

 

Night Spots:

The Village Underground, Club Cache,
Club Shelter

Bootlegger's Bar, where you can get a cold beer, play pool, two-step or watch the latest lover's quarrel.
Now, if you're still on the fence about which vacation spot to choose, let me add one more little enticement. While it will cost you a pretty penny to vacation in New York City, it will only cost you the price of a book to go to Bramble, Texas. Okay, so Bramble doesn't really exist, but, sometimes, fictional towns are the best vacations. You don't have to pack, travel, or deal with crowded airports. You just need to find a comfortable spot and enjoy.
-- Katie Lane
***
Want to learn even more about Bramble? Then pick up a copy of Flirting with Texas in stores or online today. And for even more contemporary romance buzz, head on over to our Everything Romance Page!