Katie McGarry: Straddling the YA and NA Line
Thu, 12/05/2013 - 10:56am — admin
As New Adult literature grows in popularity and quantity, the lines between NA and young adult stories seem to be getting more and more blurry, which makes for a wider selection of crossover titles. One author who knows a thing or two about crossover appeal is RT favorite, Katie McGarry! Most recently, Katie released the third in her stellar series, Crash Into You, which our reviewer called "hot" and "full of speed." Today, Katie shares her thoughts on writing her debut novel, Pushing the Limits, and pushing the YA boundaries. Check it out:
Several years ago, when I was writing Pushing the Limits, I was terrified. Who on earth was going to publish this manuscript? I mean, these two characters that I had created … well … they were dark.
What was I going to do with them?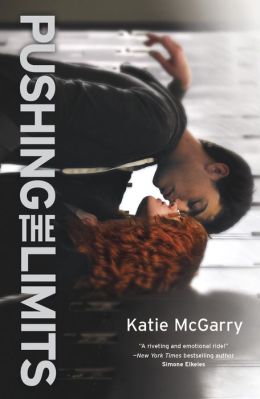 It's like Noah was determined to break every rule imaginable. He was a girl-using, foster kid stoner who lost his parents in a house fire. He laughed at me every time I tried to get him to lose his affinity for the f-bomb and his desire to convince a girl to hang with him in the backseat of his car. Really, dude? Why not go ahead and throw us on a banned books list before we hit a shelf.
Echo blushed like crazy when she talked about "it," but she was interested in sex. Sex! She was curious and she was scared and she had urges and feelings and emotions and she really, really, really wanted to talk to her stepmom about being put on birth control.
On top of that, Echo had scars on her arms caused by a mother who struggled with a mental illness. At night, Echo would lie in bed and wonder how she got the scars, but what really plagued her brain was the question of whether she'd ever have a relationship with her mother again.
And my self-proclaimed bad boy Noah was fighting the social services system in an attempt to save his little brothers from what he believed was an abusive home.
Did I mention that these two characters were 18 and seniors in high school? Yeah. I probably didn't. At the halfway mark of my manuscript, I stopped typing, stared at the screen and realized I was writing a young adult novel that had some very strong adult themes.
Then I'd chastise myself and mumble how stupid I was being because teenagers deal with a ton of problems and pressures daily, so I would continue to type.
The stopping and starting and stopping and starting became a cycle. Was I writing a story that was too dark? Was I writing a YA that dealt with themes that were too intense? Was I writing a YA book that was just too edgy for the genre?
You see, at the time that I wrote Pushing the Limits, New Adult was a newly emerging genre that I didn't quite understand and there was a lot of discussion about what was allowed in YA fiction in terms of sex, profanity and teens dealing with adult issues. Maybe I was just very limited in my understanding, but as far as I could tell, you either wrote young adult or adult, and edgy characters 18 and older teetered into this no man's land that no one seemed interested in touching.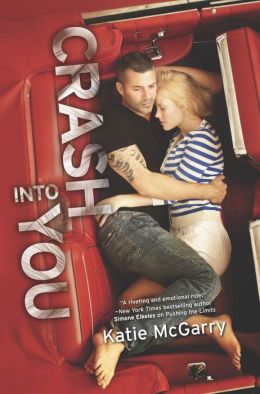 Now, I'm not saying that there weren't books out there that were edgy or had older protagonists, I'm just saying that at the time it was a very, very tough sell.
Page after page, line after line, word after word, I worried. Was I writing a book that would never be considered by readers or a publisher?
To be honest, I was driving myself insane with the questions and the self-doubt so I made a decision to write the book as honestly and as truthfully as I could for these characters without worrying about genre or expectations or readers or becoming published. After all, in the end it's my job as an author to write my characters' story, not mine.
And I'm glad I did. I'm extremely proud of Echo and Noah and their aptly named novel, Pushing the Limits. These characters did push limits. They pushed boundaries within themselves and within their genre and I absolutely love them for it.
-Katie McGarry
We love that Katie doesn't hold back in her books, and that each book is more stunning than the last. What say you, fellow readers? What do you love most about Katie's edgy work? Do you wish YA authors would push the boundaries more often? Sound off in the comments, and for more YA and NA buzz, visit our Everything Young Adult Page!