Kaylea Cross On Writing What She Loves
Wed, 04/17/2013 - 10:51am — admin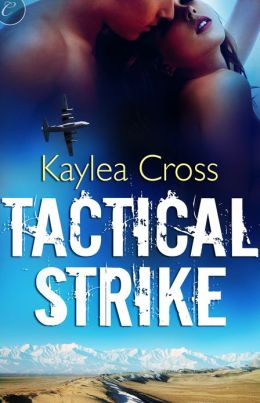 Even more important than writing what they know, authors must write what they love. And this is especially true for romantic suspense writer Kaylea Cross. A woman of eceletic tastes, Cross made sure to include things she loves — from chocolate to sports — in her newest novel Tactical Strike. Today the author visits the RT Daily Blog to explain how she incorporated her favorite things into the story.
Aside from writing military romantic suspense, there are a few other important loves in my life. Here they are in no particular order, along with how USAF Captain Candace "Ace" Bradford and USAF Staff Sergeant Ryan Wentworth, the main characters of Tactical Strike figure into each.
Love #1: Military alpha male heroes
Hell. Yes.
I mean really, what's not to love about those? Especially when they balance that warrior side with a deliciously protective and tender side. The caretaking military alpha is my all time favorite kind of hero, and the hero of Tactical Strike, SSgt. Ryan Wentworth, is definitely one of them. As an elite Air Force Special Operations Command Combat Controller (CCT) he's badass, but he also knows when to show his softer side and every time he does it's yummy.
Since Ace is a Spooky gunship pilot, she's pretty badass in her own right, and not easily impressed by a man. Ryan managed to thoroughly rock her world though. She's proud of him for his service as a CCT, but that gentle and protective caretaker part of him is what sealed the deal. (That makes Ryan blush, since he doesn't want anyone but Ace to know he's a softie underneath all that testosterone. We won't tell, will we?)
So yes, military alpha male heroes, for the win!
Love #2: Dark chocolate
Hey, it's good for you! Really it is. All those antioxidants boost mood and have all kinds of health benefits.
Now, like a lot of women, Ace has battled her weight most of her life, but she loves to indulge in a little handful of dark chocolate. I put her onto the good quality stuff, like Bernard Callebaut's bittersweet chocolate. Mmmm. (Yes, I turned Ace into a chocolate snob. I'm not sorry.)
Ryan, of course, can eat his own weight in chocolate and never gain an ounce, damn him. Though he told me to keep tempting Ace with the chocolate because he loves her curves and he's more than happy to help her burn off any residual calories the next time he gets to see her. That Ryan. Such a selfless guy.
Love #3: The Civil War
Since I'm Canadian, I realize this is odd. And just to be clear, I don't love war, but I find the history of it fascinating, in particular the Civil War. I majored in American history in university. I've traveled to most of the major battlefields back east and hubby popped the question to me in the middle of one. Sure, it was in a cemetery, but it was totally romantic! We even had a Civil War wedding and I made him wear a Yankee cavalry uniform to our reception, then cut our cake with one of my antique sabers. I'm quirky, what can I say?
Ryan loves to talk military history. His dad's a vet and instilled a love of history in Ryan as a kid. Actually when I think about it, besides talking shop, loving military history's one of the only things Ryan and I have in common. I'm like Ace — a rule follower. And Ryan is anything but! No wonder he drove us both crazy while I was writing the book.
Love #4: Gardening
Okay, this one happened by accident. Hubby and I moved into our first house together, a cute little Victorian with a garden. Seemed a shame to let all those plants wither and die so I took on the role of their protector and guardian, and of course along the way got sucked in and have spent way too much money on new plants to take care of. I've been battling the weeds and the bugs ever since.
Now, I tried to instill an interest in gardening in Ace (I figured Ryan was a lost cause on that front so I didn't even bother the attempt), but she's away on deployment and training missions too often to take care of a garden, even if she wanted to. I'm pretty sure when she and Ryan get married and move in together their yard will consist solely of grass. And to tell you the truth I don't hold out much hope for the grass… *winces*
Love #5: Belly dancing
Now this is a good one! I actually took up belly dance in the name of research while I was writing Cover of Darkness, because the heroine has to use her belly dance talents in an important scene in the book. I'd been curious about trying it for a number of years, and since I'd just had my second child it seemed like a great idea to help get my abs back into shape. Boy, did it ever! I quit after my one and only public performance, in front of over three hundred people in nothing but a sequined bra and skirt. I was more nervous that night than I ever was on the mound at any national softball championship, I'll tell you that much. Hubby thought it was the most awesome thing of all time. *g* Glad he enjoyed it, because it was a one time deal!
Ryan thinks this is way cool, by the way, and tried to convince Ace to give lessons a shot. To which she coolly arched a blond brow and told him she will right after he drops on his pointed head. So, guess that's not happening either. Hmm, maybe I can still convince her to come to a lesson or two with me someday, as a surprise for him. Because he would freaking love that.
Love #6: Baseball (especially the Boston Red Sox)
I love my BoSox, but actually what I love most is their ex-captain, Jason Varitek. The man makes me shiver in the most delicious way, and I'm still sad that he's retired.
I started playing softball at age eight and hated every second of it. Like everything else in my life, I had to work my butt off to become any good at it. But once I got good, I was hooked. I played at the national and international level right up into my mid-twenties and was a nationally-carded pitcher. It kept me active and out of trouble during my formative and teen years.
When I asked him, it turns out Ryan only played a few years of little league before trading in his glove for a football helmet. Knowing what a troublemaker he turned into, need I say more? (He shoulda stuck with baseball!)
- Kaylea Cross
Do you share any of Kaylea Cross' loves? If so, then be sure to pick up Tactical Strike featuring Ryan and Ace available online now. And for more romantic suspense novels, check out our Everything Romance Page.