Kelli Maine Takes Us By Storm With Her Latest Release
Wed, 05/22/2013 - 10:48am — admin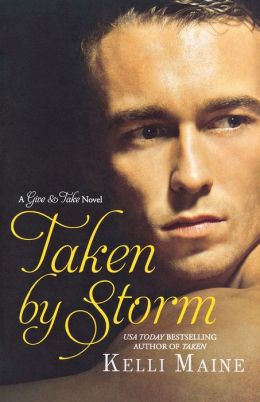 Kelli Maine shook things up with the first novel in her Give and Take series, Taken, which features a shocking relationship sure to get readers' attention. The author's series continues this month with the release of book two, Taken by Storm, a second chance romance in which the hero and heroine find themselves on Turtle Tear Island in the middle of a dangerous hurricane, with nothing but each other to keep them safe. Today we ask the author about her series, her new hero and heroine and what advice she has for aspiring erotic romance authors.
***
Merrick and Rachel, the hero and heroine from Taken, have gotten A LOT of attention — probably because of this story's controversial premise. Millionaire Merrick essentially kidnaps Rachel and takes her to a deserted island. When you were writing this book, did you realize what a huge reaction it would get from readers?
No, I didn't think about reader reaction while I was writing. For the first time in a long time, I let myself write without considering what anyone else (readers, agent, editors) were looking for in a novel. I wrote Taken for me and gave myself permission to write whatever I wanted. Many successful writers will give that advice — write whatever you want and don't worry about anyone else — and I'm glad I did. Writing without restricting yourself is very liberating to the creative process.
The next story in the series, novella "No Takebacks", has a few giant surprises. But perhaps the most shocking is that Merrick has a grown son he never knew about. How did this plot twist come about? Did you know from the beginning that you were going to introduce MJ to his father (and readers!)?
No, that was a surprise to me too! Merrick and his past have a way of sneaking up on me. There's a conversation in the end of Taken between Merrick and Rachael that led me to ask myself, what if? I knew the story was a long way from over at that point.
Your newest release Taken By Storm is all about Merrick's son MJ and his lover Maddie. Their relationship is on the rocks, but they reunite during the story. Can you tell us what issues tore these two apart in the first place?
Merrick's father, MJ's grandfather, Enzo Rocha, is quite the puppet master. He has so many secrets to keep, that he's become a mastermind at controlling people. Maddie found out one of his biggest secrets and he had to keep her quiet. Threatening her father, her only parent, the man who she'd do anything for, was the best way to get her out of the picture and away from MJ before she told him the truth.
At the end of Taken By Storm, all is revealed … or is it?
What is it about MJ that makes Maddie decide she needs him back in her life?
MJ and Maddie are soul mates, two halves of one whole. He knows her better than himself and vice versa. She doesn't want the relationship that looks good on paper, she wants the whirlwind of MJ, the man that makes her crazy and desperate and safe and at peace and feel perfectly loved.
The book's title Taken By Storm refers to the hurricane that traps MJ and Maddie. Is there a double meaning to this that refers to the exceptionally emotional 'storm' of emotions that the H/h feel for each other?
Oddly enough, originally, there was no hurricane in Taken By Storm. The double meaning worked its way in later in the revision process. The title initially referred to MJ's feelings of Merrick and Maddie suddenly crashing into his life. Kind of like the saying, when it rains it pours, but in this case, it storms.
What can you tell us about the next story in the series, "Take Me Back", releasing in early June? Which couple will be the focus?
Rachael and Merrick are back as the main characters in "Take Me Back" and also the final two installments in the Give & Take series. In "Take Me Back," Rachael learns more about Ingrid Westin, the original matron of Turtle Tear, whom she feels a strong connection to. There's a paranormal element in this novella that has Merrick questioning Rachael and puts their relationship to the test once again.
Even though the Give and Take series is relatively new, you have an enormous fan following. Obviously these stories key in on popular reader fantasies, but what else do you think keeps people coming back for more?   
I'd like to think it's the mystery woven into the story, the atmosphere of Turtle Tear and the characters themselves.
Since you have had so much success writing absolutely scorching erotic romance, can you tell us your recipe for whipping up some heat in a novel?
Don't hold back. Go there and then further. Write scenes you don't want your mother reading.
If you enjoy your romances that 'don't hold back' then we suggest you pick up a copy of Taken by Storm, available online and in stores now. And for more steamy romance visit our Everything Erotica Page.