Kelly Jamieson On Cheating And The Ménage Romance
Wed, 01/23/2013 - 11:15am — admin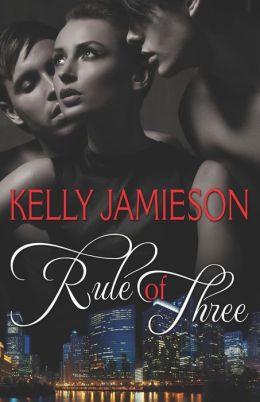 Cheating can be a very polarizing subject among romance readers. For some, it's a deal breaker, while others are able to look past it. But what about in a ménage romance? Is turning a twosome into a threesome cheating, and how do characters move past any jealous feelings that occur? Author Kelly Jamieson takes a realistic look at her latest erotic romance, Rule of Three — about a woman who learns that her boyfriend has the hots for his best guy friend — and explores the reasoning behind ménage romance.

I've written a number of ménage stories and more than once the question has come up about "cheating". A survey by Glamour Magazine found that 86% of men said it's not cheating if their partner makes out with another woman. When I related that statistic to my husband, he laughed. But what percentage of women would think the same thing if they found their husband kissing another man?
What if he was kissing his best friend?
In Rule of Three, Dag and Chris were friends for many years. They were close friends and they'd had threesomes with women, so they'd been pretty intimate even though they'd never had a sexual relationship themselves. But when Dag returns to Chicago after years away, Chris is now in a loving, committed relationship with Kassidy.
I don't think this story would have happened if Dag had been a stranger to both Chris and Kassidy. I don't think Chris and Kassidy would have acted on the urge to have a threesome if it had been a man neither of them knew. There was already a connection between Dag and Chris, and they had that history of sharing women. Also, Kassidy can see how much Chris cares for Dag and how close they are (as friends). She's happy that they're reconnecting. But when the relationship between the three of them becomes sexual, she finds herself almost wanting Chris and Dag to express their feelings for each other sexually. She senses they both want it.
Why isn't she jealous?
If you've ever wondered how a ménage à trois relationship can exist without jealousy, the concept of compersion might help explain it. Compersion could be considered the opposite of jealousy and is a concept that is widespread within the polyamorous community.
"Compersion is a state of empathetic happiness and joy experienced when an individual's current or former romantic partner experiences happiness and joy through an outside source, including, but not limited to, another romantic interest. This can be experienced as any form of erotic or emotional empathy, depending on the person experiencing the emotion." - Wikipedia
This is not so difficult to understand, right? We all do things to make the ones we love happy, such as picking out a special gift or giving them a massage or cooking their favorite dinner. We all get that warm empathetic feeling when our loved ones are happy. So following that thought, instead of feeling jealous when her boyfriend makes love to another man, a woman might feel happy because he is happy. She might also feel aroused, because he's aroused. Kassidy loves Chris and feels empathetic happiness when he is happy. (Okay, I know it's a fantasy in many ways!)
But Kassidy also develops feelings for Dag. And when she senses the depth of Chris and Dag's feelings for each other, she wants them both to be happy. Together. She's terrified that she might not be a part of that, but she knows they have to face these feelings for each other even if it means they love each other more than they love her. And she makes the ultimate sacrifice by making sure they do acknowledge their feelings for each other — at the risk of losing both of them.
This is why I love writing about love. It's why we'll do anything for those we love. Anyone who has ever loved, knows that feeling of wanting that person's happiness even more than your own. It's powerful and generous and selfless. Tremendous sacrifices are made in the name of love. Love makes the world a better place.
- Kelly Jamieson
You can pick up a copy of Rule of Three, available now digitally and in print. For more steamy romance visit our Everything Erotica Page.