Kim Harrison On Her YA Series- With Giveaway!
Tue, 06/07/2011 - 12:10pm — admin
RT Exclusive: Bestselling author Kim Harrison makes a virtual stop at the RT Daily Blog for the Dark Days of Supernatural book tour. Today the author chats about what it was like to move from her paranormal adult roots into the YA genre with her Madison Avery series. The author is also giving away signed copies of her new YA, Something Deadly This Way Comes and a very special grand prize — get all the details at the end of the post! 
One of the most frequent questions I get asked is where the characters come from, and to a great extent, I really can't give the reader a satisfying answer. Characters come from everywhere, just like story ideas. Usually my characters are a conglomeration of people I've met, bits and pieces from here and there combined into someone totally new. Madison, however, was a bit different.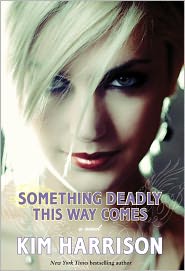 Madison, the main character for my young adult series, Madison Avery, was my chance to reach back into my own teen years, something that some might say would be rather far fetched at my age, but I've always believed that teens are looking for the same things that we all are. Acceptance for who we are, recognition that what we do matters, acknowledgement that we are unique, an affirmation that those people we think are special think we're special too. The tricky thing about teens is that the highs are higher, the lows lower, and the results, if we don't fit in, messier.
So I tried to make Madison tough as nails and vulnerable as new ice. I gave her a special power that only she and one other person had, and the two people who could help her master it, into her enemies. I put her alone, as a lot of teens feel, and gave her smart, powerful friends, as most teens have and don't realize. I gave her purple hair because I wasn't brave enough to dye my hair in high school and I always wish I had been. And then I gave her the ability to stop time, because of all the times I wish I could take something back that I'd said and accidentally hurt someone.
So here's my question for you. If you were or are writing a young adult novel, what character strength (like perseverance) would be his/her greatest asset? What character flaw (such as fear of heights) would she/he have? And would his/her best friend be a boy or a girl? (I'm horribly curious about this one.)
- Kim Harrison
GIVEAWAY ALERT: Answer Kim's question to be entered to win one of four signed copies of her debut YA novel Something Deadly This Way Comes or the grand prize a signed copy of this novel and a bag of Advance Reader Copies of the paranormal stories that will be part of this fall's Dark Days of Supernatural program! Leave your comment on this blog or email it here with your name, US mailing address and the subject line "Kim Harrison's Something Deadly This Way Comes Giveaway". The winners will be announced on June 21!
BLOG UPDATE 7/8/2011: And the winners are ... Confessions of a Teenage Fangirl, Stephjx, Tasnim Sheikh, Ayreeze and Jody!