Kimberly Lang, Ally Blake, Anna Cleary and Kelly Hunter On Writing Southern Belles
Tue, 05/07/2013 - 2:34pm — admin
If you went to the RT Booklovers Convention last week, you may have noticed author Kimberly Lang walking around in a wedding veil, carrying around a yellow bouquet and handing out bubbles. No, the author wasn't celebrating her own wedding, she was promoting her latest bride heroine, Honey! When Honey Got Married... is an RT Top Pick! rated anthology with four stories centered around Honey's Louisiana wedding — from her planner's own romance to her relationship with her estranged sister. We asked the authors to share their thoughts on small Southern towns and writing about the belles who inhabit them.
***

Kimberly Lang:
I am a Southern Girl.
From the roots of my big hair to the toes of my white shoes that can only be worn between Easter and Labor Day, I love the South. I embrace its eccentricities. I will "y'all" and "ma'am" you, and "bless your heart" when necessary (and not always in the good way). I own a deviled egg plate and feel guilty every time I drink beer straight out of the bottle.
Because I do tend to wallow in my southernness, it kills me to see the South misrepresented in books and movies. It's very easy for non-Southerners to do "Bad South," and it irritates me more than dark meat in chicken salad.
So while I was thrilled to set our May anthology, When Honey Got Married…, in the fictional small Louisiana town of Bellefleur, there was one small issue: my amazing co-authors, Kelly Hunter, Anna Cleary, and Ally Blake, are all Australian. They're only "southern" if we're talking about hemispheres. I knew these ladies were incredible authors, and I really wanted to work with them, but the Belle Curve is steep and slippery and fraught with all kinds of hazards.
Thankfully, Anna, Kelly, and Ally are great sports as well, and they not only took on the challenge, but embraced it, which led to hundreds of emails about the ins-and-outs of southern culture. Flora, fauna, dress codes, football… we discussed it all. And it led to some very interesting conversations — especially for me: trying to explain why something Just. Isn't. Done. often requires some deep cultural introspection. At the same time, I didn't want to squash creativity or land on them like the second coming of Scarlett O'Hara. 
So what's it like having someone look over your shoulder like that as you're trying to write? Ally, Kelly, and Anna (bless their hearts) are here to share their favorite moments as they learned how to write Southern (from the Southern Hemisphere).
Ally Blake:
Thanks Miss Kim, now where do I begin? Gosh, did I say that right? Or do I only refer to you that way if you're my elder? Sheesh, you're right about the steep and slippery.
But come on, a big southern wedding set in Louisiana, how could we resist? I mean I'm a serious devotee of True Blood. I've seen lots of Reece Witherspoon movies. I've even been to New Orleans — picture vague memories of beignets, beer and beads on Bourbon Street and a guy in the room next door who offered his sister in exchange for my sister-in-law, and he even threw in some turtle soup for good measure. How hard could setting a book in them there parts be?
Well, first came the honeysuckle. The main heroine in our stories is Honey Moreau, a true southern belle. And if I learned anything from Steel Magnolias it's that the girl needed to have a signature flower which would which would feature prominently through the celebrations! Her name is Honey, therefore honeysuckle it simply had to be. Turns out it's a weed. Please Kim, can we keep it? Pretty please. Sweet girl that she is she allowed it, though we were yet to realize it was a battle won and that the war had only just begun.
Next came hummingbirds. Hummingbirds love honeysuckle, don't you know. And since our bride is having the biggest wedding that side of the Mason Dixon line of course Honey would want beautiful stuffed hummingbirds hovering delicately over the cascading honeysuckle centerpieces. Ah, no. Apparently the birds are protected or some such guff. Alas, no amount of "Please Kim!" got us over that hill. Spun glass hummingbirds it was. Poor Honey.
Okay, so the local wildlife was proving to be a problem for we South of the Equator, but surely fashion translates the world over. A frock is a frock is a frock, am I right? Apparently not. My heroine has lived in LA for some time and thus the dress she chooses to wear to Honey's wedding is pure Hollywood glam — think va va voom, backless, with a big cheeky bow holding it all together. Oh, and it's black.
Cue Kim. I could practically hear the hyperventilation in the poor girl's next email — worded beautifully, mind you, gracefully, kindly, with ever-loving patience. Honestly, by this point we could claim her as a saint. Ally, said she, southern women a) do not show near so much skin to a wedding, and they certainly DO NOT WEAR BLACK. Back to the drawing board... Or maybe not. With that beautiful southern truism, Kim turned my heroine's "dress" into "the dress that shocked the Daughters of the American Revolution and near stopped the wedding of Honey Moreau." My editor had this to say, "As a southern girl who now lives in NYC, I've unfortunately found myself in the same situation. You have no idea how much I'm loving this story!"
Which for me, Miss Kim, says it all.
(Note from Kimberly: Breaking fashion law is almost as bad as breaking federal laws, but "visit from the Fish and Wildlife agents" didn't seem to be a plot point we needed. )
Anna Cleary: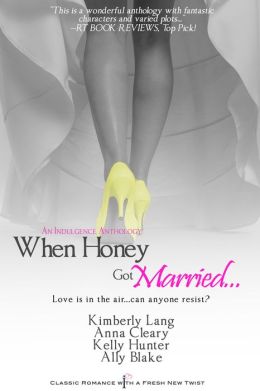 I've always adored the South. Not that I've ever visited in the flesh, but I have read some of the fine literature it has produced and seen a few wonderful Hollywood movies in my time. There's apparently something in the southern water that evokes truly BIG stories, the sort of dramas and passions that have inspired writers, musicians and artists of all kinds to reveal The Southern Experience to the world.
So when embarking on my little corner of When Honey Got Married... naturally I turned to Tennessee Williams among others for inspiration. And in order to paint my heroine, I needed to think with a southern accent.
Joanne Woodward and Paul Newman were helpful. Brando was of course a legend. Sally Field, Vivien Leigh, Dolly Parton and Reece had much to offer in the way of accents, and Shirley MacLaine so impressed me in Steel Magnolias I based an entire character on her. (Sure I know she's not genuinely from the south. But I adore her anyway.)
But none of them had quite the authority of one Kimberly Lang, a bone fide southern belle who took a very dim view of my hero's joke — in very poor taste — I see that now — about enjoying a dish of Great Louisiana Egrets.
"We do not eat egrets," Miss Kim declared with some austerity. "And we do not HUNT egrets. Here egrets are a protected species."
I was sorry to ruffle those southern feathers (Ack, sorry!!! There I go again. Such poor taste!) because I truly do respect the vibrant and unique culture of that gorgeous part of the world. How often have I — like millions of Australians — stood in the shower wailing my heart out with yearning for the silver moon and evening tides of the bayou!
Miss Kim, I only have the most sincere admiration for the high standards of civility you southerners rightly insist upon! 
(Note from Kimberly: After the Hummingbird Episode, I think I had just cause to be worried about the egrets!)
Kelly Hunter:
Six months ago, just about everything I knew about the South I'd learned from Gone With The Wind and those Gator Boys on TV. And while those gator boys look real enough, they're not exactly ordinary (are they?). I knew people went to Florida to retire and learn how to drive. I'd heard that catfish could be edible, given the right recipe. I'd met a boy from Texas once, who could deliver a fine and fluster-worthy "Yes, ma'am". Did "Yes ma'am" happen in Louisiana too? Because I'm all for that happening everywhere. But that was about it for my cultural understanding of the Southern States. I'm from the Great Southern Land. It's not the same at all.  
But I do love having fun, so when Kim offered her services as cultural ambassador as well as fellow collaborator on When Honey Got Married…, and then sneaky Ally Blake sent pictures of Channing Tatum and a link to Jace Everett's music, well, count me in. I could acquire a Southern Belle sensibility. I even spoke the same language. How hard could it be?
Let's start with the swearing, shall we? Because I love a well-placed expletive. And my heroines, they love them too. So when a question came up about what swear words a well-bred Southern Belle might use, and Kim ever so politely mentioned that our heroines in all likelihood wouldn't cuss at all, you could hear a pin drop on the Australian side of the ditch. You mean not ever? (Not ever). But — (Not ever). Oh. Well, hell.
There were clothing issues to be discussed. White shoes when? The correct answer here in red dirt cattle country being never. There were new and improved definitions of the word 'cousin'.
As for having Kim to keep us Southern — I treasured everything about the experience, from the wonderful discussions of cultural differences to the subtleties of word use to the mimosa experiments that simply had to happen. Am I a Southern Belle? No. But I know a thing or two now, and you won't catch me wearing a sexy black dress to a day wedding in Louisiana any time soon, no sir. See how I didn't swear? I'm so proud.
(Note from Kimberly: Southern ladies can (and do) swear. Hmm, something got lost in translation there. See the process isn't quite perfect!)
Kimberly (again):
Well, it seems they're all still speaking to me and in good spirits about the whole thing! It's an experience I'll treasure and we're all very proud of how the stories turned out. We hope you love Honey and her friends as much as we do!
You can read about Honey's big day by picking up a copy of When Honey Got Married..., available now! And for more wedding themed fiction visit our Everything Romance Page.