Kimberly Lang On Her Rock Star Harlequin KISS Hero
Thu, 02/07/2013 - 12:46pm — admin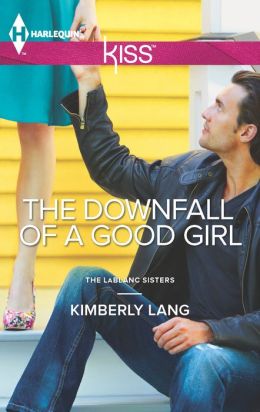 Every now and then we all need a little help from our friends. So when Kimberly Lang was creating her swoon-worthy rock star hero, she asked a songwriter pal for a bit of inspiration. Today the author discusses this collaboration and how it led to a original tune written just for Connor, the leading man in Lang's latest romance The Downfall of a Good Girl.
What's the weirdest thing you've ever borrowed from a friend?
Friends are there to loan you dresses and earrings and maybe even occasionally their car (especially if they have a pickup truck and you're moving), but I think I can trump everyone's weirdest story now.
I borrowed lyrics.
Okay, I'll back up a little.
Connor, the hero of my KISS debut, The Downfall of a Good Girl, is a singer, a rock star fresh off tour and a scandal and coming home to sweep my heroine right off her designer stilettos. As I started writing their story, one thing became clear to me pretty early on: Connor needed a song to sing. Actually, he'd need several songs over the course of the book.
He's a musician. A singer/songwriter. That medium is his comfort zone. It's how he thinks and communicates. I couldn't write this story and not have him sing.
As luck would have it, I happen to know a songwriter.
I met Cristina Lynn when our kids were in Kindergarten together and we were doing the Mom Thing — making crafts at the Halloween party, chaperoning the field trip to the petting zoo, etc. We were both just finding our feet in our respective careers (which for her was playing very small events for her friends while I accumulated rejection letters), and we bonded over the shared struggle of juggling family and creative endeavors. Our kids were never in another class together after that year, but we kept up with each other's careers and successes through the small-town grapevine and the occasional run-in to each other at the grocery store or PTA meeting.
Singer/songwriter Cristina Lynn and author Kimberly Lang
When Connor needed a song to sing, I called Cristina, with my weird request: Can I borrow some lyrics?
She was excited, but a little hesitant at first. It was a weird request after all. But she seemed to warm to the idea quickly. I had one particular song of hers in mind that I'd heard her sing at an area event, but Cristina sent everything she had. Songs she'd already recorded, unfinished songs, a random verse or bridge. I printed all the lyrics out and as I made my way through the book, I'd look through them for words to inspire me or fill out a scene. In the end, three of her songs were woven into pivotal points in the book.
I sent Cristina an early draft so she could see how her lyrics had been used (I wanted her okay before I got too overly attached to them), and about a week later I got an email back from her with a file attached. When I clicked it open, she'd sent me a rough draft of her newest song — "Sinners and Saints" inspired by Connor and Vivi's story.
Let me tell you, that was very cool. Goosebumps, happy dancing, calling all my friends and holding the phone up to the computer speakers so they could hear The Song Inspired By My Book!
And that's when things got really out of hand. In a good way.
Now The Downfall of a Good Girl is out, and the second book in the duet, The Taming of a Wild Child, will be out in March. Cristina went into the studio, and now The LaBlanc Sisters duet has its very own soundtrack: All four songs featured in the books plus the brand-new (and Inspired By My Book!) "Sinners and Saints" are available on the new CD titled Sinners and Saints.
Yes, this makes me very happy.
You can check out our story, learn more about the books, and hear clips from the songs by visiting our websites (www.BooksByKimberly.com and www.CristinaLynn.com).
So, what started out as a weird favor to ask of a friend has turned into something really cool and a lot of fun for us both. I just wish every "Hey, could I borrow…?" story ended up as half as well. 
- Kimberly Lang
You can pick up The Downfall of a Good Girl, available in stores now. For more series romance visit our Everything Romance Page.