Kristen Ashley Shares The Song That Inspired Her Fire Inside Hero
Tue, 06/25/2013 - 11:13am — admin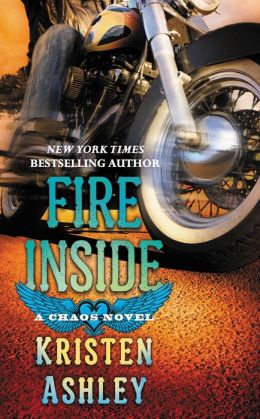 From a photo to a movie star, TV show, family member and beyond, anything can inspire a hero. For author Kristen Ashley, it was a song. Specifically, a classic rock song that conjured up the relationship between motorcycle bad boy Hop and heroine Lanie from her latest Chaos novel, Fire Inside. Today the author shares which tune inspired their romance — the same one Hop plays for Lanie on his guitar. Plus, readers can find an excerpt from the book at the end of this post!
It's probably not a huge surprise, as a music-loving storyteller, that although I like all kinds of music, I gravitate toward songs with lyrics that tell a story. This is why John Mellencamp, Bruce Springsteen, Pearl Jam and Bob Seger are some of my favorite artists.
As for Seger, I've been sitting on his music, primarily the ballads, for a long time — waiting for that right moment to use it.
Enter Hopper Kincaid of Fire Inside.
I was driving home and "You'll Accomp'ny Me" came on my shuffle. I wanted to shout with glee because it all came to me with a bam!
I'd had Hop in the back of my head since Motorcycle Man, knowing his backstory, knowing that my readers weren't real fond of him, and desperate to share all the coolness that is Hop.
I didn't expect him to find his woman in Lanie Heron. To be perfectly honest, I didn't even think Lanie would get her own book! But as I tried to decide what to do with Hop, he and Lanie they just seemed more and more perfect for each other. Hop, rough on the outside, gentle and oh so danged loyal on the inside, could see to my damaged Lanie with the monsters eating away at her insides.
It was perfect that he'd reach her through music. Primarily Bob Seger's words to a fabulously romantic song, the story of which — well, every girl wants a guy to feel that way about her. Further, to have a gentle, loyal biker with a guitar in his hands singing that to you. Serious swoon.
Hand to heart, by the time I was ready to write "the scene", I hadn't listened to the song in some time, so I'd forgotten an important word in the chorus. Maybe the idea was put in my head subconsciously. Maybe it was fate. See, I write with no distractions. But when I put music in my stories, I listen to the song repeatedly. When I was ready to write how Hop felt deep in his soul about Lanie, I grabbed my iPod, sat on my balcony, cued up "You'll Accomp'ny Me", listened to it and hooted with laughter (yes, by myself, sitting outside) because Mr. Seger refers to his woman in the song as "lady" and that was the nickname Hop gave Lanie.
Perfection.
It just so happened another song, "We've Got Tonight" also fit in the plot perfectly. Then again, if you listen to Bob Seger's music and romance sings in your blood, you'll have a bevy of choices.
I like to think that Hop sounds like Bob too, though maybe a little more gravelly. And the version of "You'll Accomp'ny Me" I listen to mostly is live, from the Nine Tonight album.
So it isn't hard to envision Hop on stage, eyes to Lanie, sharing beauty, and it was with delight that I typed out the description of that scene to share with my readers.
- Kristen Ashley
Read an exceprt from Fire Inside >>
You can pick up a copy of Fire Inside, available now digitally. And for more contemporary love stories visit our Everything Romance Page.