The Ladies Most Likely...
Tue, 10/19/2010 - 5:36pm — admin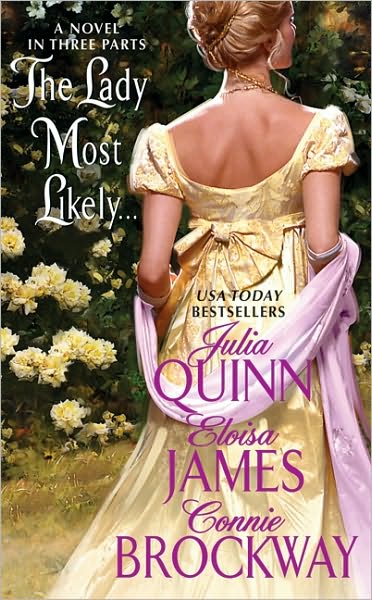 ‪Historical romance authors Julia Quinn, Connie Brockway and Eloisa James are officially at the top of our wish list for The Ladies Most Likely To Co-Write A Historical Romance. And these three authors are fulfilling our reading dreams with this January's release, The Lady Most Likely … A Novel Written In Three Parts. But what does "A Novel Writen in Three Parts" mean? We went to the authors to find out exactly how they collaborated to create a cohesive novel and what readers can expect from The Lady Most Likely ...
Julia Quinn: We wanted to do something beyond the traditional anthology. So we came up with the idea of a woman wanting to get her brother married off. He's not terribly interested in the process of courtship, though, so she gives him a list and invites all the young ladies to a country house party. He starts at the top and works his way down.
But the first lady on the list falls in love with someone else. And so does the second. Which leaves him in the company of his sister's best friend, the one woman who actually knows about the list (and refuses to allow her name to be added to it.)
The novel is divided into three main sections, each focusing on a different couple. Readers will know which of us wrote each of those sections. But there are other chapters, too--at the beginning, end, and in between the main sections. These were more collaborative efforts, and they are absolutely critical to the book. The ending, especially, was great fun to write. The three of us got together in New Orleans to plot out the project, and we wrote the final section in Eloisa's hotel room. She was typing away will Connie and I were chiming in.
So it really is different from other anthologies. You can't just go in saying, "Connie Brockway is my favorite, so I'm reading her story first." You really do have to start at the beginning and read it through like a novel. 
Connie Brockway: Via phone conferences and email we had a loose (very loose) plan. Eloisa would be doing the framing story of the Earl of Briarly, whose hunt for a bride is the hidden agenda behind his sister's country party. Julia would be doing the second story and I would be doing the third. But that's about it. We didn't know what sort of "likely lady" each of us we would be creating but we did know each lady, each story, had to be unique. In other words, we didn't want Briarly choosing Feisty Tomboy #1 over Feisty Tomboy Numbers 3 and 4.
So, first order of business upon arriving In New Orleans was choosing what sort of lady each of us would be creating that would be substantially different from one another's. Julia insisted we decide who got whom using that age old writer's convention, Paper/Rock/Scissors. (Insider Hint: She always chooses Rock. Always.) I won't tell you who got whom, but let's say we were all happy as clams. Clams Casino. At Brennan's. That was the fun part. Wait. Going to New Orleans with great friends and drinking great wine and eating beacoup food while living, breathing and talking books was the fun part.
And write we did. I know it sounds like a boondoggle and images of Eloisa lounging on a plush chaise, dictating into a micro-recorder, while getting a peddy spring to mind (and not without justification. Eloisa does love her a peddy) but the truth is we worked like dogs. Extremely pampered, well-nourished dogs, but dogs nonetheless. We spent many more hours cloistered in our rooms or, in Julia's case, cloistered in the garden, then we did bending elbows at the bar or smacking our lips at Commander's Palace.
The hard part? I can't speak for Julia but for me it was coming up with a hero who wasn't simply a pale imitation of the uber-manly Lord Briarly. I think I found one to, a man who isn't upstaged because he doesn't give a tinker's damn about the stage. After four years campaigning against Napoleon, Captain Neill Oakes simply wants his girlfriend back and it's just too bad that she happens to be the next name down on Briarly's infamous list of "ladies most likely."
It was so much fun doing this project and I know readers will love the end result, a single cohesive, romantic story.
Eloisa James: I was the lucky one who got to write the story of the uber-male reluctant bridegroom himself. I adore men who don't want to commit, and have all sorts of good reasons for it, and then fall crashingly, madly in love, so that's the kind of story I wrote. Connie gave you a sense of how much fun we had... we really did. We went to New Orleans and worked like crazy, but I'll never forget the three of us sitting around a table and writing the last chapter and chortling madly. Writing with other people—especially friends, whose writing you wildly respect—makes the writing so much fun: you have someone to laugh with. I think it gave our novel an extra sparkle, a bit of friendship fairy dust.
So mark your calendars, you can pick up your own copy of The Lady Most Likely… on sale December 28th