Lady Jane's Salon Book Tour de Force Stop #1: Naperville, IL
Wed, 11/21/2012 - 10:20am — admin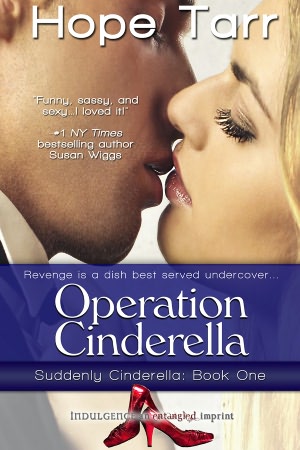 Romance author and Lady Jane's Salon co-founder Hope Tarr recently embarked on a tour the country to meet authors and booklovers from other Lady Jane's chapters around the nation and celebrate the release of her new book Operation Cinderella. The first stop on the tour was Naperville, IL, just outside of Chicago, where Hope met fellow romance fans and got to take in the sights of the city — and of course, eat deep dish pizza. Today the author shares her experiences from the road:
As one of the co-founders of Lady Jane's Salon™, New York City's first and still only monthly romance reading series, I can tell you that we started out with a broad brush vision: to create a forum, a community, for sharing aloud the romance fiction we love. Beyond that, we were a little…fuzzy on how that would roll out. Meet monthly on the first Monday night from 7 to 9PM—because that's when we could get the venue space for free. Hope to muster a dozen attendees—although we'd secretly settle for fewer. Invite published authors as guest readers—although our very first "ask" turned us down. Collect books and bucks for a local NYC women's charity—assuming we had anything left after covering our barebones operating costs.
Flash forward almost four years. The Salon has hosted as many as 125 guests on a single evening as well as welcomed to our stage such luminaries of romance fiction as Eloisa James, Sabrina Jeffries and Suzanne Brockmann. We have been featured in Time Out New York, The New York Post, and in our beloved RT.
And perhaps best of all, we have inspired visiting authors to follow suit by starting up satellite Lady Jane's Salons in their hometowns. To date there are four satellite salons in Denver, Colorado; Raleigh-Durham, North Carolina, Naperville, IL and San Diego, CA.
Busy basking in a cofounder's pride, it wasn't until I began planning the promo launch for my digital-first Suddenly Cinderella Series that my Ah-ha moment hit. The Salon network was the blueprint for a mini national book tour!
The first whistle stop on my Lady Jane's Salon Book Tour de Force was Naperville, IL on Tuesday, November 6th. Co-founded by romance authors Tracey Devlyn and Adrienne Giordano, Lady Jane's Salon Naperville meets every other month on Tuesday from 7-9PM in the loft of Le Chocolat du Bouchard, a charming patisserie and gourmet coffee shop. Turnout was robust despite it being Election Night and rainy. Anderson's Bookshop was on site to sell guest authors' books, and staffers from Sourcebooks, based in Naperville, Tweeted the event nonstop from the rear of the room. By the end of the night, even their thumbs looked tired!
Part of the fun of embarking on this tour is seeing how the other Lady Jane's Salons honor our national model, notably donating their net proceeds to a 501c(3) charity—while adapting the details to best fit their unique locations and audience. Unlike the NYC Salon, in Naperville there is no break—and no bar. The wholesome smells of good coffee and scrumptious chocolate pervade the brightly lit, immaculately clean loft space. Attendees settle into seats with mugs of gourmet coffee and the occasional chocolate martini "mocktail" for back-to-back author readings. Like the NYC Salon, there are typically four guest authors per event. Readings at Lady Jane's Naperville run longer, 20-30 minutes per author, versus our 10-15 minutes.
First up to the mic, I read the first kiss scene from Operation Cinderella, the series launch. One of my favorite parts of the book, it takes place on the rooftop terrace of the Kennedy Center in Washington, DC—moonlit, of course.
Hope Tarr holding her latest release, Operation Cinderella
Next up to the microphone was Berkley Sensation author Hanna Martine reading from her upcoming paranormal romance, A Taste of Ice, which has the most smoking "cold" cover I've so far seen. FYI, Hanna will read the launch to her new series at Lady Jane's in NYC next November 2013!
Romantic suspense author Julie Ann Walker brought tears to our eyes with her Afghanistan War veteran hero from her bestselling Black Knights Inc. Series for Sourcebooks. Military heroes, be it Veteran's Day or anytime, you've got to love them!
Lastly, USA TODAY bestselling historical author, Jade Lee had us in the proverbial stitches with a humorous scene from the latest in her delightful Regency-set Bridal Favors Series.
Then it was off to our respective signing tables and a lovely half-hour of chatting with Salon patrons about our favorite topic: books! I was particularly touched by one older lady who told me that her entire church group had been praying for those of us in New York and New Jersey in the wake of Hurricane Sandy. To her, to them, my heartfelt thanks!
Of course all "work" and no play would make Hope a dull writer girl indeed, and we can't have that! I spent most of the next day touring downtown Chicago, starting with a pilgrimage to the original Giordano's Pizza, touted as Chicago's Best. I'd had deep dish pizza previously but Giordano's would be my first stuffed deep-dish pizza. I ordered the personal pan-sized pizza stuffed with spinach and mushrooms and a Caesar salad starter to ease the forty-five minute wait. Check out the photo—delish!
Deep dish pizza from Chicago's Giordano's
Up against the waning daylight, I managed to squeeze in Millennium Park, Grant Park, and the Art Institute of Chicago. Alas, I couldn't cover as much ground as I would have liked. Fortunately the Chicago Architecture Foundation has a comprehensive model city on exhibit in its South Michigan Avenue headquarters.
The Millennium Monument in Wrigley Square, Chicago
Next whistle stop: Lady Jane's Salon San Diego on Wednesday, November 28! See the full tour schedule here.
- Hope Tarr
Interested in Lady Jane's Salon? Visit their website here. For more romance head over to RT's Everything Romance Page!