Laura Griffin and the Story Spark – With Giveaway!
Wed, 12/01/2010 - 2:05pm — admin
Bestselling romantic suspense author Laura Griffin shares the moment that inspired her latest novel in her Tracer series, Unforgivable. Although Griffin's heroine may be solving a cold case murder, the pace is fast and furious as Mia, a forensic expert, works to keep her family safe. And don't miss the giveaway at the end of the post!
Thank you so much for inviting me to drop by RT! People often ask me where my story ideas come from, so today I thought I'd talk about that wonderful (and sometimes elusive) thing every writer needs: Inspiration.
For me, the most important source of inspiration is people. I write crime fiction, and because I don't personally carry a badge or a semi-automatic pistol, I have a long list of experts I turn to when I need help with the details of a story.
Over the course of my career, I've interviewed all kinds of law enforcement experts—from cops and FBI agents to ballistic specialists and forensic anthropologists. But it was a seasoned cold case detective who provided the inspiration for my latest book, Unforgivable.
One day my detective friend (why don't we call him Ric, since that's the name I gave him in the story?) was giving me a tour of the evidence room where they store the cold cases. I stood there, gaping at the all the shelves that stood taller than my head, each containing boxes and boxes that held evidence of unsolved crimes. I asked him how he prioritized them all. He said frequently a case gets his attention because a new clue emerges. 
"But sometimes it boils down to the family," he told me.
In some cases, a victim's family just keeps pushing and pushing, year after year, to make sure detectives don't forget about their murdered loved one.
What he said struck a chord with me, and I knew I would one day write a story about a cold case detective and woman who would never let go of something that happened to a person she loved. That story became Unforgivable, the third book in my award-winning Tracers series.
The story's heroine, Mia Voss, is a DNA expert who works at a cutting-edge crime lab where forensic experts known as Tracers team up with homicide cops and cold case detectives to solve the very toughest crimes.
Mia has dedicated her life to helping put vicious criminals behind bars. When suddenly she becomes the target of one, she turns to jaded homicide detective Ric Santos for help. Mia and Ric have a past together, which makes her wary of trusting him. But as the case grows more complex and the danger escalates, Mia and Ric must put their personal issues aside and work together to stop a ruthless killer.
So, the people I meet sometimes inspire a story idea, but what about the day-to-day? Much of my daily inspiration comes from music. Each time I write a book, I put together a playlist that reminds me of the characters, the story, the setting. Before I sit down to write, I listen to it on my iPod to help me find my groove and get my head in the book.
To celebrate the release of Unforgivable, I've posted Mia's Playlist on my web site and I'm giving away a free iPod nano. Details available at: http://www.lauragriffin.com/contest.php
Inspiration is everywhere—people, music, and when all else fails--chocolate.  What inspires you? 
Leave a comment and be eligible to win an autographed copy of any book from my backlist. I hope you'll enjoy Unforgivable as much as I enjoyed writing it!
- Laura Griffin
You can pick up your own copy of Unforgivable in stores now and don't miss your chance to win a signed copy of any Laura Griffin novel by leaving a comment below. The winner will be announced December 15th!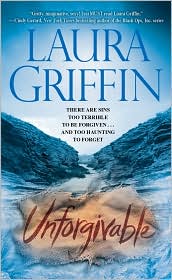 BLOG UPDATE 12/16/2010: And the winner is ... Tessa Blue