Laura Griffin will continue her Tracers series for three more installments. The first two romantic suspense novels in the series, Untraceable and Unspeakable, both received high ratings. RT Reviewer Annette Elton says of the series first, "The characters are top-notch, and their gradual romance — entrenched in mystery and suspense — leaves readers sighing contentedly as the last page folds."
Griffin's Tracers are forensic scientists who work alongside detectives to, as Griffin puts it, "solve the most unsolvable crimes." Her forensic scientists all share a dedication to bringing killers to justice. In Griffin's own words, "these investigators are relentless."
Each series installment focuses on a different relationship and mystery all connected by the high-tech lab where the characters interact. But Griffin says, don't expect this series to get stale, "I like to spice things up with characters from all different walks of life and a wide array of forensic specialties."
In Untraceable, readers met secondary character Sophie Barret, who will take center-stage as the heroine of book four. Kelsey Quinn, of the Deadly Promises anthology out this September, will also be making an appearance later in the Tracers series.
The newly-contracted three installments, books four, five and six, are still untitled. But, Griffin prefers it that way. She says that before she titles a novel, "it's more important to know my chracters names and everything that makes then tick."
So when will the newest Tracers books hit shelves? Fans can expect book three, Unspeakable, in July. There will also be a Tracers novella in September's anthology Deadly Promises. And the fourth Tracers novel is slated to be released in the summer of 2011.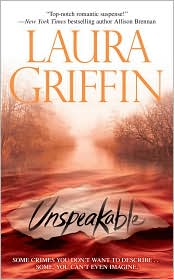 0

COMMENTS
SUBSCRIBE TO RSS FEED
EMAIL
PRINT
SHARE
PERMALINK