Lauren Dane: The Brown Family, POV and Redemption...Or Not
Tue, 10/01/2013 - 2:31pm — admin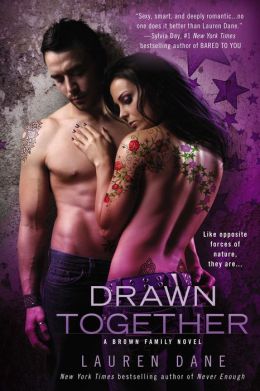 Whether she's writing erotic and enthralling stories or sending out snarky tweets, Lauren Dane is one of those authors who is constantly pushing boundaries — and winning over readers. With Drawn Together, which our reviewer called a "super-hot tale," Lauren is set to get us all hot and bothered once more. Today, Lauren discusses the latest entry in her Brown Family series, Raven's transformation and understanding characters.
The challenge with a series is to bring secondary characters and their growth to life so that when it's their turn, readers are ready to take that trip with you. To do it without overshadowing the main characters' journey, and to bring them to life when readers only see them through the perspectives of the current main characters, who are telling their own story. You've seen this character over a number of books from everyone else's perspective and reactions. And when that character is one readers have a mixed reaction to, the challenge is manifold, but one I really enjoy.
My Brown Family novels started in 2009 but in the world of these characters, six years have passed (and there've been connected books in the midst of that too). Early on, Raven Smith was a character who wasn't so easy to love. She made big mistakes and then had to own them and make herself better. I've loved writing Raven's growth from that first time we see her in Laid Bare until she does the makeup and hair for Gillian's wedding in Lush. Most people change in six years, and she's no exception.
So now it's Raven's turn. In Drawn Together, readers will finally have the curtains drawn back and see the world through her POV. In some sense this is a redemption story, but in many ways it's simply a more complete view of this woman and the whys of who she is. Redemption doesn't mean that the character changes. It means that you understand them from a different perspective.
This is simply my perspective, but I think redemption in books — or perhaps a better term is a fleshing out of a character — is a more difficult task for women. Female characters always seem to be judged more harshly than male characters. A male character can be grumpy and blunt and hold people back. He's broody. But when a woman does it? She's a bitch. Which means when her time comes, that story has to be one readers can truly immerse themselves in and get behind, or it won't work.
So when that character who readers love to hate gives readers a glimpse into their motivations, as a writer it's my job to make that glimpse the key to understanding that character more fully. For Raven, that key was Alexander. Her best friend's son is someone Raven loves utterly, unconditionally. She has a moment where she realizes kids don't judge you the same way adults do. Do you have goldfish? Will you read ten board books in a row? Maybe twice? You're good to go. 
It's through her interactions with Alexander and the rest of the young children those in their social group have had that she finds a way to put down roots. She can love him without fear. He's not going to disappoint her and she sure as heck won't disappoint him.
And once those roots are down, she's able to open herself up a little more here and there. Because she wants to. And when Jonah comes along and pushes his way into her world and demands she break her rules, she does. Because she wants to. When she submits to him it's because she likes it. It's because when she's with Jonah the noise dims and everything quiets so she can think. For someone who is as jagged and broken as Raven, that's a gift. That he accepts her and waits for her to reveal herself to him on her own terms means a great deal to her.
When the book is over, Raven is still herself. She's softer in some ways because that's what happens when you let people into the heart of you. She's more maternal than you knew or understood earlier on because you didn't see her around the babies much and because you didn't know her story. But she's still hard. She's still bearing a lot of the weight of her past. There's no instant healing, but that's not to say she hasn't gone through an immense transformation since Laid Bare.
I don't know if I've redeemed her. I don't know if she needs redemption. But I do hope I've illuminated her some and I hope I've made the slow and yet total revolution in her life believable.
-Lauren Dane
Are you curious and ready to see a side of Raven you've never seen before? Then be sure to purchase your copy of Drawn Together in stores or online today! And for more erotica authors, books and buzz, head on over to our Everything Erotica Page!