Lauren Hawkeye On Writing Historical Versus Contemporary Erotica
Wed, 02/27/2013 - 11:15am — admin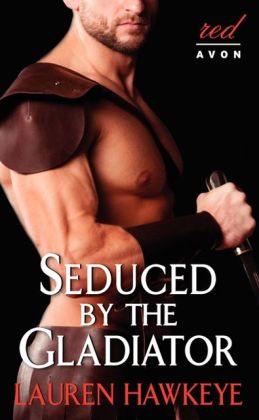 Historical erotic romance isn't just your standard erotic fare set in a different time period. Like all historical stories, they take careful plotting and must abide by the rules of the era. This can be a lot of work, but for author Lauren Hawkeye — who also writes contemporary erotic romance as Lauren Jameson — it's well worth it. Today the author shares her experiences writing her latest historical erotic romance, Seduced by the Gladiator, and the differences writing historical versus contemporary erotic romance. Plus, the author shares her favorite stories from both subgenres.

I write hot books.
This is usually what I tell people when they ask what I've published. And I do — I write erotic stories for Harlequin Nocturne, for Avon Red, and for Penguin/NAL (as Lauren Jameson). But to me the stories that I write all require very different mindsets, depending on the setting.
The hottest books that I write are the historical and the contemporary. What's the difference, you might ask... isn't the structure the same, regardless of the time period?
Not for me.
For a historical, you might be able to more easily work in a trope — an arranged marriage, an accidental baby, a prince. These can make for easy plotting. But you're bound by the historical details of the time period in which the story is set. For instance, in Seduced by the Gladiator and the first book in the series, My Wicked Gladiators, I couldn't just let my imagination run away with me. If I wanted to include a BDSM scene, I couldn't just throw in whips and chains. I had to consider the tools available back then, the clothing, the manner of speech.
On the other hand, for me contemporaries are harder to plot. Like in my serialized novel Surrender to Temptation, it's harder to make it interesting when the situations are ones that people could themselves experience today. But once that plot is established, contemporary flows so much more easily for me. It's as if I'm writing about my friends — hmm, or maybe not. I'm not sure I want to think of my nearest and dearest in some of the... ahem... situations into which I throw my characters.
Initially I only wanted to write contemporary. Indeed, it's still probably my true love. But there's something magical about a good erotic historical ... in fact, the very first erotic books that I ever read were this genre, some deliciously wicked ones by Susan Johnson.
Historical erotica is definitely harder to find than contemporary. If you've never picked one up, I urge you, as a reader, to expand your horizons. I love a good, steamy contemporary novel (particularly one with billionaires and handcuffs!), for sure, but can you imagine all that sex in, say, a Regency setting? Or the roaring twenties? Or, dare I say, in ancient Rome, with a bunch of hard bodied, half naked gladiators?
The possibilities for reading pleasure are endless. I thought I'd end this blog post by giving you some of my favorite erotica reads, both historical and contemporary.
HISTORICAL
1. Any of the Simply books by Kate Pearce
2. Temporary Mistress by Susan Johnson
3. The Blonde Geisha by Jina Bacarr
4. Kismet's Kiss by Cate Rowan (strictly speaking, this is fantasy, but it has a decidedly historical Arabic flavor)
5. Addicted by Charlotte Featherstone
CONTEMPORARY
1. Tempted by Megan Hart (this is my favorite book of all time!)
2. Because You Are Mine by Beth Kery
3. Anything He Wants by Sara Fawkes
4. Two Are Better Than One by Suzanne Rock
5. Sweet Seduction by Maya Banks
In return, I'd love to hear about your favorite erotica reads. Which books, historical or contemporary, steam up your Kindles?
- Lauren Hawkeye
You can pick up Seduced by the Gladiator, available March 5. For more genre news and coverage, visit our Everything Erotica Page.