Lauren Oliver Talks Requiem And A Possible Delirium TV Show
Wed, 03/06/2013 - 10:02am — admin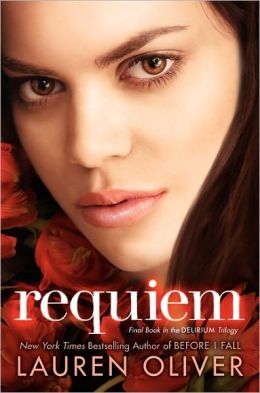 After the cliffhanger ending of Lauren Oliver's Pandemonium, fans have anxiously awaited her Delirium trilogy ender, Requiem, which released yesterday. Lena finally returns to Portland after joining the resistance and abandoning everything she knew — all for a chance to fall in love. In Requiem, readers will get a glimpse into her best friend, Hana's, life after receiving the Amor Deliria Nurvosa cure, and Lena will finally choose between the guy who changed her life and the boy she rescued from the cure. We interviewed the author about her series finale and asked her a few questions about a Delirium TV series in the works!
***
We heard that your Delirium trilogy was recently picked up by Fox, and a TV pilot ordered for a potential series. Congrats! You must be thrilled. What about your trilogy do you think will lend itself to the episodic format?
Thanks! I'm very excited. I think that Fox felt—and I agreed—that the premise and the world lend themselves to a more expansive format. There are many characters and political groups, tensions and affiliations. So I'm glad that the series will be able to explore that.
Is there anything specific about your plot or any character qualities that you hope are maintained if the Delirium trilogy is turned into a TV series?
I mean, I'd like to see Fox explore and preserve the central tension of the book: what safety and obedience means in a society like this, and why love would be seen as dangerous. I of course want Lena to remain lovable and vulnerable and brave at the same time. And I want the boys to be cuties!!
The series closer, Requiem, released yesterday. Unlike Delirium or Pandemonium — which are both told from heroine Lena's point of view, this story is told both from Lena and her best friend Hana's point of view. Why did you decide to structure Requiem this way?
It wasn't planned. I was about halfway through the book and I realized I was missing a major element. We needed to see Portland again, and Grace, and Hana. We needed to see life on the other side of the cure, which is a huge component of the whole series, but of course seen only obliquely, from Lena's point of view. So I began writing in Hana's voice too.
Do you have any plans for another YA series?
I have no plans for a series, per se, although I am definitely working on more YA. My next YA novel will be a stand-alone called Panic, and it releases in 2014. And I have another YA novel in very early stages right now.
One thing that makes your YA books so compelling is the mature voice your female protagonists have, which makes your stories so accessible to adults. Were you a big YA reader before you started writing?
Thank you! You know, when I was growing up there wasn't a whole lot of YA in the market. It seems crazy to imagine now, but when I was a teen there were maybe a half dozen series that featured protagonists my age, and these usually skewed either silly or scary. In the past ten years, however, since the YA market exploded, I've read many, many works of teen fiction.  
We know you have some other projects in the works, including your first adult book! What can you tell us about that?
My first adult novel is called Rooms and it will be published next year from Ecco (a division of HarperCollins). I'm very excited about it. It's the story of a family that returns to the home of the patriarch after his death, but it's narrated in part by the ghosts who inhabit the walls of the old family home. It's really about memory and secrets and old ghosts.
You can pick up a copy of Requiem, available in stores and online now. Have you already devoured the book? Let us know what you think of it in the comments (no spoilers!). For more genre news and coverage, visit our Everything Young Adult Page.