Lisa Gardner Answers Our Questions About Love You More
Tue, 03/08/2011 - 5:36pm — admin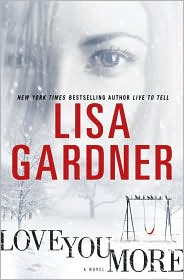 Out now is Lisa Gardner's newest tale of suspense and danger Love You More. In this RT Top Pick! Gold, RT Senior Reviewer Jill M. Smith says the tale is "unbelievably gripping and clever, you won't want to put it down until the final page!" Now we chat with Gardner for a special look at D.D. Warren's latest investigation - a race to hunt down a killer and locate a missing child - and the author shares what fans can expect from this tale that brings back the man that this policewoman was forced to walk away from.
***
Love You More, finds PD Sgt. Det. D.D. Warren desperately searching for a missing six-year-old, whose mother, the state trooper Tessa Leoni, may have killed the child's father. Did the murder and abduction come to you together when you sat down to write the story, or did one crime help inspire the other?
The crimes definitely came to me as a package deal. A woman shooting her husband just didn't seem strong enough to open a thriller. A dead husband and missing child, on the other hand, sounded more interesting. Now D.D. must investigate a murder, while racing against the clock to locate a missing child. Fun! 
D.D. is up against the "blue wall" of police silence, as Tessa's co-workers are reluctant to sharing information about her. What was it like for D.D. to become an outsider to this police community?
I loved putting D.D. on the other side of the blue wall. She's such a cop. She lives, eats and breathes her job. So to make her an outsider of the very organization that defines her amused me to no end. Challenge builds character, and particularly with a series character, you never want their life to be boring!
In this book, D.D. Warren reunites with her former lover Bobby. How have the dynamics of their relationship shifted through the series?
I think D.D. defines their relationship the best when she describes Bobby as the man she gave up, but never got over. Of course, now Bobby is married and D.D. has a new man in her life, criminologist Alex Wilson. And yet, has Bobby and D.D.'s relationship truly run its course? I'll let readers be the judge!
More about Bobby please—what has he been up to since we saw him last in 2008's Hide?
One of the best parts of writing Love You More was returning to Bobby Dodge. And boy, has he been busy! Happily married now to Annabelle from Hide. They have a little girl, Carina. And of course, Bobby has gone from state trooper to state detective, putting his sharp gaze and quiet intelligence to good use. One of my favorite scenes in Love You More is when a trooper threatens D.D., and Bobby's very quick, very decisive response. Again, has Bobby and D.D.'s relationship run its course? Personally, I had to keep writing the novel just to find out! 
Can you share your first impression of state trooper Tessa Leoni?
Alone. She is a woman very much alone. And she's tough, and she's secretive and she's clever. But mostly, she's mother and a wife and uniformed officer who is suddenly very alone in the middle of a very dangerous game where one wrong move could cost her everything.
Author Suzanne Brockmann called D.D and Tessa "two amazing, compelling, complex, and incredibly strong kick-ass female characters" recently on Amazon. If you had to describe their interactions in 140 characters, what would it be?
Mutual respect, mutual distrust, immediate recognition, and immediate antagonism. I wouldn't stand between them if I were you.
We know that several of your novels have been very loosely based on true crimes. Was that the case for Love You More?
All of my novels have been inspired by real-life crimes.  For Love You More, I started with the Caylee Anthony case in Florida—the four-year girl who was allegedly murdered by her own mother. As a parent, you can't help thinking, how could a mother do such a thing? I started researching the crime, but also considering what it means to be a parent, to mold and shape and hold and protect and nurture and love these amazing little creatures that are our kids. The end result is a novel that may have started with a very tragic case, but is itself a tribute to parental love. Most of us would go to the ends of the earth for our kids, and if you're a state trooper professionally trained in firearms, all the better to get the job done!
You currently reside in New England, like D.D. Warren. What role does being a New Englander play in her mysteries? And alternatively, does the weather and culture have a part in your writing?
Boston has a long and lurid history of crime. Perfect for an overachieving homicide detective! Boston is also a collection of unique and distinctive neighborhoods. Perfect for an easily bored suspense novelist. Between fresh crimes and fresh locations, D.D. and I are always ready for the next book!
Is there anything you can share about the next project you are working on with the RT readers?
Detective D.D. Warren returns! This time she's investigating a vigilante killer who is murdering sex offenders in the city of Boston. Complicating matters—the appearance of a girl claiming she will be murdered in four days and she'd like D.D. to handle the investigation. Finally, the baby must be picked up from daycare at five, and D.D. must (gasp!) deal with her own parents. 
***
You can pick up your own copy of Love You More in stores now and we promise we'll let you know as soon as a title and release date are announced for Gardner's next project!