Lisa Gardner Top Picks Giveaway
Wed, 06/30/2010 - 12:49pm — admin
Author Lisa Gardner's two most recent mysteries were both awarded RT Top Picks!
The stakes were high for Gardner's follow-up to The Neighbor, a release that prompted the rave review "Master storyteller Gardner really outdoes herself with her latest puzzler." But, Gardner pulls out all the stops for her new summer suspense, Live To Tell. It is an "electrifying tale" as a detective, a nurse, and the mother of a mentally disturbed child race to discover the truth behind a murder/suicide that is more than it appears.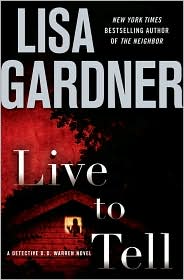 *GIVEAWAY ALERT* Five lucky readers will be chosen at random to receive a copy of one of Gardner's latest releases, The Neighbor or Live To Tell.  To enter please e-mail Whitney@RTBOOKREVIEWS.com. To be considered, your email subject line must be "Lisa Gardner Top Picks Giveaway" and your U.S. mailing address must be in the body of your email. Winners will be announced on July 12th!
BLOGPOST UPDATE 7/12/2010 : ThrillerFest's 2010 Awards just named Lisa Gardner's The Neighbor Book Of The Year. Congratulations, Lisa Gardner!