Living Art: A Look Inside Amanda Sun's Debut Novel Ink
Tue, 06/25/2013 - 2:58pm — admin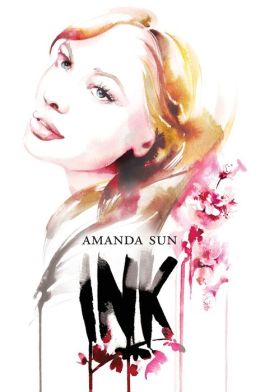 In Amanda Sun's debut Ink, the first in the Young Adult Paper Gods series, American protag Katie Green finds herself living with her aunt in Japan after her mom dies. As Katie struggles to assimilate to her new surroundings, she meets Tomohiro, a tortured and magnetic boy she can't stay away from. When Katie discovers Tomohiro's ability to make his drawings come to life, she is thrown into a dangerous world where the descendents of gods are wanted by the Japanese mafia. While the book's beautiful setting and fresh take on Asian mythology help make Ink an outstanding debut, the illustrations truly take the story to the next level.
Inside of her novel, the author treats readers to sketches of dragons, birds, and flowers, all of which act as pages from Tomohiro's sketchbook. In the print version, the illustrations act as flip-art, while in the e-version, the more central illustrations actually move, which truly adds to the wonder and creativity of the story.
When asked about her book's special content, Amanda Sun said, "The illustrations in Ink really capture the spirit of The Paper Gods. In Ink, everything Tomohiro draws comes alive, but with its own dark and twisted will. Whether through the animated illustrations in the e-book version, or the still sketches in the paperback, there's a feeling as you look at the drawings that control could be lost at any moment, that the life given to the dragon or the wagtail birds could go terribly wrong."
This idea of losing control is a key element in the story, one that builds to maintain the plot's tension. And the illustrations also reveal a lot about the main male character. Amanda says that "the sketches are how Tomohiro interprets and understands his world" and that they "allow Tomo to express himself directly to the reader".
Excited to see Ink's stunning illustrations? You can view several 'live action' drawings here, here, here and here. Also available is the book's full trailer. And after seeing these amazing graphics, you will definitely want to purchase a copy of Ink, which hits stores today! For more newly released teen reads, check out our Everything Young Adult Page.