Location, Location, Location: How the Big Easy Inspired Mur Lafferty, Kristen Painter — And Their Vampires
Thu, 03/13/2014 - 12:15pm — admin
That's it, we're calling it. 2014 is the year of New Orleans in book publishing. There are so many sexy, spooky, spectacular NOLA-set books being put out this year, we'd be planning a trip — if we weren't already going for this year's RT Convention! Today two New Orleans-inspired authors, Mur Lafferty and Kristen Painter, share what makes the Big Easy such a ripe setting for fiction and their recent releases, Lafferty's Ghost Train to New Orleans and Painter's House of the Rising Sun.
***

New Orleans has a special connection with vampires — how did you tackle that particular creature in your book?
Mur Lafferty: I actually didn't, for the most part. My main vampire characters were the ones who came from New York City, and NOLA vampires were bit parts. But my vampires are pretty standard — drink blood, powerful ones can fly, they're faster than people, can mesmerize. I did cover more vampires in the travel guide sections in the book, telling some of the local history from the POVs of various monsters. 
I noticed your characters are natives, while mine are visitors. How did that affect your approach to the supernatural?
Kristen Painter: My hero, Augustine, loves his birth city (maybe too much at times) and it definitely affects his thinking and his actions. He knows its ins and outs, its flaws and weaknesses, and this gives him a sense of ownership that eventually helps him make some very important decisions.
Does your character have a favorite spot in the city to hang out?
ML: She likes Jackson Square with the cats, and the various seers and minor gods that tell fortunes there. I actually wanted to steer clear of Bourbon Street as it's almost become a cliché. Does your character have a place in the city they definitely do NOT want to visit?
KP: Yes! For Augustine, it's the Ursuline Convent for reasons I can't totally reveal here. Oddly enough, it's one of my favorites.
Why New Orleans? What drew you to set a book there?
ML: I wrote a story about a zombie travel guide (a person, not a book) in 2005 as a donation to a book sold to support the Red Cross after Hurricane Katrina. My first book based on the same general idea was about New York, but I knew I always wanted to return to NOLA with my fleshed-out world.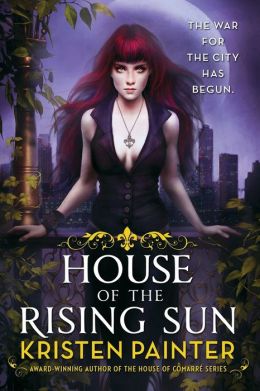 What about you?
KP: I adore the city and knew that someday, I'd write at least one book set there. As it happens, it's a series, which gives me even more reason to write off my trips there. There is no place on earth like New Orleans and trying to capture that magic was a challenge, but one I've been looking forward to.
Do you think your book would have worked set in any other location?
ML: Setting features heavily in my books, the cities are characters themselves. I have many ideas for books in different cities, but the plots are specific to those cities. So no, the New Orleans plotline was unique as is the New York, and the planned plots for Orlando, San Francisco, etc. 
Even then, I think New Orleans is a unique city in itself, so I'm not sure any book that takes place there could fit into another setting. Did you find the city almost taking over your plotline?
KP: With every decision I made while writing, I'd think, where's the best location for this to happen? There's no way the city isn't a character unto itself. It's almost too full of wonderfully rich places. Setting a story there kind of spoils you because there's so much to choose from. I kept reminding myself it didn't all have to go into the first book.
What's the one place in New Orleans you think people should see?
ML: I knew a lot about the city, but, again, I had no idea about the cats in Jackson Square, and was fascinated by how they congregate. It was unlike anywhere I'd ever been. 
Is there a place you always go when you visit?
KP: There are a lot of places I always go when I'm there (most of them revolve around food—or shopping) but if I had to pick one place, I'd say Lafayette Cemetery No. 1. If that seems like a strange choice, well, so be it, but the place is fascinating and the surrounding neighborhood has a lot to offer. Really, no matter where you go, you'll find something interesting. That's New Orleans!
Well if we weren't already packing our backs for NOLA, we certainly would be now! House of the Rising Sun will be available in May while Ghost Train to New Orleans is out now. For more spooky tales be sure to visit our Everything Paranormal page.