Lorelei James Kiss And Tells About Her Latest Rough Riders Story
Thu, 05/16/2013 - 2:59pm — admin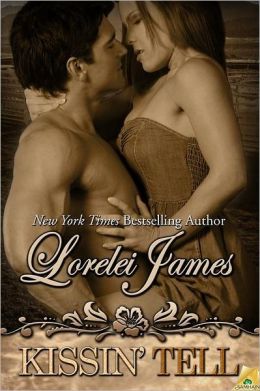 Author Lorelei James released the thirteenth installment in her Rough Riders series this month, Kissin' Tell, which continues her western-set tales about hunky cowboys and the women who love them. But as a long-running erotic romance series continues, how do you keep things new and exciting? We asked the author how she's managed to keep her Rough Riders books consistently innovative so that readers keep coming back for more, and here's what she had to say.
When the first Rough Riders book, Long Hard Ride, released in May of 2007, I had no idea how the series would be received. I figured the book might be a standalone.
So it's exciting for me that the 13th installment in this series Kissin' Tell releases in print on May 7th this year — six years later.
That's a lot of cowboys. That's a lot of names and faces and plotlines to keep straight.
Many readers ask me how I keep a series fresh after so many books and I never know how to answer that. Luckily my publisher is on board with the Rough Riders series being a contemporary erotic western saga that details the lives and loves of one Wyoming ranching family told over the span of several books and several years. It was a challenge to know while I'm working on a specific book and introducing characters, that not only do I have to keep the timeline pretty solid in my own mind for that book and upcoming books, I have to make sure the books aren't overrun with secondary characters and the characters are interesting to warrant their own full length book.
Before Kissin' Tell was published and I hadn't released too much information about the premise of the book, I had readers asking me what Tell McKay, the rancher/cowboy hero in this story was like. And that stumped me. They'd only seen Tell through the eyes of characters in previous books. I knew Tell intimately so I had to take a step back and look at him from a different point of view. I realized Tell is one of those guys. You know the type who's always there to lend a hand, a guy everyone wants to hang around with because he's so much fun? That's Tell.
In past books I'd dropped hints about who future characters might end up with, but Georgia Hotchkiss, the object of Tell's affection, was completely unknown to my readers. But she wasn't unknown to Tell and that's where it got fun.
I'd always wanted to pen a high school reunion story. Tell and Georgia had a tangled history, hugely tangled on Tell's part because he'd been crushing on the gorgeous cheerleader Georgia "Hot Lips" Hotchkiss forever. And Georgia, being the typical teenage girl at the time, used Tell's adoration to her advantage. So when they meet up years later — an older and wiser Tell wants to be the one who calls the shots this go around.
It's interesting to see how many of those preconceived notions about who we were, or who others were in high school can follow us around forever. Especially in a small town where it seems nothing ever changes.
Although Kissin' Tell is a lighter edition in the Rough Riders series, it still deals with the themes of change, acceptance, and family. I fell in love with Tell and Georgia and I hope you do too!
- Lorelei James
You can pick up a copy of Kissin' Tell, available in print and digitally now. For more steamy love stories, visit our Everything Erotica Page.