Lori Wilde Believes In Love At First Sight - And So Do Her Characters!
Thu, 06/20/2013 - 1:10pm — admin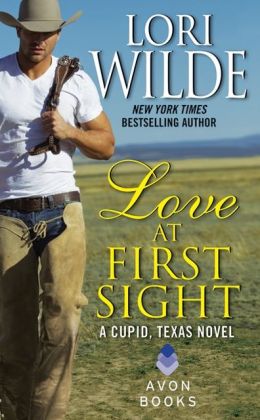 Do you believe in love at first sight? If you read romance novels, chances are the answer is an unequivocal yes! But just because sparks fly when two characters lock eyes, that doesn't mean that the relationship will be smooth sailing. Just take the hero and heroine from Lori Wilde's newest release Love At First Sight. Natalie and Dade know right away that they are a perfect match, but getting to happily ever after requires a lot of work. Read on to find out more about this hot couple and their tips for navigating the challenging trip into love. 
Natalie McCleary, heroine of Love At First Sight, desperately wants to believe in the local legend, but she's lost her faith. Virginal, and approaching thirty, she's just about to throw in the towel, when one morning as she bicycles home after collecting the letters to Cupid, that she and the other town volunteers answer, she sees him.
Just one look and her heart pounds, her palms go slick, and her knees weaken. At last. He's finally here at last.
And well, who wouldn't be in love with Dade Vega, especially since he's a former Navy-Seal, built like a cover-model and nearly naked the first time Natalie lays eyes on him.
Dade, who has stopped to repair his motorcycle, lifts his head, peers into Natalie's eyes and love hits him like a thunderbolt. This is his woman, his mate. The woman he never even knew existed. And he will move heaven and earth to have her.
But the course of true love never did run smoothly and Love at First Sight tackles the problems that arise when two people feel destined, but circumstances keep them apart.
Natalie and Dade have a couple of tips on falling in love at first sight.
Dade's tips:
Do: When falling in love at first sight, do remember to reattach the fuel hose to your motorcycle.
Don't: Scare your beloved with said motorcycle by slipping up on her while she's trying to rescue a trapped duck in a pond.
Do: Take her on the back of your motorcycle to see the Marfa Lights and make sure she hold tight around your waist.
Don't: Make fun of the Prada store in the middle of the desert.
Do: Change the old locks on her back door.
Don't: Change those locks unless you've told her you're going to do so, especially if she comes through the back door carrying a bowl of banana pudding.
Natalie's tips:
Do: Listen to the advice of your family and friends. They have your best interest at heart.
Don't: Tell your family everything.
Do: Dance with your beloved, even if you don't know how to dance.
Don't: Engage in a Lifesaver race with him if you don't want to end up kissed. Or maybe, that should be on the "do" list.
Do: Wear your sexy shoes to bed.
Don't: Be surprised if he comes up with some creative uses for those shoes.
So what about you? Do you believe in love at first sight?
- Lori Wilde
Love At First Sight, part of Wilde's Cupid, Texas series, is available online and in stores now. And for more great contemporary reads, check out our Everything Romance Page.