Lori Wilde Shares Her Holiday Preparations With Giveaway!
Mon, 11/29/2010 - 5:43pm — admin
The weather outside is (almost) frightful, and although it hasn't snowed in Brooklyn yet, everyone at the RT office has caught the spirit of the season. So we are especially excited about this holiday themed interview with Lori Wilde. The author chats about her favorite holiday traditions, her new holiday romance, The First Love Cookie Club and shares a favorite recipe. And don't miss the giveaway at the end of this post!
RT: What is your favorite part of getting ready for the winter holidays?
Lori Wilde: My favorite part is the cooking. I adore cooking but I'm normally too busy, so I look forward to baking Christmas gifts. I love decorating the tree as well and usually have a tree decorating party where I get to try out the recipes I've collected over the year.
RT: Does your family have any holiday traditions that make Christmas special?
LW: We decorate our house together. It's so much fun—and hard work—putting up all those lights and decorations. My husband gets really creative with our displays. One year our house won in our hometown lighting contest in the "most creative" category. The prize was a paid electric bill for December!
RT: Any favorite Christmas gifts that you have given/received that you would like to share?
LW: I've been so blessed. I've had many wonderful gifts it's difficult to choose. But last year my husband really wowed me by picking out a pair of designer boots for me all on his own. They were perfect. The kind of boots I would have picked out for myself. It showed how well he knows me. It was a surprise and thrill to open that unexpected package. I wear those boots everywhere.
The favorite gift I've ever given is the afghan I'm knitting for my mother to give her this Christmas. I was always so hopeless at crafts and she's so gifted. But while I was researching The Sweetheart's Knitting Club, I learned how to knit. Mom can't knit, so this will be the first time I've ever been able to give her something I made with my own two hands that she couldn't make for herself.
RT: What is your favorite Christmas story? If it has changed since you were a child, what did it used to be?
LW: A Christmas Carol. I'm inspired by the story of Scrooge's redemption and transformation.
RT: What book are you hoping to curl up with this winter?
LW: I will be rereading A Christmas Carol. I try to read it every year.
RT: Are you inspired by the holidays to write or do you take a break for the Christmas season?
LW: I'm definitely inspired to write. There's nothing like the holidays that makes me long to write about the holidays. I've got two books to finish between now and Dec. 30th.
RT: You have a holiday themed book releasing soon. What can readers expect from your Christmas story?
LW: A modern day, romantic retelling of—you guessed it—A Christmas Carol. My heroine, a children's book author, is a Scrooge of sorts in that she no longer believes in happily-ever-after. The hero's sick daughter, in desperate need of a Christmas Miracle, is modeled loosely on Tiny Tim. There's even a Dickens' Christmas event going on in the town. I wrote it last Christmas, so that was a lot of fun.
RT: And one bonus question: Can you share a favorite holiday recipe with RT's readers?
Lori Wilde: Since cookies play a big part in The First Love Cookie Club, I'm sharing with you Gramma Mia's Kismet Cookie recipe. Legend has it that if you sleep with them under your pillow on Christmas Eve, you'll dream of your one true love.
GIVEAWAY ALERT: Three lucky winners will receive a copy of Lori Wilde's new contemporary romance, The First Love Cookie Club. To enter please leave a comment about your favorite holiday tradition, or email your comment here, along with your mailing address and the subject line "Lori Wilde's The First Love Cookie Club Giveaway." One entry per person please. The winners will be revealed on December 13th.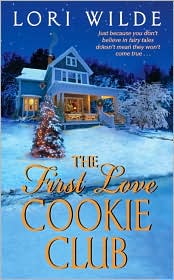 BLOG UPDATE 12/13/2010: And the winners are ... Lori P., Audra H. and Lynne W.