Love and Marriage (and Ownership) in the Victorian Age
Wed, 12/11/2013 - 10:20am — admin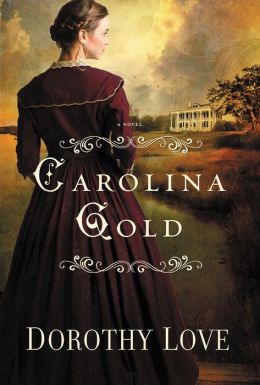 We love historical romances, sure. But would we really want to live in the olden days? Today inspirational author Dorothy Love — whose historical inspirational romance, Carolina Gold, is out now — gives us some real talk about being a woman in the Victorian era. We'll take our rights and our WiFi, we think! Take it away, Dorothy!
As a reader and a writer of novels set in the Victorian age, I'm fascinated with the sumptuous clothing and jewelry of the period, and with the elaborate rules and rituals surrounding courtship and marriage. The signing of a marriage bond, the publishing of banns, the chaperoned walks about the garden, picnics by the sea, the filling of dance cards, the ardent love letters, breathless with longing and anticipation — is there anything more romantic?
The realities, however, were often quite different.
In the mid-1800s American laws granted to the husband the custody of the wife's person, the exclusive control and guardianship of their children and the sole ownership of her real estate unless it was placed in trust for her. A woman whose husband died was entitled only to a small fraction of their property, known as the "widow's dower" while a man who outlived his wife could expect a much larger and more permanent share of the estate. In many states, the wife had no legal standing when it came to choosing a residence. She could not make a will, nor sue or be sued in her own name. She could not inherit property. She was in every way at the mercy of her husband.
No doubt many Victorian-era brides chafed at all these rules but it seems nobody successfully opposed them, until the spring of 1855 when the well-known abolitionist and suffragette, Lucy Stone, who was about to wed Henry Blackwell, refused to give up her personhood for marriage. It is said that Henry, the brother of Elizabeth Blackwell, who was the first American woman to earn a medical degree, pursued Lucy for two years before she said yes. Together, Henry and Lucy crafted a statement opposing the oppressive laws and on their wedding day, May 1, 1855, handed it to their minister, Thomas Wentworth Higginson.
"While acknowledging our mutual affection by publicly assuming the relationship of husband and wife," they wrote, "we deem it a duty to declare that this act on our part implies no sanction of, nor promise of voluntary obedience to such of the present laws of marriage as refuse to recognize the wife as in independent, rational being, while they confer upon the husband an injurious and unnatural superiority, investing him with legal powers which no honorable man would exercise and no man should possess."
The Revered Mr. Higginson read the statement at the wedding ceremony and made copies of it for distribution to other ministers, urging other couples to follow the Blackwell-Stone model. Full personhood for married women under the law would be a long time coming but Lucy Stone, the first woman to keep her own name after marriage, and Henry Blackwell inspired others to seek a better balance of roles within marriage.
Perhaps the fact that Henry so ardently pursued Lucy, and was willing to give up his power in order to win her affection is the most romantic story of all. 
- Dorothy Love
Want to read more about love in the Victorian era? Check out Dorothy's Carolina Gold, out now! And for more inspirational romances, visit our Everything Inspirational page!