Lucy Christopher Talks Favorite Mysteries
Mon, 01/27/2014 - 12:04pm — admin
There's something about the unknown that can be utterly irresistible. In The Killing Woods, YA author Lucy Christopher weaves a chilling tale of murder, accusations and family. So who better to talk mysteries than Lucy? We asked her to share her five favorite mysteries, both fictional and real, and here's what she had to say. Take it away, Lucy!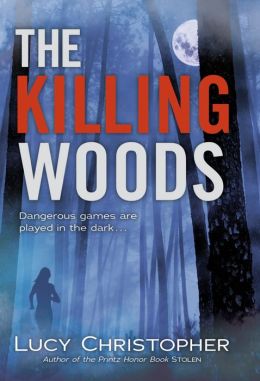 ***
1). The Famous Five Series by Enid Blyton
I grew up reading the Famous Five and I'm sure that this influenced my writing at least a little bit. Blyton's trademark series, about four young people (and Timmy the dog!) tackling crime and dark deeds, was published between 1942 and 1961, so they are a little dated now, but at the heart of each one is an intriguing mystery. Reading these novels, I too had dreams of camping and foiling smugglers. They aren't dark or too serious or grizzly, but they're full of heart and adventure. 
2). The Starling Murmuration
There are millions of mysteries within nature. One of my favorites is the starling murmuration — it's when thousands of starlings flock together, turning and wheeling across the sky at exactly the same moment. Together they create the most extraordinary, massive patterns, ones constantly shifting as the flock moves. It's like a dance show across the sky, and all of it performed by tiny birds. What's even cooler — no one really knows why they do it. When I worked as a nature guide, this spectacle frequently took my breath away. If you haven't seen it in real life, you must. Or at least look for a demonstration of it on YouTube, there's an amazing murmuration filmed by two young women in a Kayak.
3). What happened to Owain Glyndwr?
Owain Glyndwr was the last native Prince of Wales, leading a huge revolt against the English rule of Wales. After being defeated, Glyndwr was last seen in 1412; nobody knows where he died, nor where he was buried. Legend has it that Glyndwr sleeps somewhere beneath the land, ready to rise again when the time is right and the Welsh nation needs him most. Maggie Stiefvater tackles this mystery head on in her thrilling Raven Boys series, which has her teen protagonists looking for Glyndwr's sleeping body in Virginia, USA.
4). While we're talking about sleeping kings ….
The bones of Richard III were recently excavated from underneath a parking lot in Leicester, UK.  Richard died in 1485 in the War of the Roses, but until now nobody knew where he'd ended up. I think much of the basic mystery of how he got to that space has now been solved…but I love the fact that I live in a country where the mystery of a lost king can be solved in a parking lot.
5). I Am the Cheese by Robert Cormier
Cormier's 1977 novel has been a favorite of mine since I first read it as a teenager. This book is not afraid to break rules — you only have to read its deeply layered, twist-filled plot to see this. Cormier's first-person narration never wavers as Adam gradually begins to uncover the mystery of who he really is and what happened to his parents. It's the kind of mystery I like most — one that funks with your head and flips everything you thought was true.
-Lucy Christopher
Did Lucy list your favorite mysteries? If not, which ones do you love and wish could be solved? Be sure to pick up a copy of The Killing Woods in stores or online today. And for more YA authors and books, visit our Everything Young Adult Page!