Lucy Dillon On The Evolution of Happily Ever After
Wed, 03/06/2013 - 11:06am — admin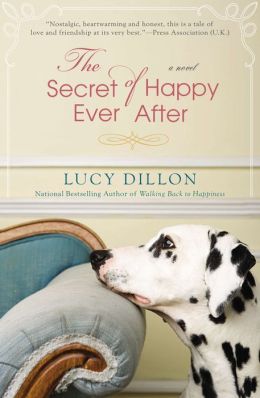 Lucy Dillon's latest mainstream novel The Secret of Happy Every After follows two best friends — wife Anna who wants a family of her own but copes with her husband's stepdaughters, and divorced Michelle who must deal with her obsessive ex-husband — as they experience the ups and downs of life and love. Since her book focuses on two characters who yearn for vastly different things, we asked the author about the idea of Happily Ever After and what it means in modern society. 
'Happily ever after' has changed a lot in recent years. For a long time, the final goal in any romance novel was marriage — Prince Charming galloping to the rescue with the ultimate prize: The Wedding Ring. (And very often a really nice house.) Reckless like Rhett Butler, or moody-but-moral like Mr. Darcy, heroes were gallant, powerful, but old-fashioned about a woman's role, even if Scarlett and Lizzy Bennett gave as good as they got in the courtship.
Then, as it became almost unfashionable for a modern girl to admit that a wedding was on her to-do list, Prince Charming evolved into Prince Disarming, bumbling adorably into the much more successful heroine's stylish world with his camera bag/unfinished novel/failing bookshop. They 'meet cute'. They go Dutch on dinner. In fact, she usually ends up doing the rescuing, so he can swear his undying devotion in a heart-melting manner. If Hugh Grant hadn't already existed, chick lit would have invented him out of floppy hair, Converse sneakers and a scooter.   
Now, it's all about a gimlet-eyed Prince Charming and his home dungeon of sexy mind games. We've ended up with a combination of both previous heroes: Christian Grey and Edward Cullen might behave like controlling, dominant Alpha males, unleashing a tide of forbidden passion in their women, but beneath the tough exterior, they've got Issues — which can be fixed by the love of the right woman. Hopefully.
Is it the gloom of the recession that's brought back the old-style hero, rich and powerful and impeccably tailored? The romantic idea of a man who can make every problem vanish is comforting in times likes these, but outside historical fiction, it never feels quite right to let the heroine lay down her independence entirely. Modern women need to feel that they're equal partners in their own Happy Ever After, especially now that we've come to realize that even the most promising Happy Ever After is a lifetime's work in progress.
The heroes I fall head over heels for are the quietly honorable guys who inspire the heroine to explore her own private self, while gradually sharing his own soul, opening up new horizons for both of them. He's strong, but so is she. They both have flaws, but together they're a ball of energy, burning with possibilities. When times are tough, we need inspiring relationships that can cope with the storms, as well as the sunsets.
So what makes a Happy Ever After in 2013? For me, it's a love that's slightly larger than life — more romantic, more dramatic, more sparky — but one that you can believe would go the distance in the real world. He knows true love is roses halfway up the Eiffel Tower but also an emptied recycling bin on a rainy morning. Even if the Ever After isn't always going to be Happy these days, the sign of a great fictional couple is that you definitely believe it's going to be for Ever. And that you can believe it'll happen for you too.
- Lucy Dillon
You can pick up a copy of The Secret of Happy Ever After, available in stores and online now. And for more genre news and coverage visit our Everything Mainstream Page.