Lynda Simmons on Mothers and Daughters - With Giveaway!
Mon, 12/06/2010 - 1:31pm — admin
Mother-daughter relationships are rarely as easy as we wish they were. However, they inevitably become much more complicated when a debilitating disease, such as Alzheimer's, is added to the equation. Now author Lynda Simmons reflects on her own relationship with her mother and give readers a special look at the challenges facing the mother and daughters in her new mainstream novel, Island Girl. And don't miss the giveaway at the end of the post!

My mother died fifteen years ago this Christmas and in many ways I'm still not over it, which is surprising when you consider the fact that we did not always get along. Truth is, we fought bitterly on a regular basis because no one could push my buttons the way my mother could, and that's probably why I still miss her; why I wish I could call and tell her how well the kids are doing, or what my next project will be because not only could she infuriate me like no one else, she could also make the little girl inside me beam like no one else.  
Funny isn't it, that no matter how old we get, our mothers still have the power to bring out that little girl. Just as our sisters have the ability to snap us right back to the kitchen where we whispered secrets while doing the dishes, or the shared bedroom where we staked our territories and came to blows over slights that we can still remember to this day, and no wonder. These are the women who taught us what it is to be female, who helped shape who we are, and it doesn't matter that we've grown up and made lives for ourselves with jobs, partners and children of our own. Deep inside, we are still that little girl and we still seek their approval, even as we vow never to become them.  
In my new novel Island Girl, Ruby Donaldson and her adult daughters Liz and Grace, deal not only with the complex family relationships that have shaped who they are, but also with the fact that Ruby has been diagnosed with early onset Alzheimer's. 
At fifty-five, Alzheimer's is the last thing Ruby expected. She's always been a strong, militantly independent woman, certain of her opinions and devoted to not only upholding her values, but passing them on to her two daughters as well. Passionate is how she describes herself. Her older daughter, Liz, however, prefers the word, rigid. Rigid, and irrational and utterly impossible to live with.
Frustrated and determined to be more than Ruby's girl, Liz left the family home on Toronto Island before she finished school. But Grace is still there, the beautiful blond with the mind of a ten-year old, a permanent fixture in the house her grandmother built in 1943. 
Liz is still in contact with Grace, but she and Ruby have been estranged for years, and Liz can't believe it when her mother sends word that it's time to come home. Is she really expected to forgive Ruby a lifetime of sins just because she's sick? Does Alzheimer's grant her instant immunity? A moral get-out-of-jail free card?  
Liz thinks not. She'll take care of Grace when the time comes, but until then she has no intention of doing anything that will make Ruby happy. Yet in spite of all their differences, all the bitterness and anger that has passed between them, Liz can't help thinking about her mother; wondering how she's doing and searching for her in the places where she knows Ruby will be, which only makes her angrier – at Ruby, at herself, at the bloody illness that has made everything more complicated. 
Is it love or guilt? Probably a little of both, which is only natural. Ruby is her mother after all. And the little girl inside, can't bear to think of losing her. 
- Lynda Simmons
Mark your calendars, you can pick up your own copy of Island Girl in stores tomorrow. But don't miss your chance to enter to win a copy now.
GIVEAWAY ALERT: One lucky winner will receive a copy of Simmon's Island Girl. To enter leave a comment about the best advice you've ever gotten about mother-child relationships. Or email your comment here with your U.S. mailing address and the subject line "Lynda Simmon's Island Girl Giveaway." The winner will be announced on December 20th.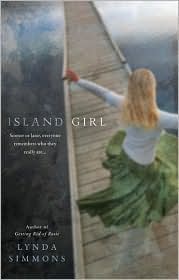 BLOG UPDATE 12/20/2010: And the winner is ... Stephenia D.