Macy Beckett Shares Why She Loves Small Town Romance - With Giveaway!
Wed, 03/20/2013 - 12:00pm — admin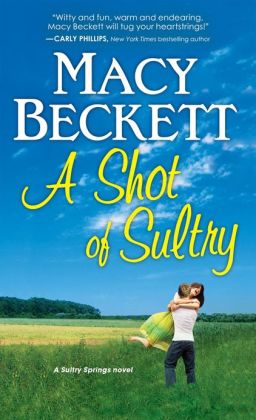 Hey there, romance readers! I'm
Macy Beckett
, author of the Sultry Springs series, here to dish about my favorite small-town romances and why it is such a popular subgenre. But first, the delightful ladies at the
RT
blog have asked me to tell you a little bit about Sultry Springs, Texas — the quirky town inside my head.
While creating Sultry County, I drew inspiration from my own experiences living in rural settings like Red Rock, Texas (population 2268) and Deep Run, North Carolina (a whopping 3,193 by comparison). This was Baptist country, friends, and if you wanted to procure a nice bottle of Crown Royal … well, you were spit out of luck. So I decided that if I had to suffer through life in a "dry county," so would my characters. I had fun creating a lighthearted dichotomy between my smokin' hot sinners and the saints of Sultry Springs, anchored by the Holy Baptism by Hellfire Church. The town road sign reads: Welcome to Sultry Springs, population 975 righteous souls, but trust me, there's a whole lot of wicked behavior taking place behind closed doors! And like all good small-town romances, the community members have big hearts and they take care of each other.
That's what I believe makes this a subgenre readers can't get enough of — the laid back support of a community where everybody knows your name … and all your business. Personally, I prefer life in the suburbs, but when it comes to fiction, I'm drawn to more quaint settings. I'd love to share some of my favorite small-town romances:
Let's start with Lori Foster's Buckhorn Brothers series, set in Buckhorn County, Kentucky. Lord have mercy, these covers are so hot they'll burn your eyeballs. (Want proof? Take a gander at Buckhorn Beginnings. I dare you not to drool.) Each of the brothers is impossibly sexier than the last, but hotness aside, this rural setting is one I can relate to because I've lived it. Folks are spread out along the countryside, but they won't hesitate to come together and help a neighbor in need.
Next up is Carly Phillips. I've been a fan of hers for years, and I'm loving her Serendipity series, set in the quaint town of Serendipity, New York. This location is a booming metropolis compared to rural Kentucky, but it captures the Main Street element that I love. While you're there, stop in at Joe's bar — if you're lucky, you might run into one of Serendipity's finest, the sexy cops at the heart of Carly's newest releases!
Another fictional town I enjoy is Rachel Gibson's Gospel, Idaho. Why? Because of the toilet tossing competition. Yes, you read that correctly. Townsfolk gather once a year to see who can hurtle a commode the farthest across a vacant field. Those of you who've read my books know that I have an irreverent sense of humor, so Rachel's brand of wackiness is right up my alley. Thanks for keeping it quirky, Rachel!
I could go on all day, but I've got deadlines to meet. So let's turn it over to you, readers. What elements of small-town life do you like to see incorporated in romances? 
- Macy Beckett
GIVEAWAY ALERT: Three lucky readers will win a copy of Macy Beckett's A Shot of Sultry. To enter, comment on this post and tell us what small town romance novel you recommend. You can also e-mail your answer here, along with your mailing address and the subject "Macy Beckett Giveaway." U.S. mailing addresses only, please. Winners will be announced March 26.
You can pick up A Shot of Sultry, available in stores now. For more small town romance visit our Everything Romance Page.