Magazine Extras: More Of June's Debut Authors
Tue, 05/14/2013 - 4:09pm — admin
In addition to our delightful dozen debut print authors to watch in 2013 in the June issue of RT, we want to introduce readers to two authors who've had some e-pubbing success before their print debuts. The authors were asked questions about their new novels, their personal lives and what they're working on next in an attempt to help you better organize those mile-high TBR piles!
SOPHIE BARNES

Sophie Barnes, a Danish-born historical author, has been wowing fans with several e-novels and e-novellas, published by Avon's Inspire (online) imprint. Her print debut, The Trouble With Being a Duke, comes out in Sep. 2013, and it begins her Kingsborough Ball series for Avon.
What is your day job?
I've been a stay-at-home mom for the past six years since my first son was born, but before that, I worked in the fashion industry, first in NYC and later in Ghana after my husband and I relocated there in 2004. We're now back in the United States and with the kids in daycare/school, I have more free time on my hands for writing, so when I'm not parenting, writing is my full-time job.
Tell us about your introduction to romance: I know you speak many different languages, was it in English or one of the other umpteen languages you speak?
LOL! It was in English and Danish (Being from Denmark, I was practically raised on Hans Christian Andersen). I think the first actual romance novel I ever read though was called Summer Dreams, Winter Love — it was a Point Romance by Mary Francis Shura, written for teens, so...ahem...it was a while ago. But, long before that, I fell in love with fairy tales, particularly Cinderella, Beauty and the Beast and The Wild Swans, which my mom used to read for me at bedtime.  Since then, I became captivated by romance movies like Gone With The Wind, To Catch A Thief, Sabrina, An Affair To Remember and Robin Hood (the one staring Errol Flynn and Olivia de Havilland). Naturally, I devoured Jane Austen, but since no one in my family and none of my friends read romance, it took years after reading Summer Dreams, Winter Love before I got my hands on another romance novel. I read other books with romance in them like The Pillars of the Earth, but it was my mother-in-law who finally nudged me in the right direction — she's a big-time romance reader! All it took was for her to hand me an Amanda Quick novel and I haven't looked back since. I was still living in Ghana though and while there was one bookshop available, their inventory varied from month to month depending on the surplus they received from the UK, so romance wasn't always an option. But then one day when I walked in, I spotted a few covers suggestive of the genre I was craving. One was Julia Quinn's Romancing Mr. Bridgerton and I bought it without a clue as to who Julia Quinn might be. What can I say — I was still a romance novice.
That book changed everything for me. It was written with such a great sense of humor that by the time I was done, I thought, "I'm going to try and write a book like that."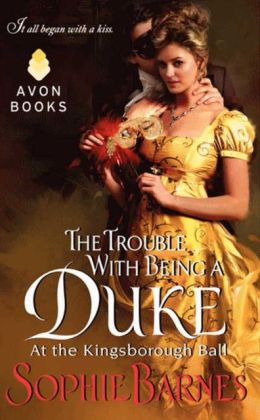 What appeals to you about your chosen genre?
I write Regency, and aside from the fabulous gowns and those extravagant houses and estates that we all love to escape to as we read, I have to say that I find myself fascinated by the rules of etiquette. The fact that women couldn't just do as they pleased and men had to be careful about being caught 'merely' kissing a woman, makes for some very intriguing plot opportunities. I particularly love writing heroines who are daring and bold and who probably would have struggled to fit into the confines of the period. Together with trying to solve my own plot puzzles, this challenges my creativity and keeps the whole process fun.
How did you start writing/how long have you been writing?
The first stories I ever wrote were for creative writing assignments in school. I used to love those, so I probably should have realized then where the future lay, but my persistent nature got in the way and I ended up going into fashion first. Funny how things work out — I now write a minimum of 2,000 words a day and haven't designed any clothes in years! 
When I was 15, I won a short story contest at school and it was also around this time that I decided to try and write a book — a horror story for teens. But I never managed to write more than one or two chapters, perhaps because I found writing in a notebook by hand too tedious a process.
After moving to Ghana, I decided to make another attempt with a historical novel about Queen Margaret the First, of Denmark, but this required such staggering amounts of research that I couldn't continue after the kids were born. But fiction, I decided, should be great! How much research can there possibly be when the story's made up? Hmm … I have had to re-think the answer to that question since then, but I did manage to complete my first full length novel and quickly sent it out to everyone on the planet, hoping someone would want to publish it — I was soooo proud! In hindsight, I probably should have edited that manuscript another 10 times and even then I'm not sure it would have been print worthy. Not one to give up though (persistence is the name of the game), I started on How Miss Rutherford Got Her Groove Back and was naturally ecstatic when an offer came through. Since then, everything has been a whirlwind experience with my move to print the icing on the cake.
What are you working on now, what's next?
At the moment, I am working on the sequel to The Trouble With Being A Duke, entitled The Scandal In Kissing An Heir, coming February 2014. The writing part is almost done, and then it's time to start editing. I've heard a lot of writers say that they don't enjoy that part of the job, but I do — especially the first read through, where I'm always pleasantly surprised to discover that what I actually wrote is so much better than I remember it. Once the editing is done I'll be diving into the next project — my third book in the Kingsborough Ball series, due for release in August 2014. Beyond that … I get most of my ideas as I start writing, so often times, as I finish one book, the ideas for the next plot form almost immediately. Regency romance remains my first love, but I have been toying with the idea of writing a contemporary romance and since I do enjoy a good challenge, who knows? We'll have to wait and see.
***
TERESA MUMMERT

When Teresa Mummert self-published her contemporary romance, White Trash Beautiful, Pocket Star, Simon & Schuster's digital imprint, took notice. The publisher acquired it and repackaged it for an October 2012 release. Now, the author's added an additional hundred pages or so, and Simon & Schuster has revamped the cover — they're calling it a sort of  "director's cut" of the book, which will release in July from Gallery.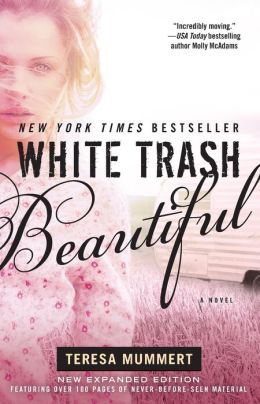 What is your day job?
I am a full time writer. I also have children that keep me very busy. 
How long have you been writing, how long before you were published?
I have been writing for about a year and a half. It took about a year to become published. 
Give us the elevator pitch for White Trash Beautiful, and how did you come up with the idea for "white trash" love stories?
White Trash Beautiful is about a broken girl who lives in a trailer park with her abusive boyfriend and drug-addicted mother. Her entire world changes when the guy of her dreams, a rock star, walks into the diner where she works. Most of my book ideas come from dreams I have had and I build them from there.
What appeals to you about your chosen genre?
I love a good love story. I like gritty, realistic stories with a happily ever after. 
What did you read as a youngster?
Everything I could get my hands on. I loved the Boxcar Children.
What's the funniest/strangest thing about you?
I am an ordained minister. 
What's next, what are you working on now?
I have just released Suicide Note. It is about a soldier returning from mid-tour leave from Iraq and meets a woman that he thinks needs to be saved. It just hit the New York Times bestseller list! I am currently working on book two of the White Trash Trilogy titled White Trash Damaged.
You can pick up a copy of Sophie Barnes' The Trouble With Being A Duke, available in print and digitally August 27, and Teresa Mummert's White Trash Beautiful, available digitally now and in print July 9. For more author news visit our Everything Romance Page.