Magazine Extras: A Paranormal Primer Part Two
Wed, 03/30/2011 - 5:58pm — admin
In the May issue of RT we offered a primer on several long-running and ongoing paranormal romance and urban fantasy series. Because there are so many great series out there, we couldn't highlight them all in the magazine, so here are a few more series roundups. Let us know what you think of this feature in the comments below and post your thoughts on these going paranormal romance/urban fantasy series.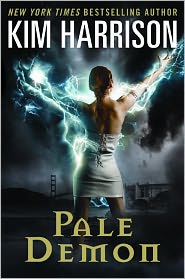 Kim Harrison
The Hollows (Urban Fantasy)
First Book: Dead Witch Walking, May 2004
Current book (No. 9): Pale Demon, February 
Tell us about your heroine: Rachel Morgan is a twentysomething witch living in modern-day Cincinnati, fighting paranormal crimes and falling in and out of love. With a strong moral compass and a perchance to dress badly for the situation, she stumbles through mishap after mishap, trying to make a difference in the world, unintentionally making things worse as she serves as a catalyst for change both in small things and large. I've enjoyed writing Rachel tremendously. She's determined, focused, and the girl next door - with a little something up her sleeve.
Your universe is populated with … witches, vampires, pixies and werewolves.
How has your series changed since the first book? The Hollows stands at nine right now, which necessitates a lot of development, but the biggest change is Rachel's realization of who she is and how she is impacting others. She's done a lot of growing, and as I prepare to wrap the series up, we will be seeing Rachel coming into her own and taking charge. Smaller changes? Elves are out of the closet, werewolves have the potential to be a political force, the source of magic is in danger of evaporating, demons are poised for a last-ditch effort to save their species, and vampires are looking to Rachel to find a way for them to keep their souls after death. I think she can do it.  
What is the overriding problem or big bad that runs through the series? Because the series has been running so long, the big-bad-ugly has been changing. As Rachel gains more power -- and vulnerability stemming from that power -- she either has to take out the big-bad-ugly or start to understand it. As a writer, I hate throwing things away, so I've chosen for Rachel to learn to understand her nemesis rather than kill him, and she now sits in a curious state of understanding, almost trusting, those she once feared and hated. Her world has gone from black-and-white to gray, and it makes for an interesting story as she aligns her moral compass against the magnet of "common good. The overriding problem, though, has always been Rachel, her choices impacting the world more than she wants them too. That hasn't changed at all, and won't be decided until the very last book.
What should new readers know before stepping into your world? I'm very much a "drop you in and swim" kind of a writer, and though it might make it hard for the reader not used to urban fantasy to find their balance, I would hope that they would realize that you don't have to know it all when you open up those first pages. I like developing worlds and characters the way we meet people who eventually become our friends: Surface impressions first, then a little background, and then the deep dark secrets.  The Hollows is meant to be a fun, fast read that sticks with you when you turn the last page. I hope others find it such.
How many books do you envision for the series? I'm looking at a total of 12-13. I've got 10 and 11 sitting at rough draft, so I'm seeing the end though there are years left to go. Rachel wants her happy ending, and this time, I'm ready to give it to her.
What is your website address: www.KimHarrison.net
Alexis Morgan
The Paladins (Paranormal Romance)
First book: Dark Protector, July 2006
Upcoming releases (Nos. 7 & 8): Bound by Darkness (May) and The Darkness Beyond (June)
Who is your most recent couple: Hunter Fitzsimon and Tate Justice
Your universe is populated with … Paladins and Kalith warriors.
How has your series changed since the first book? In my original concept, the Paladins were in a constant battle against the crazed Others, aliens driven to cross into our world through an energy barrier, out of their heads with the need to kill. In Dark Protector, Laurel Young, the heroine, was trapped in tunnels under Seattle. She was left there by a human who meant for her die at the hands of one of the Others as a way to strike out at Devlin Bane, the head Paladin and her lover. However, when I got to that point of the story, I realized the true monster was the human and not the Other. Much to everyone's surprise, mine included, when Barak q'Young crossed into our world, he turned out to be an honorable warrior who risked his own life to save Laurel. The ripple effect of that one action profoundly affected all of the following books. Starting out, I never envisioned one of the Others being the hero in his own book, but the third one featuring a Kalith hero or heroine is due for release this year.
What is the overriding problem or big bad that runs through the series? The Paladins are charged with protecting our world from the threat of invasion from another world that is separated from ours by an energy barrier that runs along the fault lines in places like Washington and Missouri. Added to that, there is corruption on both sides of the barrier. Someone in Kalithia is selling off the blue garnets that are the sole energy source in their world where the suns are dying. They are working with a secret group of humans, who offer them money and sanctuary in our world. Together, they betray both sides, leaving the Paladins fighting on multiple fronts where their traditional enemies might just become their strongest allies.
What should new readers know before stepping into your world? Although the stories build on each other, I try very hard to make sure that each one can stand alone. One of the trickier parts of writing connected stories is including enough world building in each book for the new readers without boring the ones who have followed the series from the beginning.
How many books do you envision for the series? Great question! When I first started developing the concept for the Paladins, I was hoping for a at least a trilogy. So far, six books have been released, and I have two more coming out this year. We're also working on an idea for a novella.
What is your website address: www.AlexisMorgan.com
Jocelynn Drake
Dark Days (Urban Fantasy)
First book: Nightwalker, April 2008
Upcoming book (No. 6): Burn the Night (July)
Tell us about your heroine: Mira is a vampire with the unique ability to create and control fire. She is feared and hated by her own kind for her ability, making her something of an outcast. And yet, she remains fiercely determined to protect other vampires from darker creatures that would seek to destroy her race. Not surprisingly, Mira has a fiery temper and can be somewhat impulsive at times, but she is also deeply compassionate and loving for those few she is close to.
Your universe is populated with … vampire, werewolves, witches/warlocks, naturi (a nature-dependent race that wishes the destruction of mankind) and the bori (a soul-dependent race that wishes the enslavement of mankind).
How has your series changed since the first book? One of the key changes throughout the series is the evolution of Mira's relationship with her enemy, the vampire hunter Danaus. Both creatures have dark secrets from their past that come to haunt them, drawing them closer as they are forced to depend on one another for survival. Through this close atmosphere, both must question the beliefs that they held against one another and come to understand each other a little better. It's this steady evolution from bitter enemy to trusted comrade to potential lover that has drawn many readers in.
What is the overriding problem or big bad that runs through the series? The overriding problem through the Dark Days series is a race called the naturi. The naturi are a nature-dependent group that had been locked away for centuries. They are the source of such fairy tales as elves and pixies. And yet, they are a dark and cruel group that has a singular goal of destroying mankind in the name of protecting the earth from further destruction. One of their leaders, Rowe, has not only been working hard to free the naturi and return them to their position of power on the earth, but he is also focused on torturing Mira once again.
What should new readers know before stepping into your world? The Dark Days series is a grim, dark and bloody series as my hero and heroine battle to not only save the human race, but also save each other. Furthermore, the vampires can be just as cruel and heartless as the naturi when it comes to their dealings with mankind and their own race. Mira walks a thin, razor's edge each night, trying to retain some of her humanity and sanity, while at the same time still feel as if she is a part of her own race.
How many books do you envision for the series? Burn the Night is the sixth and final book in the Dark Days series, and will be released on June 28.
What is your website address: www.JocelynnDrake.com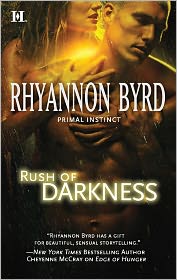 Rhyannon Byrd
Primal Instinct (Paranormal Romance)
First book: Edge of Hunger, April 2009 (Though there is an e-book only prequel called Edge of Craving)
Current book: Rush of Darkness, April
Who is your most recent couple? Raine Spenser and Seth McConnell. Raine is a powerful psychic who's part vampire. Seth is the human soldier who once hunted her kind for a living. As an ever-growing web of danger draws these two unlikely allies closer together, anger and distrust slowly turn into an explosive passion they're finding impossible to deny.
Your universe is populated with … a variety of paranormal species known as the Ancient Clans, whose existence has been kept hidden from humans for thousands of years. The clans consist of many familiar nonhuman races, such as vampires, shape-shifters and witches, as well as some new ones that took shape in my imagination, such as the Merrick and the Casus.
How has your series changed since the first book? I think the series has naturally become more comfortable within its ever-changing world, and as a result, I've been able to focus more on the heat and the romance. Even as new challenges are presented to the growing cast of heroes and heroines, I've worked to keep a satisfying balance between the world-building and the sensual, emotional elements of the books.
What is the overriding problem or "big bad" that is constant throughout the series? The overriding problem throughout the series is the return of an ancient evil called the Casus. Though these immortal monsters were imprisoned over a thousand years ago for their crimes against humanity and the other clans, they finally learn of a way to escape from their metaphysical prison. From that point on, a war begins between the Casus and the daring men and women who choose to fight against them.
What should new readers know before stepping into your world? Before stepping into the Primal Instinct world, I think it's important to know that despite the complex world-building, the main focus of each book is the intensely sensual, emotionally charged romance between the leads. I want readers to enjoy a gripping, action-packed adventure, but it's the passionate romance that is the heart of each story. So don't be afraid to jump right in! I work hard to provide enough backstory with each new book so that a reader can comfortably join the series at any point, and there's also an extensive glossary to help with any unfamiliar terms.
How many books do you envision for the series? The eighth and final book in the series, Rush of Pleasure, will release in August of this year. However, I'm thrilled to say that I'm currently working on Deadly Is the Kiss, which is the first book in a new spinoff series that will feature the vampires who have been a part of the Primal Instinct world. The first couple will be Ashe Granger and Juliana Sabin, two love-wary vampires who are about to discover what it means to be consumed by a devastating desire they can't deny.
What is your website address? www.Rhyannonbyrd.com
We Want To Know: Is there one paranormal or urban fantasy series you're game to try or are you already a devoted fan of many of them? And what did you think about this roundup?