Magazine Extras: Romance Gets Academic
Fri, 01/13/2012 - 12:28pm — admin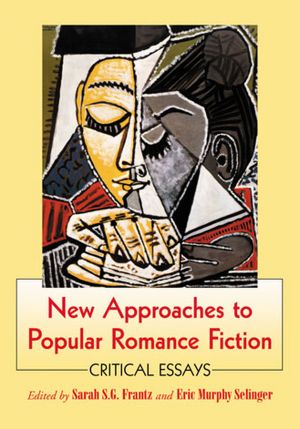 In the February issue of RT BOOK REVIEWS, we profiled the nonfiction academic study of romance, New Approaches to Popular Romance Fiction: Critical Essays, edited by two professors, Sarah S.G. Frantz and Eric Murphy Selinger. The volume, which will be published this year by McFarland, contains 18 essays about the romance genre and community, from luminaries in the academic world as well as romance authors and bloggers. The editors had so much to say about romances and genre fiction and their fascination with the books, that we wanted to continue the interview in online. So today we're bringing you the extended Q&A with the book's editors and RT Managing Editor Liz French. Read on to learn about how Frantz and Selinger formed the International Association for the Study of Popular Romance (IASPR) and what kind of books they like, not to mention how fun it is to teach college students about genre fiction!
RT BOOK REVIEWS: OK, I want to know a little more about you both. I see in the book's bio listings that Sarah's a professor in Fayetteville. How long have you been there?
Sarah S.G. Frantz: This is my eighth year at FSU. I teach two classes of composition, one Humanities II (1400-Present), and one literature course (either 18th century literature or Romanticism) every semester. I've only ever taught a class about romance novels once. 
RT: What and where does Eric teach?
Eric Murphy Selinger: I'm in my 16th year at DePaul University, in Chicago. Unlike Sarah, I only have to teach six courses a year, and lately those have been divided more or less equally between courses on poetry (my original specialty) and popular romance. I get to teach big undergraduate surveys of the genre, specialized upper-division courses, and graduate seminars on romance. Since 2005, when I did my first romance class, I've taught about 25 of them. 
RT: A little bit about how you started the IASPR would be nice too. I read a bit on your website about the paper cocktail napkin. But what motivated you? How did you find each other and get started on that tack?
SSGF: Eric and I first met at PCA [Popular Culture Association, an academic group] 2007, where we all decided that if we were actually going to make a field of popular romance studies, we needed four things: a dedicated academic organization, dedicated conferences, a dedicated academic journal and a scholar at a Ph.D-granting institution. When another PCA participant said that the Romance Writers of Australia were meeting in Brisbane in 2009, which is where he was based, Eric decided that our first conference would be there. There are actually a lot of romance scholars in Australia, so it seemed like a great way to connect with them to begin building our international connections. At PCA 2008, we hadn't got much further, but by PCA 2009, I had an organization name, logo and mission statement and we accepted our first member (and their money). And the conference went off pretty much without a hitch!
EMS: Sarah's covered the nuts and bolts and dates — let me say a word or two about the motivation. When I started working on romance, I couldn't find any colleagues: not at DePaul, and not even online. I went to the Popular Culture Association conference in 2006, and there wasn't a romance area anymore — the four of us speaking on the genre had to give our papers in other divisions. (Mine was on Emma Holly, and they put me on an "Eros and Pornography" panel.) After that conference, I started the RomanceScholar listserv, and then the Teach Me Tonight blog; I wanted to get people in touch with each other, and start building the field from the bottom up. (That's what was going on in 2008, mostly: networking, conference planning, blogging, that sort of thing, before the big IASPR launch in 2009.) 
RT: Does all this academic study of romance "kill" the pure entertainment of reading romance for you?
SSGF: I find it difficult to read authors I've done a lot of work on (Suzanne Brockmann, Joey Hill) without analyzing them. I can't read them purely as a reader anymore — I'm too caught up in the cool narrative stuff they're doing to just "enjoy" the book. But then, I could probably say that about any book nowadays. I'm too much a scholar ever to read "purely" as a reader anymore, but then, I get my own enjoyment out of a text when I read as a scholar, so I honestly don't think I'm missing anything ...
EMS: I've worried, over the years, that all of this study would get in the way of pure enjoyment. That happened for me with poetry at one point: I just couldn't turn off the scholar program in my brain, or the teacher one that kept wondering what I'd say about this poem in the classroom, so I lost the ability to lose myself in the book. Hasn't happened with romance yet, though! Not only do I keep finding new novels that I love and read for fun, but books that I've taught many times seem to get better and better — in part because I've gotten to know them better, and see more in them, and in part because I keep seeing them freshly, through my students' eyes. 
RT: Do you get any guff from fellow studiers of popular culture about your focus on romance?
SSGF: Not once. I have a fabulous department who are excited about what I do.
EMS: Envy, sometimes. Guff, never!
RT: Did you / do you read romance for pleasure? What (if this is the case) was your "gateway" romance?
SSGF: I've always read romances for pleasure. Always. And I still do. It's still what I use for stress release. I can't imagine not reading romance. My first romance was Anne Weale's A River Room, a Mills & Boon romance I snuck from my mother when she left it lying around one day when I was 12. I still have it. The first romance that really hooked me was Roberta Leigh's Man in a Million, another Mills & Boon. What hooked me was evidence of the hero's emotional vulnerability. When I saw that, that was it for me. Instant reader for life. And this shows up in my scholarship, which has all been focused on the ways in which female novelists write their male characters, how they construct gender. 
EMS: My dad was a big fan of the Great American Songbook, so I grew up surrounded by smart, sophisticated, eloquent love songs: Cole Porter, Rodgers and Hart, that sort of thing. It was an easy step from that to love poetry, which was my first scholarly interest, and to romantic comedy films, but I had a big mental block against reading romance fiction, as so many men do, until I hit my mid-30s. Depending on how strictly you want to define the genre, the "gateway" for me was either Bridget Jones's Diary or Katie Fforde's Second Thyme Around, and then I discovered Jennifer Crusie's Crazy for You, and I've never looked back. 
RT: What do you think pure (whatever that means) romance fans will make of your book? Is it even written for them?
SSGF: The book is for people who want to think a little bit more about what romance novels and the romance community mean. I definitely think romance fans will enjoy it. There's nothing wrong with romance receiving academic criticism. We are adding to, not taking away from romance, with this book. And we tried hard to make sure that the articles did not use much academic jargon and would be engaging to the non-academic reader.
EMS: Some fans hear "criticism" or "critical essays" and think that what they'll read is essays that are critical of the genre and its readers. They have reason to be wary — a lot of early academic work from back in the 1980s and '90s seems skeptical at best, and at worst, downright condescending, and some of it still gets cited and taught. You won't find anything like that in our book, though — many of the scholars were romance fans (or authors, or bloggers) before they decided to do academic work on the genre, and even those who came to it first as scholars are writing essays that make the books or issues they study seem more interesting and important, not less. I think any fan would find something in here that she'd be very excited to read—and to talk about!
RT: How was your 2011 NYC conference? Did it coincide with RWA? Do you have a relationship with RWA or any other romance group?
SSGF: We deliberately scheduled IASPR's NYC conference right before RWA. We ran Sunday through Tuesday. RWA's Literacy Signing was on Tuesday, the conference Wednesday through Friday. It was wonderfully successful. Our venue and host were amazing, the papers were fabulous and our community just keeps growing. RWA very generously funded us for travel grants, as they have done for all three conferences. This year, we were able to bring people from Belgium, England, Taiwan, Canada, Greece and Spain with RWA's generous donation. In 2009, Samhain Publishing also donated money for the conference. 
EMS: Back in 2005, RWA started an Academic Research Grant competition, and a number of us who are involved in IASPR — including both Sarah and me — have gotten those grants for our individual projects. IASPR brings people together, both physically (at the conferences) and virtually (via our online Journal of Popular Romance Studies, JPRS for short). We're delighted to have additional support from RWA that helps with this outreach and in-person conversation, which is really the heart of any emerging academic field. On a more personal level, the NYC conference was my first exposure to an RWA convention — I went to the literacy signing, which was truly a mind-blowing experience for any English professor. Hard to fret about the future of reading when you see that ballroom packed full of authors and readers!
RT: How did you amass this collection of essays in New Approaches to Popular Romance Fiction, did you put a call out to various scholarly publications, or did you actively seek out various essayists? Was there anyone in particular you were determined to "get?" 
SSGF: New Approaches was built with a combination of an open call for papers posted to various academic listservs and romance-specific blogs, and targeted invitations. We're thrilled to have Australian historian Hsu-Ming Teo as a contributor. Also Mary Bly/Eloisa James was quite a coup. Honestly, looking through our list, we probably strongly urged at least half of the list to submit their papers to us, and overall, the lineup is super-strong. 
EMS: We had so many more proposals than we could include — it was exciting, but also frustrating, since we did the call for papers before we had the online journal. I hope that some of the folks who proposed and got turned down will give JPRS a shot; there's a lot of great work getting published there now, and since you don't need a subscription to read it, JPRS reaches a really broad audience of students and scholars and general readers, worldwide. Speaking of online things, I think it's great that we have not only a piece by "Smart Bitch" Sarah Wendell, but also a really interesting essay about the "cover snark" threads over at the Smart Bitches, Trashy Books website. This isn't just a book about romance fiction; some of it's also about the romance community. 
RT: What would you say to the people who sigh and say, "Oh reading romance for a living, I want YOUR job?" Is it really "the life?" If you study and analyze romance for a living — more or less — what do you read or watch to unwind? Busman's holiday?
SSGF: To unwind ... I read romances. Or watch romantic comedies. Every now and then I'll post on Twitter that I'm reading Joey Hill, for instance, or my favorite m/m romance author, K.A. Mitchell, for research. And yes, that's pretty much "the life." I wouldn't have it any other way. But then, in my "other" academic life, I studied Jane Austen, and you pretty much can't go wrong there, either.
EMS: Is it really "the life"? Yup. That it is. Even grading the papers is fun. I honestly can't believe how lucky I am. As for unwinding, I read romances and SF and poetry, and every now and then another genre — but a few years ago one of my romance students introduced me to Bollywood, which opened up a whole new world of love stories to enjoy. My wife and I started watching movies like Jaane Tu Ya Jaane Na and Jab We Met and Om Shanti Om, and lately we've discovered these amazing Korean TV dramas, also love stories, which you can stream with subtitles online: things like Coffee Prince and My Lovely Sam-Soon and Boys Over Flowers, which was based on a Japanese manga. I'm fascinated by how romance fiction conventions cross national boundaries, but get distinctive twists from country to country, and there's a whole world of romance out there that we Americans barely know anything about. Great stuff to relax with, as well as to study!
To learn more you can log on to the International Association for the Study of Popular Romance website and be sure to check out the February issue of RT BOOK REVIEWS for more about the book.