Maggie Shayne's Inspiration: Compelling Organ Donation Stories
Wed, 09/25/2013 - 10:08am — admin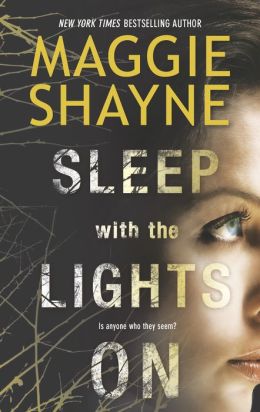 Have you bought your Halloween candy and decorations yet? We at RT are also a little behind, but this creepy blog post from romantic suspense author Maggie Shayne will surely get you in the mood. Today, Maggie's here to tell us about the inspiration behind her RT Top Pick! Sleep With the Lights On, out this week. Gather round, folks … 
In my new book, cornea transplant recipient Rachel De Luca gets more than she bargained for from her donor, a dead serial killer who is somehow still hunting from beyond the grave.
Today I'm here to talk about my research surrounding organ transplantation. The following things are true, and they helped inspire my ideas for this novel.
1. Claire Sylvia received a heart transplant, and afterward, began to change. Her tastes in food, craving things like chicken nuggets and beer, which she'd never liked before. Her habits and cravings, even her handwriting changed. She began to dream that another was living inside her. In her dream his name was Tim. She later learned that her donor's name was Tim. He had chicken nuggest in his motorcycle jacket pocket when he died.
2. A 47-year-old man developed a never before felt love for classical music after his  transplant, only to later learn his donor had been a 14 year old boy who'd died while still clutching his violin in his hands.
3. An 8-year-old girl received the heart of an 10 year old and began having horrible nightmares of being murdered. It got so bad she had to seek therapy. It turned out her donor was murdered. The 8-year-old was able to recall enough details that she eventually helped police find and arrest her killer.
Stories like these do not remain still in the fertile soil of a writers' mind. And it is from them that the notion for Sleep With the Lights On sprouted and grew. I really hope I did justice to this valid and real phenomenon.
For more information on cellular memory in transplant recipients, watch the ten minute video clip below (warning: it's not for the squeamish). You'll be amazed.
Video Snippet from the Documentary, Organ Transplant Cellular Memory:
(It's part 1 of 4. Watch them all here and be fascinated.)
Intrigued? You can pick up Sleep With the Lights On today online and in stores! And be sure to visit our Everything Romance page for more love stories — scary and otherwise!