Mainstream Overview: February
Thu, 02/20/2014 - 11:00am — admin
Life is built on a series of cycles. Rain falls, evaporates and falls again. We wake, live our days, sleep, and wake to do it all again. And, most importantly, people die, leaving the rest of us to mourn and live on. In this month's mainstream overview, we're taking a look at a fresh batch of enthralling reads featuring characters who find new meaning in their lives following the tragic deaths of loved ones.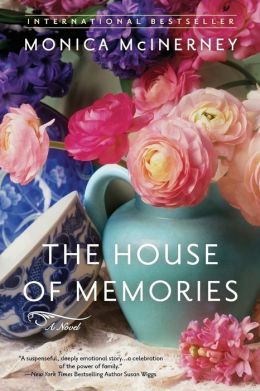 In Sharon Sala's The Curl Up and Dye, former darling of Blessings, Colorado, LilyAnn Bronte used to have it all: looks, popularity, intelligence, a crown from her Peachy-Keen Queen title — and the star quarterback, Randy Joe. But when he's deployed to Iraq and doesn't make it back home, LilyAnn's life is turned upside. With her friends from the Curl Up and Dye salon, LilyAnn tries to regroup and rally. And when T.J. Lachlan comes to town, reminding her of Randy, LilyAnn must find her strength once and for all.
Sarah Addison Allen brings readers Lost Lake, in which Kate Pheris must navigate life following the death of her husband. A year has passed, and Kate isn't sure if the life she's living now is the one she wants. So with her eight-year-old daughter, Kate heads to Lost Lake, Georgia, one of her favorite places from her childhood, and reconnects with her great aunt — her aunt who owns the Lost Lake cabins, and who has secretly agreed to sell the property.
When her son unexpectedly dies, Ella O'Hanlon pulls away from friends and family, including her husband. After months of simply going through the motions, Ella goes to stay with her favorite uncle, Lucas. During her stay, Ella finds the courage to fix her broken heart and the relationships she's pushed aside. Find out how she rises above her pain in The House of Memories by Monica McInerney.
In Felicia Mason's Hidden Riches, after Ana Mae's passing, her siblings return to their small hometown in North Carolina to say their final goodbyes. What they discover, however, is that their eldest sister was not who they thought she was. They soon learn of their sister's fortune and after reading the terms of her will, they're sent on a journey to uncover the mysteries behind a quilt that will introduce them to the true Ana Mae.
And finally, in Matthew Quick's The Good Luck of Right Now, Bartholomew Neil must face a life without his mother, whose well-being was his sole concern in life. With no friends, job, or girlfriend, Bartholomew agrees to meet with a therapist-in-training. But when the priest who put him in touch with the almost-therapist has a meltdown, Bartholomew is suddenly surrounded by other wayward people. When he discovers letters written by his mother to the object of her affection, Richard Gere, Bartholomew begins his search for the meaning of life.
These endearing and reaffirming reads are available now, so be sure to purchase your copies in stores or online today! And be sure to let us know which ones you love the most! For even more mainstream books and authors, visit our Everything Mainstream Page.