The Making of A Gentleman With Giveaway
Tue, 10/12/2010 - 5:13pm — admin
In author Shana Galen's latest historical romance, The Making of a Gentleman, her hero, Armand, is a shattered man. After being held captive by the French government for twelve years, he has completely retreated from the world. Learn which classic novel that inspired Galen's tortured hero and how the author crafted a heroine strong enough to make Armand want to live again. And don't miss the GIVEAWAY at the end of the post.
When I began my Sons of the Revolution series, about three brothers separated as boys during the French Revolution, I knew Julien (The Making of a Duchess) would be the strong, responsible eldest brother, Bastien (The Making of a Rogue, April 2011) would be the mischievous, charming youngest brother, and Armand (The Making of a Gentleman) would be…scarred. 
During the madness of the Revolution, Armand, comte de Valère, learned a dangerous secret and was subsequently imprisoned. He was only eleven. When he's discovered, twelve years later, he refuses to speak and finds interaction with people painful. 
Part of the inspiration for Armand came from Dr. Manette of Charles Dickens's A Tale of Two Cities. You may remember from your sophomore English class that Dr. Manette was imprisoned for eighteen years and presumed dead. When he emerges, he's but a ghost of the man he once was. My other source of inspiration for Armand was Louis-Charles de France, son of the doomed Louis XVI and Marie Antoinette. Louis-Charles was taken from his mother's arms at the age of eight and placed in solitary confinement. There followed two years of physical and mental torture until the boy died at the age of ten from neglect. I've published nine books and done countless hours of research for each, but I have never cried while researching until I read the true story of Louis-Charles.
Armand, who survives his imprisonment and abuse and grows up to find happiness and love, is my tribute to Louis-Charles. It's the happy-ever-after Louis-Charles never had. But, inspired as I was, writing Armand's story proved incredibly difficult. In fact, seeing the world from the wounded Armand's point of view challenged me like never before. 
Normally I look forward to writing each day, but crafting the initial chapters of The Making of a Gentleman was far from pleasant. I needed to get inside Armand's head to understand why he doesn't speak or interact with friends and family. I envisioned life growing up in a cold, barren, windowless cell. I imagined twelve long years with very little human interaction. 
How would it feel to think you'd been forgotten by everyone you knew and loved? How would it feel to believe you'd spend the rest of your life cold and alone with nothing to occupy you but your own thoughts? What would it be like to be unjustly locked away as a child? Did Armand long to be held and comforted? Did he eventually give up and give in to the darkness? 
Finding a heroine for Armand was also no easy task, but I think the sunny, vivacious Felicity Bennett is exactly the kind of woman Armand needs to help him overcome his past and face his demons—past and present. Of course, Felicity has secrets of her own… 
- Shana Galen 
GIVEAWAY ALERT: Three winners will receive the first two books in Shana Galen's Sons of the Revolution series. To enter, leave a comment on this blog post about why you love to read about a "tortured hero" or e-mail here with your comment, mailing address and the subject line "Shana Galen's Sons of the Revolution Giveaway." One entry per person. The contest winners will be revealed on October 27th.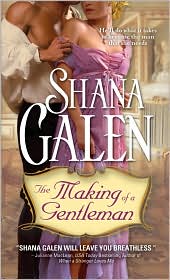 BLOG UPDATE 10/28/2010: And The Winners Are ... Whitby1734, Tiona and Stephenia D.