The Making Of A Romance Cover With Elizabeth Hoyt
Tue, 10/18/2011 - 4:57pm — admin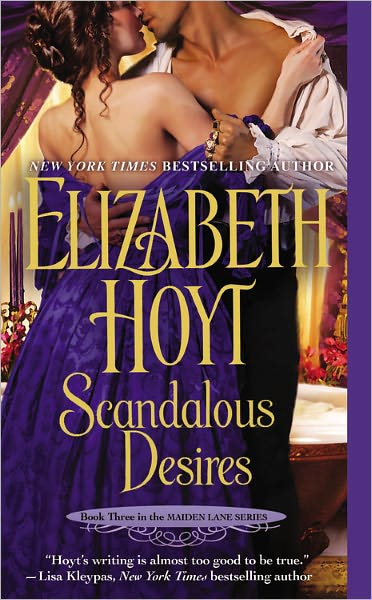 We're always excited to get a behind-the-scenes look at what goes into the creation of our favorite books. (It's no secret that some of us are guilty of judging a book by its cover.) So today, we're bringing you footage from the photo shoot for Scandalous Desires, the newest historical romance novel by author Elizabeth Hoyt.
After seeing this video, we went straight to Elizabeth Hoyt to get her take on the process behind designing the cover for her latest Maiden Lane novel — and what she has planned for the covers of future books!
***
What is your favorite part about the cover of Scandalous Desires?
The color! I love that royal blue color—it makes the yellow font of the title, Scandalous Desires, just pop.
Do the hero and heroine chosen for the models fit the picture you had for your characters in your head?
Yes. This is rather rare, but I thought the models were very close likenesses of Silence and Mickey—although I always pictured Mickey with more black curly hair.
The bathtub plays a large role in the cover, how does it tie into the story?
It's a pivotal scene in the book: Mickey has just returned from a raid in which he lost three of his men. It's the first time that he's shown any kind of vulnerability at all to Silence, who bursts in and discovers him in his bath.
What has been your role in how your publisher crafts the covers for your Maiden Lane series?
Usually my editor asks very early on—nine months or more from when the book will be released—for scene ideas for the cover and step back. I give three or four ideas, which may or may not be used. Later I see the nearly finished cover and if I have objections or suggestions I can make them. I LOVED the cover of Scandalous Desires!
And finally, what can you tell us about the next book in the Maiden Lane series?
The book, tentatively titled Thief of Shadows, will feature Winter Makepeace is the manager of the Home for Unfortunate Infants and Foundling Children in St. Giles. He's a rather somber, hard-working man, but when his position at the Home is endangered he must reluctantly seek the help of a sophisticated—and beautiful—society lady six years older than he.
You can pick up your own copy of Scandalous Desires this month. And be sure to mark your calendar, the next Maiden Lane book, Thief of Shadows, is set to be released Summer 2012.