Marcia! Marcia! Marcia! Why We Love Kieran Kramer's Newest Heroine
Tue, 08/28/2012 - 2:16pm — admin
Even though Kieran Kramer has only been publishing for two years, the author has amassed a legion of fans thanks to her clever turn of phrase and intriguing characters. At the RWA National Convention this year, Kieran's autographing table was surrounded with so many readers that it was almost impossible to catch a glimpse of the author. So I bided my time until after the book signing, looking forward to our one-on-one sit down where I planned to ask Kieran about her newest project - The House of Brady series, which was inspired by none other than the blended family from The Brady Bunch.
Historical romance series featuring siblings are nothing new. Readers have many choices for great family centered books from Mary Balogh's Bedwyns to Julia Quinn's Bridgertons and beyond. In fact, there is a saying around the RT office that "siblings make the best series". But just how exactly did the delightfully retro 1970s television family inspire romances set in a bygone era? This is the first question I asked Kieran when we met for our interview. She claimed to have no idea why or how it happened. "All I know is that it was 1:00 AM and I sat up in bed and said, 'I want to take the Brady Bunch to the Regency'."
And before you start snorting at the idea of polyester, centered parted hair and bell bottoms mixing with the ton, Kieran wants to assure everyone that the books are a "light" homage to the quirky TV show.
When I asked the author what made her so sure she could marry together the outrageous sitcom humor with the more restrictive rules of the Regency, Kieran became contemplative. "Taking on the universality of love in different times is my way of showing that people are the same no matter the decade or generation. They have the same dreams and hopes. There are some things that are just universal."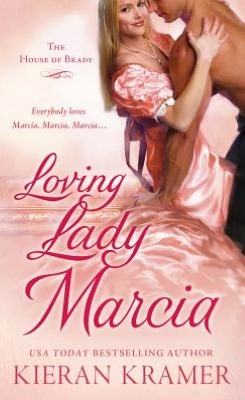 This bit of philosophy is reflected in The House of Brady books. While the stories in Kramer's previous series, The Impossible Bachelors, are whimsical and fun, there is a depth to this new series that we haven't seen from the author before. This is most evident in Kramer's heroine in the series starter Loving Lady Marcia.
When she is just a teen, Marcia makes a life altering decision to be intimate with the man she loves. But after he leaves, Marcia knows that she has irrevocably broken the rules. No one knows she has been compromised, but she does. Feeling guilty for what she sees as her failing, Marcia removes herself from society to work as a headmistress for an all girls boarding school in the country. There she hopes to help other young ladies make a different choice than the one she made.
If you can't tell already, this Marcia is very different from the hair-flicking sweetheart from the TV show. Something Kieran is very aware of. "This is a new Marcia. I hope to show another side to her that may not have been present in the TV show. My Marcia is a leader; she has a lot of substance."
That she does. Throughout Loving Lady Marcia, the heroine proves herself a smart, honorable and clever woman. And who does she get paired with? Kieran laughs as she repeats the hero's nickname: Downer Duncan. Well, perhaps "downer" is a bit of an exaggeration, but he does have some baggage of his own. Kieran says her hero has been through a lot. "Duncan was hurt in his youth and not loved by his father so has created his own family." This includes the delightful tyke Joe who Duncan devotes his life to. But responsibility has its price and it is steep. The author says, "Duncan has a deep need to take care of everyone." Thankfully, Marcia has learned through some tough lessons how to take care of herself. So this means that Duncan can let down his guard around Marcia and learn to play. Even with some serious issues to contend with, readers will be pleased to find plenty of lighthearted fun that is classic Kramer as well as some classic Brady Bunch humor. (Yes, this Marcia's nose does suffer a bit of damage.)
Loving Lady Marcia releases today, and with a Top Pick! review, we can't recommend this book enough. From the strong, yet vulnerable Marcia to her motley group of siblings as well as Duncan and his own crazy household, this story is delightful. During our meeting, I told Kieran that Loving Lady Marcia is my favorite book by her to date. The author, who remains surprisingly humble after all of her success, said that means a lot to her since this book is especially poignant to her. "Loving Lady Marcia represents what I truly believe. Warmth, love and laughter can conquer all."