Margo Maguire's The Rogue Prince Giveaway
Thu, 02/24/2011 - 2:09pm — admin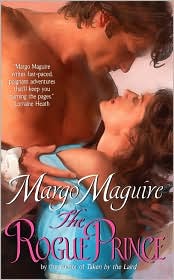 This month Margo Maguire's new historical romance, Seducing the Governess, got an RT Top Pick! Today Maguire reveals her inspiration for this steamy new tale in an author message. You can also enjoy an RT exclusive excerpt of this new novel.
If you missed Margo Maguire's previous novel, The Rogue Prince, then today is your lucky day! Three RT readers will win a copy of this May 2010 novel that RT Senior Reviewer Kate Robin called, "a love story that reaches the heart with its inherent tenderness and pure romance." And if that doesn't sounds like a delicious way to beat back the winter blues, we don't know what is.
GIVEAWAY ALERT: Three lucky readers will win a copy of The Rogue Prince. To enter leave a comment on this blog about what kind of rogue you'd like to be (or be with). Alternatively, you can email your comment and US mailing address here with the subject line "Margo Maguire's The Rogue Prince Giveaway." The winners will be announced on March 11th.
BLOG UPDATE 3/11/2011: And the winners are .. marlenebreakfield, Sue K and Kathy S!