Mariah Stewart's New Heroine On Motherhood And Romance
Mon, 08/30/2010 - 10:51am — admin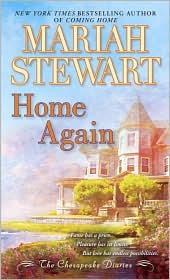 Dallas MacGregor, the heroine of Mariah Stewart's latest contemporary romance, Home Again, is an award-winning actress who's starred in many top box office hits and a devoted mother. She recently moved her son out of the Hollywood spotlight and brought him back to her hometown of St. Dennis. Now she chats about her new life and disputes the old adage that you can't go home again. And be sure to check out the excerpt after Dallas' message!
How does being a mother affect my life and my second chance at love? Every decision I've made since Cody was born has been with his best interests in mind. I left a bad marriage when it became apparent that my ex-husband, Emilio, would never be the kind of father that Cody needed – children know when someone doesn't love them or want them around – and that he'd only married me to further his own career. 
Personally, I could have stayed in L.A. and weathered the storm that Emilio kicked up once that god-awful sex tape hit YouTube. But Cody's only six, and he was hearing a lot of things about his father that were really confusing and hurtful to him, so I thought it best to remove him from that environment for a while. Where else would we go, but to St. Dennis to stay with my great aunt, Berry Townsend – of course, you know her from all those wonderful movies she made back in the day. They're classics. I knew Cody would love St. Dennis, and he did. It was wonderful for me to have time to relax and to relive some of my own childhood with my son. We crabbed and went rowing and spent some very peaceful and happy weeks there. Cody made friends – he found a best friend – and so did I – my old rival and I have found we have more in common than we'd ever suspected. I'd thought that things would die down over Emilio's bad behavior and that Cody and I would just go back to our old lives after a few weeks, but things don't always go the way we plan, right? I hadn't counted on falling in love all over again with the guy who'd stolen my heart when I was sixteen. No one seemed surprised but me when Grant and I found that the feelings we had for each other so long ago were still there.
How has having Cody affected my second chance at love? As a parent, you always have to consider your child's feelings about any new person you bring into their life, but I wasn't worried about that with Grant. Cody met Grant before we began to see each other again, but the fact that Grant found just the right dog at his shelter for Cody got him really high marks! Grant's daughter, Paige, and Cody took to each other right from the start; she's been the big sister he otherwise wouldn't have had. We're all dreading the end of the summer and the day when Paige has to leave St. Dennis and return to her mother's home for the school year. 
Grant's done a lot to earn Cody's trust – when things looked most bleak, it was Grant who saved the day. He truly is the love of my life, and we are grateful every day for the second chance we've been given. Right now we're just happy to be together, and we're looking forward to sharing our lives with each other for a long time to come. 
No, I'm not giving up acting, but I have plans that will keep Cody and me in St. Dennis for a long time to come! I've loved this town – and the people here – from the time my brother Wade and I first came to stay for the summer with Aunt Berry after our dad died. A lot of the people who were part of our lives back then are part of our lives once again, and it just feels right that things have come full circle. And Aunt Berry isn't getting any younger, you know – she'd never admit it, but she is slowing down a little, so it's good that we're here for her. It seems the more time I spend with her, the more I see how little I really know about her life – the woman does know how to keep her secrets, but that's a story for another day. Wade says he'll be back soon, and that he has some big news. Whatever it is, it'll be wonderful to have him here with us – we're hoping that he, too, will feel like he's home again.
- Dallas MacGregor
Now enjoy this excerpt that illustrates how Dallas and Cody are making a new life for themselves in St. Dennis! Still desperate for more Dallas? You can pick up your copy of Mariah Stewart's Home Again in stores now.