Marie Lu's Milestone Moments Writing Her Legacy Trilogy
Tue, 11/05/2013 - 11:10am — admin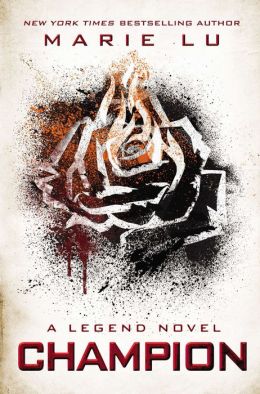 Marie Lu burst onto the YA scene with her Legend trilogy, earning herself many fans with the series, which captivated readers with its unique characters and dystopian setting. With Champion, the third and final book in the series, gracing shelves today, we asked Marie to share her top five memorable milestone moments from the trilogy. Here's what she had to say:
Champion, the last book in my debut Legend trilogy, releases today. Even typing that sentence out shocks me. Where'd the time go? Wasn't it just yesterday when I was a wide-eyed newbie, twiddling my thumbs anxiously while my agent prepared my manuscript for submission? Has it really been three years since I got The Call that Penguin was going to publish my trilogy? Did I really manage to survive writing the second and third books without drowning myself in angsty cupcakes?
Thinking back on the entire process makes me a bit nostalgic. So many moments — both good and bad, exciting and terrifying. A few in particular stick out for me:
1. The moment I discovered my girl protagonist, June. Day, my main boy protagonist, had already been in my head since high school. I knew him well, and I knew that someday I'd put him into a story that would fit his personality and drive. The problem with all the stories I tried to write about Day, though, was that he had no equal rival. My stories came out lopsided. Imagine my surprise when I first began writing Legend and, out of nowhere, came this Sherlockian girl with a computer-like mind and a cold, analytical, logical attitude. I never meant to discover June — I don't even have anything in common with June. Sometimes I think that she's always existed, and that she found me. All I know for certain is that she and Day clicked the instant I tossed them both into the same story. She is the gem I'm grateful to have found.
2. The moment I realized how difficult writing this story would be. This particular moment happened right as I started Prodigy, the second book in the series. I'd braced myself already, knowing that the dreaded sophomore slump was a very real thing indeed, but I hadn't expected the writing of it to be this hard. Suddenly I had to create a new book out of old characters and a story that was already half-formed, and I had to do it with a real deadline and a host of anxious readers who would be disappointed if I failed. For the first time, I had something to lose. That thought was terrifying. Still, everything looks rosier in hindsight, and now I think back with a sense of triumph, knowing that I got over the hump.
3. The moment I realized that the world of Legend contained far more than one dystopian society. I hadn't planned for this. I don't plan much in general, in terms of writing, and many plot elements take me by surprise — but this in particular was a watershed moment. Suddenly, my entire story arc changed. I ended up taking my characters on a journey that covered far more ground than I'd initially anticipated, and I'm glad for it.
4. The moment when I read back through Champion, the final book, and realized that in writing about June, I had been writing about myself all along. I don't mean that I realized I'm a child prodigy who excels at logic and memory and military combat — I'm terrible at all these things — but that I realized I had given June the pieces of myself that I had never really acknowledged. I discovered that we deal with grief, panic and anger in similar ways, that we have similar awkward moments and dark fears. June and I may have little in common, but in some ways, we are exactly the same.
5. The moment I wrote my acknowledgments for Legend. I think every writer remembers the first time they cross from feeling like a new writer to a real writer — and for me, this realization happened when I started to list out all of the people who had helped me along the way. I'd crossed my first leg of the journey, and I wasn't alone.
Now that Champion is out, I'm riding a wide gradient of emotions: giddy, nervous anticipation, as I wait to see how readers react to my ending; exhaustion and relief, for finally finishing a story that I at one point thought I might never be able to finish; angst and anxiety, as I start to wonder what to write next. Most of all, I feel grateful — grateful for my readers, and for being lucky enough to tell stories for a living.
- Marie Lu
How about you, lovely readers? What are your favorite memories from the series? Let us know in the comments, and be sure to purchase your copy of Champion, in stores or online today! And for more YA authors, books and buzz, check out our Everything Young Adult Page!