Marissa Meyer: Fairy Tales I Probably Won't Adapt
Tue, 02/04/2014 - 12:31pm — admin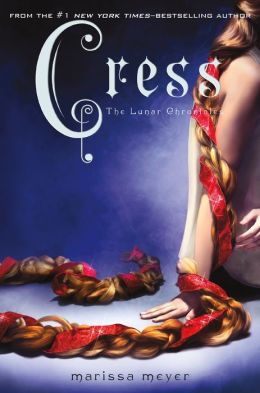 With her unique and addicting YA sci-fi fairy tale retellings, Marissa Meyer has quickly won over readers and Cress, the latest installment, is one of today's hottest releases. Like most of you, we just can't get enough of Marissa's inventive spins on popular fairy tales. But curious minds want to know which fairy tales Marissa would never retell. Here's what she had to say:
My young adult series, The Lunar Chronicles, combines four classic fairy tale retellings into one continuous good-against-evil, space-operatic plot. The books borrow from "Cinderella," "Little Red Riding Hood," "Rapunzel" and "Snow White and the Seven Dwarves" — four beloved tales — but turns them on their head by adding cyborgs and mind-controlling aliens and a deadly plague. It's been a lot of fun seeing what I can create using these classic archetypes as a jumping-off-point.
But that said, here are four fairy tales that I probably won't be retelling any time soon...
Beauty and the Beast
Unfortunately, this is the tale that I get the most requests to redo. People love this story! But it's not one of my personal favorites, partly because I think the romance has more to do with Stockholm Syndrome than anything else, and also because it always seemed to me that the Beast was the one who should have to learn to look beneath the surface…not Beauty.
However, I will take that library from the Disney version any day.
Sleeping Beauty
It turns out, as I've learned in writing my Snow White story, Winter, it is really difficult to write a novel-length retelling of a tale in which the main character sleeps through all of the exciting stuff. I would think long and hard before jumping into that conundrum again.
The Twelve Dancing Princesses
Mostly my concern over retelling this story is a technical issue. Twelve main characters?! I end up with eight protagonists by the end of The Lunar Chronicles and that is plenty enough for me. The idea of having to pick out twelve names for the sisters gives me a headache, much less coming up with unique personalities for each of them. (That said — I will say that Heather Dixon, author of Entwined, did an amazing job of accomplishing just that. So clearly it can be done.)
The Juniper Tree
This tale is a little on the obscure side, and with good reason. It is so creepy. No one should tell this story to their children. It's full of murder and cannibalism and terrifying possessed trees and it's absolutely horrifying!
On that note…just kidding. I would retell this story in a heartbeat.
Of course, the greatest thing about retelling fairy tales is that you can take all those things you don't like about the original (simpering princesses and foolish heroes and one-note villains) and turn it into precisely the sort of story you do like. Despite some reservations, in reality I know that there isn't a story in the world that I wouldn't retell...it just takes the right idea to make it work.
-Marissa Meyer
Now we want to see what Marissa could do with "The Juniper Tree"! But in the meantime, be sure to pick up Cress, in stores and available online today! If you're dying for even more Lunar Chronicles goodies, visit the official series website here. For more exciting YA books and authors, hop on over to our Everything Young Adult Page!