Marlene Perez And Amanda Carlson On Why Minneapolis Is The New Urban Fantasy Hot Spot
Tue, 03/19/2013 - 1:15pm — admin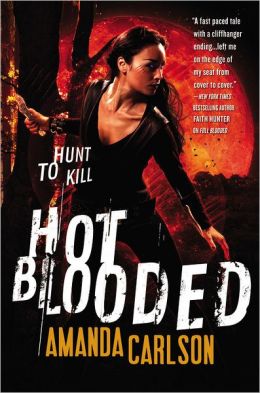 Chicago is grand, New York is nice and L.A. is, well ... L.A., but could Minneapolis be the next popular setting for Urban Fantasy? Authors Amanda Carlson and Marlene Perez think so! Both Carlson's Hot Blooded, second in her Jessica McClain series, and Marlene Perez's Strange Fates take place in the chilly Midwestern city, and both authors agree Minneapolis is the perfect place for paranormal mischief. So why Minneapolis? The authors interviewed each other and chatted about what drew them to the City of Lakes for their latest releases.

Marlene Perez: What is your main character's favorite place/hang-out, real or imagined, in Minneapolis?
Amanda Carlson: Jessica keeps a low profile in Minneapolis, because she's living here under an alias. The Compound she grew up on is located in northern Minnesota, in the woods on a beautiful lake. If Jessica could hang out more, she'd stick around Uptown, where her apartment is located. So many fun shops and restaurants to keep her occupied. It also has a mix of clientele so she wouldn't stick out.
MP: Your main character is the only female werewolf in town. What makes Minnesota the perfect place for a werewolf to live?
AC: The north woods was a perfect setting for werewolves to congregate undiscovered. Wolves are native to Minnesota and there are thousands of acres of forests and lakes up here. Minneapolis is a hip, artsy city with a lot of diversity. It worked perfectly to have her grow up on the Compound, and once she won her freedom, come down to the city.
MP: What do you think is Minneapolis's most important feature?
AC: For me it's the lakes. For those unaware, there are many lakes scattered throughout Minneapolis complete with bike/walking paths, parks, beaches and restaurants situated around them. Five of them are connected, and make up the Chain of Lakes, which has over twelve miles of continuous paths. My witch Coven is located on the peninsula of Lake of the Isles and Jessica and Rourke are dumped unexpectedly into the lake in book three. It was a lot of fun to write. For research I walked the lakes and took lots of pictures, searching for the perfect house and setting. It's so fun to write so close to home. I love my city.
***
Amanda Carlson: Why did you choose Minneapolis?
Marlene Perez: I grew up about three hours south of Minneapolis, in a little town in Iowa. Minneapolis was where we went to do special occasion shopping. I bought my prom dress at a little boutique there. Plus, I'm a huge Prince fan and it's his hometown. Like you, found the lakes a rich source for story-telling. Nyx meets the naiad Willow in a lake. I wanted to set the Nyx Fortuna series in a different city and I feel like L.A. and New York get a lot of love, but there are many smaller, but equally as interesting cities in the Midwest.
AC: What is your main character's favorite place/hang-out, real or imagined, in Minneapolis?
MP: In Strange Fates, Nyx spends a lot of time at this (imagined) bar called the Red Dragon. And Eternity Road, the magical pawn shop where he works, is a favorite hang-out, too. He can work and look for his mother's charms at the same time.
Amanda Carlson: Did you have a runner-up town in mind?
Marlene Perez: Chicago is another dynamic Midwestern city and I thought about setting Strange Fates there, but Minneapolis kept drawing me back. It had been awhile since I'd visited, so as I researched, I fell in love with it all over again.
You can download Strange Fates, available digitally now! And keep an eye out for Hot Blooded, available April 23. For more action-packed Urban Fantasy, visit our Everything Paranormal & Urban Fantasy Page!